Q&A: Debbie Yow exclusively breaks down coaching search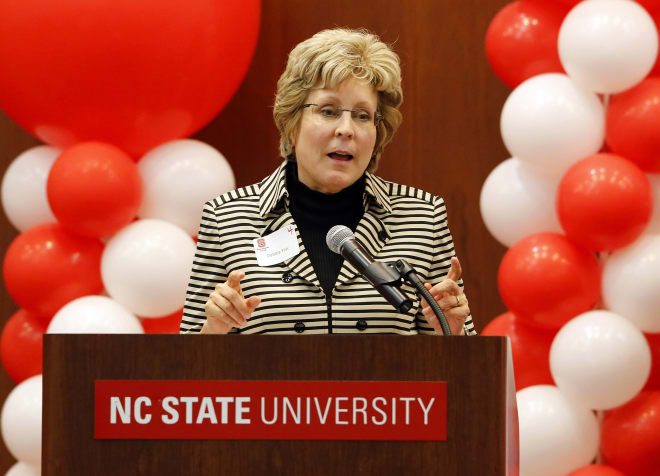 NC State athletic director Debbie Yow is embarking on her second men's basketball search for the Wolfpack after sixth-year head coach Mark Gottfried was fired Thursday.

Yow reflects back on what Gottfried accomplished, the profile of the Wolfpack hoops program and the details on how a coaching search will get executed over the next several weeks In a wide-ranging exclusive interview with The Wolfpacker on Friday.

Here is a transcription of Yow's interview:

Is there ever a smooth way of ending a relationship with a head coach?
"We entered into the conversation with the understanding I thought he would not finish the rest of the season. When he brought the subject up and asked I would reconsider and allow him to do that, it seemed to mean so much to him. It seemed like the right thing to do.
"I think it is the right thing to do, and he will stick with it. He and I met with the team the day of our discussion on the separation and were able to gather and emphasize a number of points that he is still their head coach and still their leader. We spent time emphasizing academics, study table, going to meet their tutors and going to their classes. They need to understand that things didn't just flip all of a sudden and everything is different.
"We are in the middle of a semester and toward the end of basketball season and our expectations are still there."
Sometimes it's easy to get caught up with what fans want or what the school wants. How important was it to know what was best for the players over the next 3-4 weeks?
"They are always at the center of everything we do. I just wrote our parents this morning to be sure they know how to reach out to me. I will be meeting with the players perhaps individually or in small groups about the traits they believe are important for our next head coach.

"You can't have players in the search because you are protecting at most junctures, protecting head coaches at current institutions. You can't expose them unnecessarily, but that can't stop us from asking our own players what traits they think are important for their next leader."
Has the perception of NC State improved over the last six years due to Gottfried getting into the NCAA Tournament four times with two Sweet 16s? Will that help in this coaching search?
"I think Mark helped change our profile. We had been the prior 20 years before Mark joined us, 15 of those 20 years, we did not go to the NCAA Tournament. For him to take us back to the NCAA Tournament four consecutive times elevated the program.
"In so far as where we are today, moving forward, so much of that depends on who stays or who goes [among current players]. They are going to wait to see who the new leader is. At that junction that person will have the opportunity to have those discussions and decide if they want to persuade certain players to stay or he wants certain players to leave or to transfer. That is yet to be seen.
"In so far as the overall profile, Mark Gottfried improved our overall profile. There is no question about that."
Do you think the various changes at NC State and in the ACC over the last six years will help with this coaching search?
"NC State has a different profile right now than it did seven years ago, with 11 of our teams ranked in their respective top 25, and a number of them ranked in the top 10. That might seem completely separate from a coaching search, but coaches are smart. They want to see who they are surrounded with and how the rest of the program is doing matters.
"Even for football to be preseason ranked by ESPN in their power rankings at No. 22 for the 2017 season, is a good thing. It is an interesting dynamic in a search process because there probably will be coaches who have some interest, but when you get right down to the level of competition, as Mark calls it, 'The tough neighborhood,' they might not be up to that every single year.
"Coaches of course will not say that publicly. They find something else to say, whether it's about our fan base or something else. Our fan base is the core of our strength and not a liability.
"It comes down to the profile of the person. I'm looking for a person with an edge. I wouldn't say chip on the shoulder, but an edge. Somebody who has the work ethic and the edge to take because we are still building. I know that sounds crazy or discouraging to some, but it doesn't discourage me. We have made strides as we just said under Mark, but the right person can take us to the next level.
"We know in our neighborhood we have two Hall of Fame coaches that are near retirement. They will soon find out what searches are like in this day and age. The thing about the search that is the one element that concerns me is all of the crazy rumors on the Internet. I cannot chase all of them down and correct them. It is noise but it does matter. Once it gets picked up by a legitimate news source as fact, it is now more than noise.
"There was a day where a legitimate news outlet would not do that, but we are past that now. We saw that with the ABC affiliate in Durham when they said we had contacted another coach [Archie Miller of Dayton] while Mark was our coach. We had not talked about the separation. That was all false, completely and totally. We are not doing interviews with them because of that. I'm not doing an interview until we can sit down and understand why they did that. If I don't get a satisfactory answer, I will probably never do an interview with them again.
"The term fake news was created, and I'm beginning to see how that really applies to intercollegiate athletics these days. It is not just politics. That part of the search, I am always concerned about."
What can be accomplished prior to a potential coaching candidate having his season come to an end in March or early April?
"The first thing you can do is you have to select a search committee [at NC State]. We will pick a group that works on this. It will be a strong group and diverse. Hopefully, there will be a member of the board of trustees on it as well as a number of key senior staff on athletics. Our faculty representative by charter of the athletic council is to be on every revenue sport head coach search, or his designate from the athletic council. We have yet to form that group, but that will be job one.
"The second thing is to decide which search firm we will use to support us. The value in using a search firm is very important. One of the things they do is a different kind of background check. This is the type of background check where people understand habits of individuals. They will know that candidate A has a drinking problem. We would never get that through a normal University background check. They do this for a living 24/7. They know those kinds of things, and they are important aspects of the search.
"The third thing we will do with the search firm in the room with the committee, go through a list of potential candidates and do an exhaustive discussion about the achievements of each one, and the habits that we might not know about. The propensity of any of the individuals in living in the southeast vs. northwest part of the county. Then at that juncture, we narrow the group and really try to focus on a small number of individuals we are interested in.
"Then at that point, we are looking where they are in their season and what they are doing. We look at who their agent is and the search firm will generally reach out to their agent just to say 'NC State has some interest in talking to that person.' One of the strange things about this is the Internet turns talking to a person into trying to hire them. We don't know until we talk to them if the fit is good, and neither do they. That doesn't mean we offered them a job. It is the beginning of the process in getting to know each other.
"That is tailored to that person's needs and wants. There would be coaches that say, 'I can not talk to you until we play our last game. I just can't. I can only focus on this.' There will be other people who will say perhaps, 'I need to stay focused on my team, but I'm willing to at least have a conversation about it.' We don't know that yet about any individual candidate."
You have obvious extraordinary time demands in guiding NC State athletics. What ways do you get help in learning about coaches that you might have only watched on TV a few or several times?
"You are always going to watch film when you can, and obviously you should. Basically, a lot of this comes down to what they have achieved. The achievements are going to generally reflect the level of excellence of that coach. You are going to look for multi-year record of success.

"You can dig in at that point and look at statistics if you want to see what their defensive efficiency numbers look like. What about the offense? That tells the story. The search firm helps fill that out with the personal elements. They will know how he is in practice. They are the ones that are watching the 30 games and know all the personal details, traits and habits of various coaches. That is why they are so valuable to have at the table talking during the search process."
Anything from the last coaching search that will help narrow what you are looking for?
"I think the thing we are going to pay more attention to this time around is current contracts and what people are already earning. I get the emails about whether we are going to be competitive financially? We are very far ahead financially than where we were six years ago when we made our last hire.
"That said, I'm still expected as a self support unit at the University to balance our budget and to pay all our bills. We do know the ACC Network comes in 2019 and that is another plus that we have never talked about before. We don't know how much money that will bring in initially.
"We will be building starting this spring our new broadcast studio and ordering all of our high definition cameras and equipment. That is going to be a $6 million expenditure that we have to pay. Will we be more competitive financially? Yes."
Is college basketball different in how the salaries have been driven up all the way to the mid-major level?
"I have to tell you that personally we will be competitive financially, but I'm not interested in the person who comes to NC State only because we out-bid their current institution. That is not the formula for success. The person we select has to have that edge and be very talented in recruiting. I will always expect that. They are going to have to be an excellent X-and-O coach, both offensively and defensively. We have to figure out how to be a better defensive team.
"It will be everything, and I am not going to operate out of fear. Operating out of fear means you have to do it and do it quickly. You have to get this person, just name a person. What we need to do is to stay focused and remember the type of individual we want, be patient meaning we in all likelihood will have to wait to talk to someone we consider to be special. We can't wait forever though. I'm not waiting until the Final Four.
"There is more than one excellent coach in this country that I think we can attract. I admit to that, but I will not be talking about those preferences publicly. The profile that I just described has to be in place."
Is there anything to the age-old philosophy of hiring a coach that is opposite or different than the previous coach?
"Certainly as not related to recruiting. Mark was an extraordinary recruiter. I still believe that is a great value. That will still be in place.
"I've hired a coach in basketball that was the Division I ESPN national coach of the year, who was Charlie Spoonhour [at Saint Louis]. He was a disciple of the Oklahoma State system [Iba coaching tree]. He did a great job for Saint Louis and he was the whole ball of wax.
"It is a new day in 2017 and going through a search now is very different than going through a search six years ago or 10 years ago. We need to stay focused and do the right thing for NC State.
"I do believe in this place. There are some perceptions of NC State nationally that are just not accurate. One of them is related to our fan base being unreasonable. Our fan base is extraordinary. Every fan base, and there are no exceptions, has a few people who either think they need to make the hire themselves and go off on their own and try to do something. Or they will boo the current head coach, which happened to Mark recently, which I did not appreciate on his behalf. I understand why it happened, but it is not useful to us and doesn't represent our fan base as a whole.
"They are extraordinary patient and supportive and that is who they really are, in every sense of the word."
Does everything go into overdrive in mid-to-late March?
"Late March, with the way the NCAA Tournament is now structured, and even the ACC Tournament doesn't take place until the second week in March now. I will be looking into the other conferences and when they occur, but I haven't gone into the details yet about when the other conferences are playing.
"You go from the planning process to some back-channel communications from the search firm we select and the agents. Then it becomes an in-person [interview] has to happen. That will be a flurry of activity because it has to happen quickly. It is an exhausting time, but that is the way searches are."
What traits do you want to see in the next coach?
"We want that edge, recruiting and a solid X-and-O coach, who is fundamentally sound and willing to do what it takes to make our team follow the fundamentals. I have no problem with a coach that removes a player from a game because that individual player refuses to play good defense. I don't have an issue with that, or to remove a player that isn't in the right spot offensively in a set they are running.
"They need to do what they need to do to get the attention of the players and always love on them. For lack of a better term, I call it tough love.
"I say this as a former head coach in college, you can care very deeply and have tremendous demands on their performance and their execution of the offense and defense. I would not be sympathetic to a player who came to me complaining about that or be sympathetic to a parent. As long as I feel like the coach is not abusive to the players and genuinely cares about them, but plans to require them to execute in an extraordinary way.
"I really love our fan base and I want a successful search for them more than any other reason. I care about the players and obviously want them to have a tremendous head coach. On balance, it's all about Wolfpack Nation and their long-time loyalty and dedication to the program through thick and thin. They deserve to have a terrific period of time to enjoy."