NC State basketball coach hot board, version 1.0
NC State is embarking on the search for a new head coach in men's basketball. Here are a few names that could surface:

LIKELY CANDIDATES
KEVIN KEATTS, HEAD COACH AT UNC WILMINGTON
Portfolio: Keatts inherited a mess of a program at UNC Wilmington from former coach Buzz Peterson and quickly rebuilt the Seahawks. UNCW was 9-23 and 3-13 in the CAA the year before Keatts arrived, and had APR issues and an unstable roster. He overachieved his first year by going 18-14 overall and 12-6 in the CAA, earning a spot in the CIT.
UNCW took another big jump last year in topping Hofstra in overtime to win the CAA Tournament and reach the NCAA Tournament. Wilmington gave Duke a battle before falling 93-85 to finish 25-8 and 14-4 in the league. Keatts has UNCW in contention again with a 22-5 mark and 11-3 in the league, good for first place.

Prior to UNCW, he served as an assistant coach at Louisville from 2011 to 2014 and was at Marshall from 2001-2003. In between he was the head coach at prep school powerhouse Chatham (Va.) Hargrave Military Academy from 2003-2011 after coaching there from 1999-2001. He coached future Wolfpack players Anthony Grundy, Kenny Inge, DeShawn Painter and Lorenzo Brown.
Why he makes sense: The 44-year-old Keatts has been pegged as a rising star in the coaching business for some time. The Lynchburg, Va., put together new teams with aplomb at Hargrave, where he produced several future NBA players. He then went to Louisville and recruited at least three future NBA players, plus national title game hero Luke Hancock, to help head coach Rick Pitino win his second national championship in 2013. Keatts has recruited all but one player at Wilmington and understands the NC State recruiting footprint. He has landed players from several of the major traveling team programs in the state including Garner Road, Chris Paul All-Stars and Team John Wall. It also might help that both Louisville and UNC-Wilmington have been sponsored by adidas.
Why he doesn't make sense: Keatts hasn't achieved head coaching success at a high level yet, but he definitely proved what he could do in helping Louisville win a national title. The progression from the CAA to the ACC isn't unprecedented, but it takes a unique coach to do it.
Odds he would be interested: Keatts will have some options this upcoming coaching cycle, but NC State could be the best one. He knows the program from having former players go there and coached against the Wolfpack while as an assistant coach. He would likely view NC State as a destination job, but also knows what the coaching transition would be like.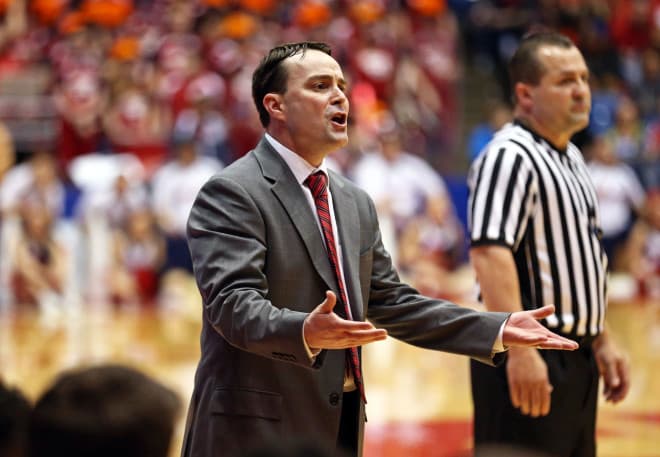 ARCHIE MILLER, HEAD COACH AT DAYTON
Portfolio: Miller, a former NCSU player, is in his sixth season as the head coach at Dayton. In his first five years, he has led Dayton to three NCAA Tournament appearances, including a Cinderella run to the Elite Eight in 2014. In year six, he has led the Flyers to a 20-5 overall record and 11-2 mark in the Atlantic 10. In six seasons, Miller is 135-60 overall (.691) and 64-33 (.656) in the A-10.
Prior to being a head coach at Dayton, Miller worked as an assistant at Western Kentucky (2003-04), NC State (2004-06), Arizona State (2006-07), Ohio State (2007-09) and Arizona (2009-11).
Why he makes sense: Miller checks every box for NC State. He's an alum, making 218 three-pointers from 1998-2002 for the Wolfpack. He's young, just 38 years old, yet already established as an up-and-comer through his work at Dayton. NC State's coaching search will almost surely start with Miller.
Why he doesn't make sense: None.
Odds he would be interested: Conventional wisdom that has circulated surrounding Miller is that while he is an alum and NC State is a step up on the ladder in the college basketball scene from Dayton, it may be a hard pull for the Pack. Speculation is that Miller will be a high priority for some other high profile openings expected to emerge this offseason.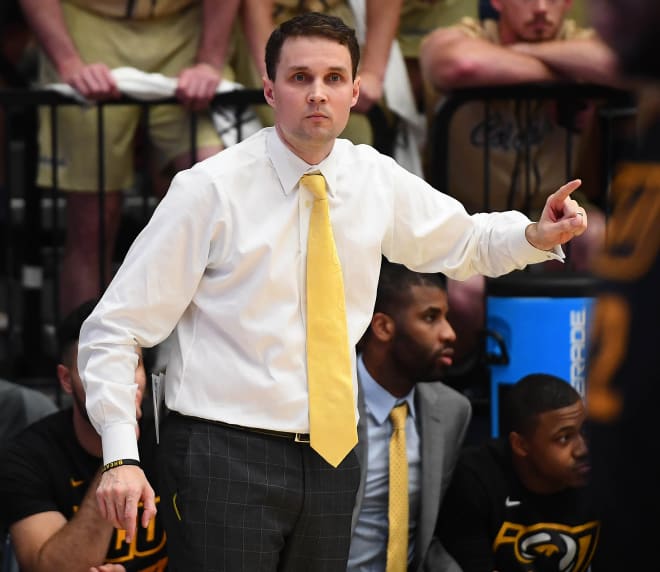 WILL WADE, HEAD COACH AT VCU
Portfolio: Wade is in his second season at Virginia Commonwealth as head coach, but also served as an assistant coach under previous head coach Shaka Smart from 2009-2013. He guided the Rams last year to the second round of the NCAA Tournament, where they fell 85-81 to Oklahoma, which went on to the Final Four.
VCU is currently 21-5 overall and 11-2 in the Atlantic 10, tied for first place with Dayton. The Rams topped Miller's Dayton squad 73-68 on Jan. 27. Wade left VCU after 2013 to become the new head coach at Tennessee-Chattanooga, where he went 40-25 overall and 27-7 in the Southern Conference with two second-place finishes. He guided UT-C to the CIT in 2013-2014. The Clemson graduate worked under Harvard coach Tommy Amaker from 2007-09.
Why he makes sense: The 34-year-old Wade has won at least 20 games three years in a row and has made a seamless transition in taking over the VCU program from his old boss. The coaching transition was a little bumpy in terms of having one player transfer out and three prep commits change to high-major programs, so he has overcome that kind of adversity, which will come in handy at NC State. Wade would have an easy transition in recruiting due to already targeting North Carolina, Virginia, South Carolina and Florida. He topped NC State for post player Mayan Kiir of Bradenton, Fla., and also landed Lavar Batts Jr. of Concord (N.C.) Robinson. All but one player on VCU's current roster was recruited by Wade.
Why he doesn't make sense: He is young and could have other options this coaching cycle.
Odds he would be interested: Wade should be interested and kind of already has a feel for NC State in that the Wolfpack pursued Smart, when Wade was an assistant at VCU. Wade had a front-row view of the process then, which should help him if things heat up. Financially, it could also be an upgrade for Wade.
POSSIBLE CANDIDATES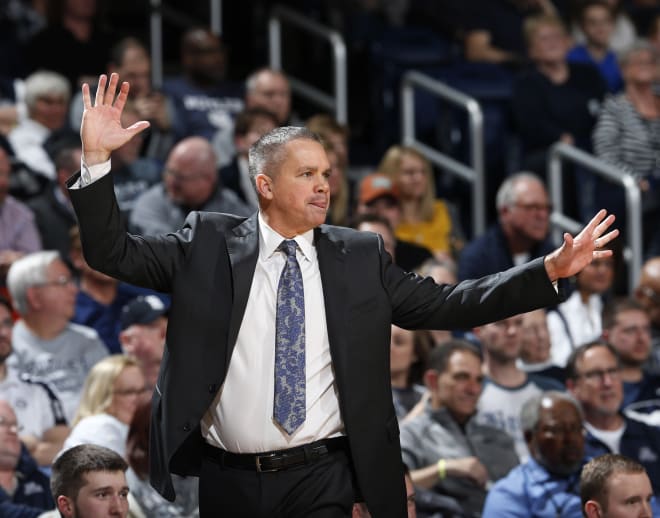 CHRIS HOLTMANN, HEAD COACH AT BUTLER

Portfolio: Holtmann first became a head coach at Gardner-Webb in 2010 and was there through 2013, his last year being named the Big South Coach of the Year after guiding the Bulldogs to a 21-13 overall record and 11-5 conference mark. He left after that season to become an assistant at Butler.
In 2014, Holtmann assumed the head coaching job at Butler under tricky circumstances, and in his first two seasons has led the Bulldogs to the NCAA Tournament'S round of 32. This season, Butler is 20-6 overall in the strong Big East Conference.
Holtmann has a 65-28 record at Butler (.699) and 109-82 mark overall (.571).
Why he makes sense: He is young (45), with a good track record and has ties to the state of North Carolina. He spent five years (2003-08) at an assistant at Gardner-Webb before leaving for two years in a similar role at Ohio, and he then returned to Gardner-Webb as the head coach. He also has a reputation as a good recruiter.
Why he doesn't make sense: There are not many negatives on the Holtmann portfolio, but word is he is paid well at Butler, a private school that doesn't have to release financial records.
Odds he would be interested: That would be difficult to gauge. Given the current landscape of college basketball, coaching at Butler is a very appealing option to coaches, and in the cases of some maybe even moreso than NC State.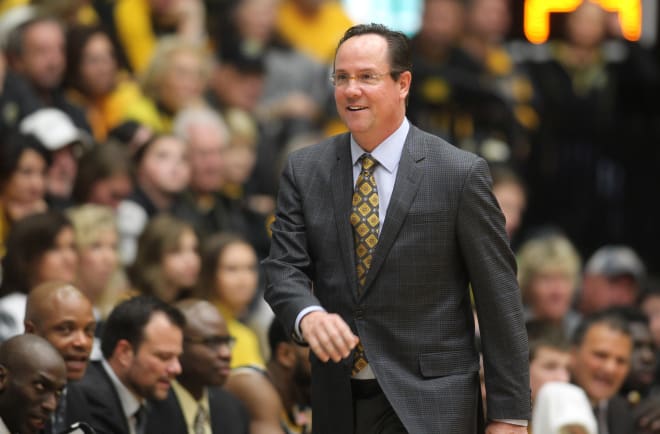 GREGG MARSHALL, HEAD COACH AT WICHITA STATE
Portfolio: Marshall is simply a high-level winner. He won 70.0 percent of his games in nine seasons at Winthrop, leading them to seven NCAA Tournament appearances. In 2006, they nearly defeated No. 2 seed Tennessee. A year later, they beat sixth-seeded Notre Dame to become the first Big South team to win a NCAA Tournament game.
For the past 10 years, Marshall has coached at Wichita State, where his teams have won 74.0 percent of the time, including 73.9 percent in the usually solid Missouri Valley Conference. His 2013 team made an improbable run to the Final Four, and his 2015 squad reached the Sweet 16. In 2014, Wichita State earned a No. 1 seed in the NCAA Tournament but was beaten in the second round by eventual national finalist Kentucky in a classic. The Shockers are on the verge of their sixth straight appearance in the Big Dance.
Why he makes sense: He's the ultimate winner and from the area. He was born in South Carolina, raised in Virginia, went to school at Randolph-Macon in Virginia and began his coaching career there before going to Belmont-Abbey, College of Charleston and Marshall, prior to landing the Winthrop job. At 53 years old, he still has a lot of coaching life left.
Why he doesn't make sense: Marshall and NC State danced during the last coaching search but could not come to terms. It would be unusual, although not unprecedented, to circle back and make it happen the second time. He would also not come cheap.
Odds he would be interested: As mentioned above, if Marshall really wanted the NC State job he might have been able to make it work in 2011. Instead he accepted a raise at Wichita State. Might the ship have sailed on the chances of Marshall ever ending up at NCSU?
LEFT-FIELD CANDIDATES
ED COOLEY, HEAD COACH AT PROVIDENCE

Portfolio: Cooley has taken Providence to the NCAA Tournament the last three years, including reaching the second round last year. He also guided the Friars to the NIT Tournament in his second year. He helped develop future 2016 NBA Draft lottery pick point guard Kris Dunn of the Minnesota Timberwolves and power forward Ben Bentil, who went in the second round of the 2016 NBA Draft but is playing in the NBDL. Despite the loss of Dunn and Bentil prematurely to the NBA Draft, he has the Friars at 16-11 overall and 6-8 in the Big East this season. Overall, he is 115-71 (.618) overall and 47-50 (.485) in the Big East during his six years at Providence.

His ability to find recruits and develop them goes back to when he was an assistant coach to Al Skinner at both Rhode Island (1996-97) and Boston College (1997-2006). He was then hired at Fairfield, where he was from 2006-11, going to the CIT in 2009-10 and NIT in 2010-11. He went 92-69 (.571) overall and 58-32 (.644) in the MAAC at Fairfield, including going 28-8 in the league his last two years.
As a head coach, Cooley is 207-140 (.595).
Why he makes sense: Cooley's overcome adversity in his life, is well-respected by his coaching peers and has a outgoing personality according to friends who know him well. He has done a terrific job of maxing out the talents of his players, whether touted recruits like Dunn or former point guard Bryce Cotton, who was part of the Utah Jazz last year, or LaDontae Henton.

He has essentially carried on the formula that he learned under Skinner, who went to the NCAA Tournament seven times between 2000-2009 at Boston College. Cooley doesn't have experience coaching in the south, but he does have former Wake Forest assistant coach Jeff Battle on his staff, and the Friars have done a good job of mining talent thanks to assistant coach Ivan Thomas' extensive ties in the Tidewater area in Virginia.
Why he doesn't make sense: Cooley may or may not end up being a target, but he checks a lot of boxes with his past coaching success, ability to develop players and assistant coaches who know how to recruit the area. Has he taken a team deep into the NCAA Tournament? No, and he isn't well known in ACC country. He also doesn't have an obvious past connection to NC State or athletic director Debbie Yow. Additionally, Cooley is reportedly well paid at Providence.
Odds he would be interested: Cooley grew up in Providence, R.I., and has always coached in the New England region. For him to leave home, it would revolve around the fact that going to a Power-Five conference would provide more future stability compared to the reworked Big East. There was some speculation whether he'd be a factor in the Georgia Tech search last year, but he wasn't. Providence has a long history of accomplished coaches, and they all have left for bigger and better jobs — Rick Pitino, Rick Barnes and Pete Gillen. Tim Welsh stayed the longest, from 1998-2008, over the last 30 years.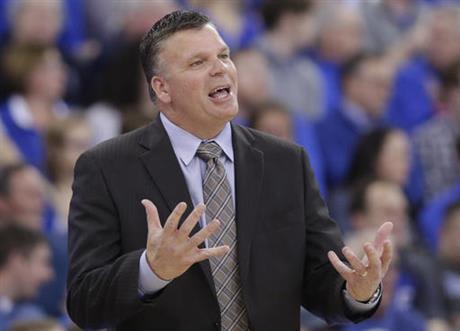 GREG McDERMOTT, HEAD COACH AT CREIGHTON

Portfolio: McDermott has been a head coach since 1994. During stops with Wayne State (1994-2000), North Dakota State (2000-01), Northern Iowa (2001-06), Iowa State (2006-10) and Creighton (2010-current), he has compiled an impressive 442-271 record (.620). He led Northern Iowa to three straight NCAA Tournaments (2004-06) and Creighton (2012-14) to three trips as well.
This season was setting up to be Creighton's best prior to a crucial injury to star point guard Maurice Watson. When he went down they were 18-1, and they are currently 21-4 (8-4 Big East). He has an overall mark of 162-76 (.681) at Creighton and 442-271 (.620) as a head coach.
Why he makes sense: McDermott has a track record that is fairly good. His teams at Creighton have won at least 20 games in six out of seven seasons, and his squad this year was considered top-10 caliber for most of the season.
Why he doesn't make sense: McDermott's coaching roots are entirely in the Midwest, and his one tenure at Iowa State (four straight losing seasons) prior to arriving at Creighton is the lone blemish on his coaching portfolio.
Odds he would be interested: McDermott has done the power conference scene before, and does he want to give it another shot now that he has reestablished himself at Creighton? Is he interested in an East Coast job? Does NC State want to go more with an a young up-and-comer (McDermott is 52)? All those questions make the mutual interest questionable.