Jamie Lewis excited about NC State opportunity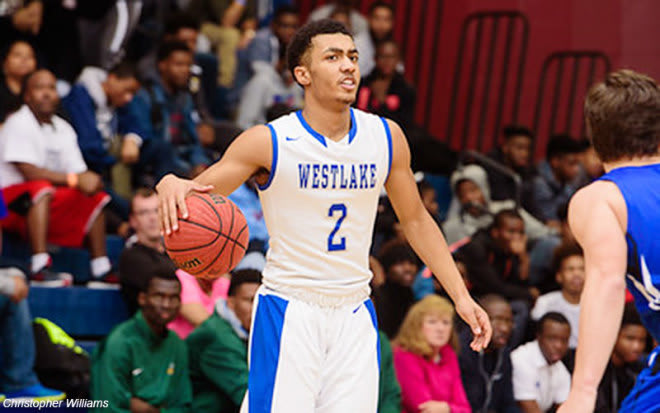 Atlanta (Ga.) Westlake rising-senior point guard Jamie Lewis came away impressed with his unofficial visit to NC State on Wednesday and wasted little time in making his decision. He verbally committed to the Wolfpack on Thursday after also listing Wake Forest, Baylor and Georgia Tech as schools in the running.

Rivals.com ranks the 6-foot-3, 190-pounder the No. 68 overall player in the country for the class of 2018.
Lewis' older brother, UCF freshman shooting guard Danny Lewis, told him that if you see a school that you like "jump on it."
"It was just the feel that I had when I got there," said Lewis, 17. "The coaching staff was great. I want to come in my freshman year and have an impact."
Lewis is the latest of six perimeter players that new NC State coach Kevin Keatts has landed since getting hired March 17. He added graduate transfers Sam Hunt (North Carolina A&T) and Allerik Freeman (Baylor), plus class of 2017 point guard Lavar Batts for next year's team. Lewis, Utah sophomore transfer Devon Daniels and North Carolina Wilmington junior transfer C.J. Bryce will fortify the squad in 2018-2019.
NC State's previous staff reached out to Lewis during his sophomore year, and Keatts and assistant coach Takayo Siddle started the process in mid-April before the first evaluation period.
"Yesterday was the first time meeting Coach Keatts," Lewis said. "It was just great and we connected well. His personality is that he's a player's coach and he understands players. He played the game and was a point guard."
Lewis wanted to talk to the coaches and see how he'd fit in for the future.
"I wanted to know if I could come in and play my freshman year, and all those questions were answered in a positive way," he said. "The coaches think I'm a good fit for their system."

Lewis was able to check out the Pack's various facilities for the first time during his unofficial visit.
"I love the facilities," Lewis said. "They have over 19,000 [seats at PNC Arena]. I loved the campus and the environment. I didn't know the campus was that big."
Lewis played in the first of four legs on the Nike Elite Youth Basketball League, averaging 4.0 points per game in Hampton, Va. His nagging groin injury, which caused him to miss parts of his junior year, prevented him from playing on the rest of the spring circuit. He estimated he missed around 10 games at Westlake High during his junior campaign, but the time off game him a different perspective on what he wants to accomplish on the court.
"I want to become more of a playmaker and I saw how point guards have to make plays," Lewis said. "I want to speed up my game. I'm expected to play in July [with Team Loaded NC]. I have to make sure I'm healthy before I go out there."
He does recall playing against NCSU sophomore point guard Markell Johnson and Batts during Memorial Day weekend of 2016 in his hometown of Atlanta at an EYBL event. He hopes to offer some different traits from his future teammates.
"I'm a scoring guard and I like to get to the basket," Lewis said. "I like to make plays for my teammates. When I have the shot, I'll take the open shot."