Jakobi Meyers embraces opportunity at receiver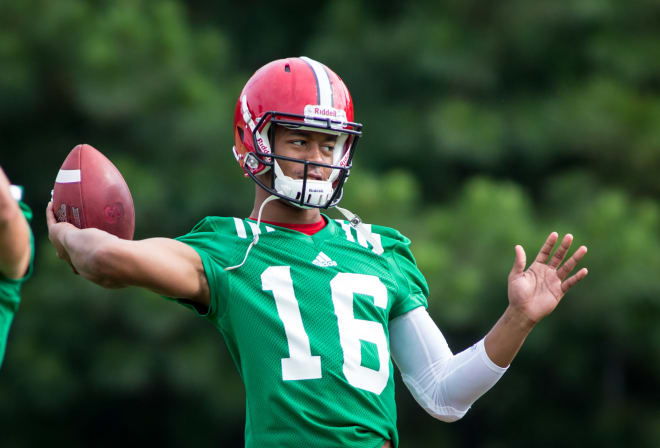 Redshirt freshman Jakobi Meyers spent all of spring battling for the starting quarterback job. He impressed during the Kay Yow Spring Game in April, completing 12 of 20 passes for 117 yards with a touchdown while also rushing 10 times for 47 yards and a score.
Although the position is still up for grabs with a week left before the season opener against William & Mary, Meyers is no longer one of the contenders. Instead, he is working to become one of the receivers to catch passes from whoever lines up under center for NC State next Thursday evening.
Related link: NC State depth chart

If the 6-2, 188-pounder is frustrated or upset about the move, he is not showing. He noted he could not be happier.
"It's a great opportunity," Meyers said. "That's the way I am looking at it. Coach asked me to do it. That means he has faith in me. I am just taking it and running with it."
Meyers can only speculate what provoked head coach Dave Doeren and offensive coordinator Eli Drinkwitz to make the move, but he believes his athleticism played a role in it.
Whatever the reasons were, Meyers said that it showed him that Doeren trusted him.
"He could have asked somebody else, and he asked me," Meyers noted.
Playing receiver is obviously different from being a quarterback, but Meyers is quick to add that being under center has provided him with assets in trying to learn about being a wideout.
"In my eyes, I always felt like quarterbacks had the best hands," Meyers explained. "I already knew everything to do, now I just got to work on the small details and look good, hopefully."
The move, for now, is not necessarily permanent. He is still taking reps at quarterback and working with both Drinkwitz, the quarterbacks coach, and wide receivers coach George McDonald.
While he has some natural skills at receiver, he also acknowledged his head is swimming a little. He is getting the crash course from McDonald, but Meyers is willing to do the work.
"If I want to play, I got to get to it," he said.
Talk about this story on our premium message board, The Wolves' Den