Amedeo's teams up with several NC State Wolfpack athletes in NIL deal
Amedeo's, a popular Italian restaurant among NC State students and alumni on Western Boulevard, announced Wednesday that it has teamed up with an all-star cast of Wolfpack athletes in an NIL deal.
This comes less than one month after the NCAA introduced an interim policy on July 1 to allow college athletes to receive compensation for use of their name, image and likeness.
In a tweet, the Italian restaurant announced that their Wolfpack athlete partners will serve as social media ambassadors, although the terms of the arrangement were not disclosed.
The list of NC State athletes promoted in the announcement included junior running back Zonovan Knight and redshirt junior Levi Jones of the football team, freshman guard Cam Hayes of the men's basketball team, senior guard Kai Crutchfield and junior center Elissa Cunane of the women's basketball team, freshman pitcher Sam Highfill of the baseball team and fifth-year senior Hayden Hidlay of the wrestling team.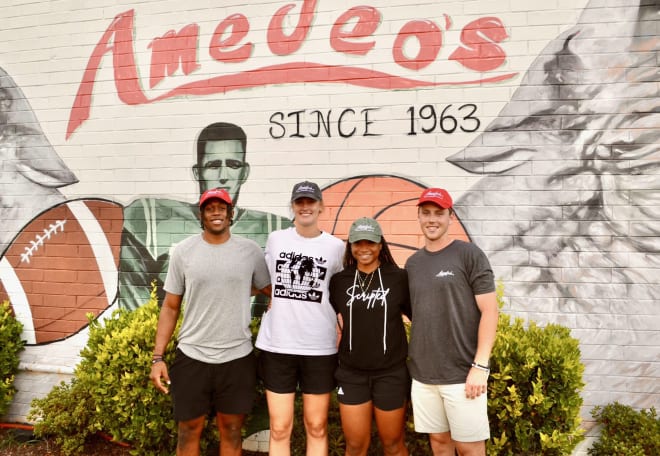 The announcement comes just two days Hayes announced a partnership with fast-food chain Bojangles, becoming the first athlete from one of NC State's big four athletic programs (men's and women's basketball, football and baseball) to announce an NIL endorsement partnership of note.
Hayes, along with Wolfpack teammates freshman guard Breon Pass and sophomore forward Greg Gantt, is also involved in a one-day basketball camp that will take place this August and charge $100 per camper.
Incoming NC State freshman men's swimmer David Curtiss was also reported to have teamed up with Speedo in an endorsement deal this July.
The Wolfpacker will continue to report new NIL deals involving Wolfpack athletes as more partnerships become public.