Weekly NC State defense notebook: Young corners expect to be tested
NC State football redshirt freshman Malik Dunlap understands the first impression some may have of him on the gridiron. He is 6-3, 216 pounds, which is ideal size for a safety or potentially a linebacker.
Dunlap, though, has always thought of himself as a corner.
That was his preferred position when he first arrived at NC State after signing out of Harding High in Charlotte in the 2018 class. But NC State originally went with the conventional wisdom.
"I wanted to play corner when I first came, but they were like, 'Your size, you are a safety,'" Dunlap remembered.
It did not take long for NC State to realize it may have something with Dunlap at corner. During his rookie season, while he redshirted, the Pack moved him over from safety to where he always wanted to be.

The transition, however, turned out to include a learning curve.
"It was tough at first cause it was a lot of new techniques," Dunlap said. "In high school, I was a bump-and-run corner. They were teaching me different coverages.
"It took me a while to learn all that, but once I got the hang of it I was good."
NC State is going to need Dunlap to be an even quicker study. A rash of injuries at cornerback have promoted Dunlap to a starter. NCSU has lost senior Nick McCloud, junior Chris Ingram, sophomore Teshaun Smith and redshirt freshman Taiyon Palmer at the position, with all but McCloud officially ruled out for the rest of the season.
Dunlap's first career start came two weeks ago at Boston College. However, he is not the type to get nervous before a game.
"Football is football," he added. "I've been playing it my whole life, so it was about the same."
While he was rarely tested by the run-heavy Eagles, he finished with two tackles and one pass broken up. He also expects not being tested much will change Saturday against Wake Forest.
The Demon Deacons feature one of the top starting trio of wideouts in the country in fifth-year seniors Scotty Washington and Kendall Hinton and redshirt sophomore Sage Surratt. Dunlap openly acknowledges he fully expects Wake Forest to target the young, inexperienced corners.
"It's going to be a lot of action, but I'm ready for it," he insisted.
That's partly because he feels he is now becoming a true corner.
"I feel like I'm way better," he said. "When I first came, I was just using my God-given abilities, but now I trust the technique, reading my keys and all that."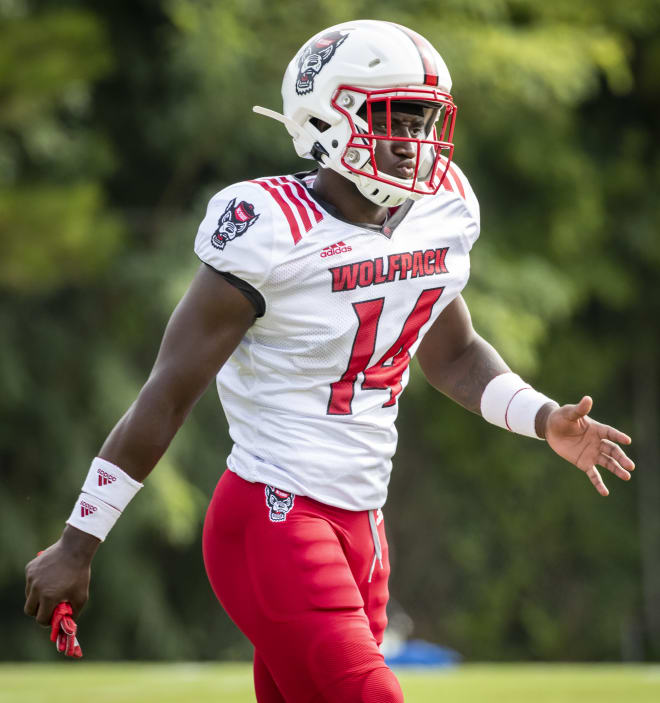 De'Von Graves Ready For Difficult Challenge
Sophomore De'Von Graves has played essentially every secondary position in his short-lived career.
Graves got the start two weeks ago against Boston College at cornerback due to a rash of injuries at the position. His versatility came in handy in part to playing cornerback in the past, but also both safety positions, some nickel and the dime back role last year.
The product of Appomattox (Va.) County High was a Rivals.com four-star prospect in the class of 2018, who eventually picked NC State over Virginia Tech and Tennessee. Graves was also a gifted wide receiver in high school. He figured wherever he was needed, he'd do whatever he could to help the Wolfpack.
"There have been some injuries and I'm just trying to help the team," Graves said. "Whatever position I can play, I'll play it."
Naturally, Graves also has to battle two of the top wide receivers in the ACC in WFU's outside receiver duo of Surratt and Washington, who are both 6-3 or taller. Graves, who is 6-1 and 197 pounds, knows he has a good challenge awaiting him in Winston-Salem.
"[Surratt] is aggressive and [Washington] is so long," Graves said. "It's going to be difficult for me to really get inside."
Graves pointed out that going against 6-4 teammate Devin Carter in practice has given him a feel for what it could be like against Surratt and Washington.
"We know we are going to get tested," Graves said. "It's going to be a challenge, but I feel like we have the athletes to challenge them and make plays, just like they can."
Graves played in nine games last year — five at cornerback — and had three tackles in 33 defensive snaps. Even before moving into the starting lineup, he had a bigger role this season, playing at least 28 snaps in all but one game. He has 14 tackles, one forced fumble and one pass broken up in seven contests.
"There is a lot more running," Graves said of playing cornerback. "You are just on an island. In terms of covering passes, it's just harder.
"If you mess up, everybody is looking at you and is like, 'What are you doing?'"
Pack Defensive Front Prepares For Wake's Unique Offense
To use basketball terminology to describe Wake Forest's offense, the Demon Deacons are like UNC's trademark fast-break attack while leading up to the snap. Chapel Hill is famous for trying to get a fast break even after a made basket in basketball, and few teams in football are quicker than Wake Forest to getting its snap off.
Then once the play begins, Wake Forest turns into the Princeton basketball offense: slow, deliberate and waiting for the right moment to attack.
Whomever is at quarterback for Wake Forest — redshirt junior Jamie Newman, who is nursing an injury, or sophomore Sam Hartman — will hold the ball in the belly of the Wake Forest running back for, relative to football timing, an inordinate amount of time before deciding whether to pull the ball back for a pass, go ahead and give it to the running back or keep it for a run himself.
Redshirt sophomore linebacker Isaiah Moore of NC State had his first taste of that last season, and he noted it's impossible to prepare for the actual speed of which Wake Forest runs its run-pass option (RPO).
Then there is also the fact that the QB can turn himself into an extra lineman of sorts when they choose to run it.
"That slow kind of mesh point with the quarterback and running back is definitely different, and then the quarterback tries to wall you off sometimes if you get a backside guy," Moore said. "It's definitely something different. It's kind of like they are creating an extra blocker back there."
The key to trying to defend Wake: discipline.
"It's definitely just being gap sound, just understanding that the run game isn't going to be as fast as other teams," Moore said. "It's going to be slower, so holding the point of the block, holding your space in the gap is probably the hardest part.
"Our goal is to get penetration and hopefully mess it up a little bit."