Tony Creecy playing for bragging rights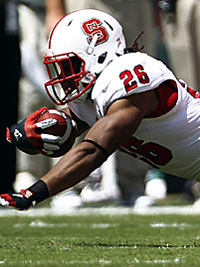 "We've been friends for about eight or nine years," Creecy said. "We knew each other a little bit in middle school and then played together all through high school. We are still best friends right now."
Creecy knows what will happen if he and Marshall end up on a collision course.
"We should meet up a few times and right now, I'm going to win that battle," Creecy said. "If you talk to him, he's going to say he's going to win it. That's just going to push us to play even better."
Creecy played wide receiver in high school, while Marshall was at cornerback. They went against each other during practice, but now get to battle some more in the ACC. Rivals.com ranked Creecy the No. 5 overall player in North Carolina in the class of 2010, and Marshall was No. 9.
"We pushed each other a lot because he was being highly recruited and I was being highly recruited," Creecy said. "We both wanted to be better than each other and to better ourselves. That made us both better players and helped us become what we are now."
Creecy and Marshall were recruited by some of the same colleges, and hoped to be teammates on the next level, but ended up going their separate ways.
"We still hang out all the time, like when he comes home for breaks," Creecy said. "We hang out, workout and do everything together. That's still my best friend no matter where he is.
"Before every game, we always text each other 'Good luck and have a great game.' We always Tweet each other. Come 3 p.m. Saturday, it's go time."
When either of them is going through some adversity on or off the field, the other is sure to help out.
"We lean on each other a lot and talk about all kinds of things," Creecy said. "We talk about life in general. I can talk to him about anything and go to him about any situation. It really helps me."
Creecy is quick to point out that NC State won 38-3 during his redshirt season, but Wake Forest and Marshall were victorious 34-27 last year. Both Creecy and Marshall want the same goal this week — to get a sixth victory and become bowl eligible.
"Right now, we are even split, 1-1," Creecy said. "Somebody will have to separate on Saturday. I hope he has a great game but come Saturday, he knows we won't be friends."
Marshall started five games and played in 24 his first two years at Wake Forest. He made the move to free safety this season, and enters Saturday's game with 86 career tackles and two interceptions, both of which occurred this season.
"He is a great free safety with great instincts," Creecy said. "He is a fast player and watches a lot of film. He knows what offenses like to do and what receivers like to do. He's a really smart player, which helps make up for things he might lack."
"I know him real well," Creecy said. "He played in high school with me for three years, and we played for the same Pop Warner organization. When he comes home, we work out and play 7-on-7."
"I keep in contact with a lot of those guys because we come from the same city and want to do the same things in life like make it to the NFL," Creecy said. "I also talk to T.J. a lot. I help him out and he helps me out. Everybody sticks together when you are from the same city."
Creecy leads NC State with 398 rushing yards on 102 carries and three touchdowns, and has caught 26 passes for 130 yards and a score this season. The Wolfpack are trying to revive their running game against Wake Forest.
"I have to pick it up more. I have to do better on my reads and have to run the ball tougher. With that, we'll do better in the run game."