Scouting Georgia Tech
NC State football has its back against the proverbial wall, needing to win both of its remaining games to become bowl eligible.
The first step is playing an up-and-down Georgia Tech squad (2-8, 1-6 ACC) at 8 p.m. Thursday on ESPN. NC State (4-6, 1-5 ACC) needs to defeat the Yellow Jackets and then North Carolina at 7 p.m. Nov. 30 to reach six wins.
Here is a full scouting report on Georgia Tech: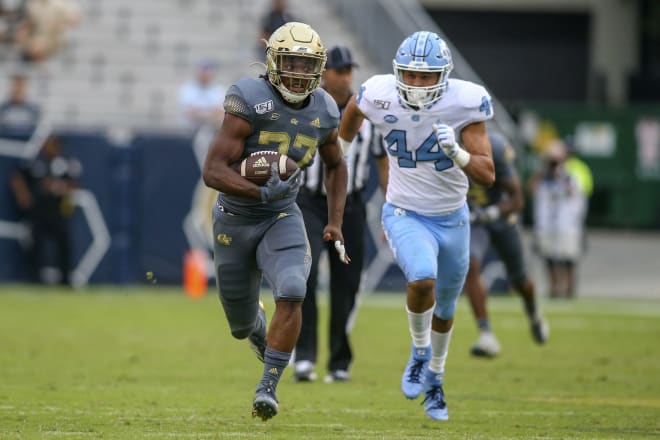 Five Georgia Tech Football Players To Watch
Junior safety Tariq Carpenter — The 6-2, 223-pounder is third on the team with 56 tackles, to go along with two tackles for loss, five passes broken up, one interception and one forced fumble. Carpenter had seven tackles in five different games this season — against USF, North Carolina, Miami, Virginia and Duke — this season.
Redshirt junior linebacker David Curry — The 6-2, 230-pounder leads Georgia Tech with 81 tackles. He also has four tackles for loss, two sacks, one interception and one forced fumble this season. He had 16 tackles against North Carolina and 14 tackles versus The Citadel this season. His father, Buddy Curry, was a standout NFL linebacker from 1980-87 and played collegiately at North Carolina.
Redshirt freshman quarterback James Graham — The 6-1, 192-pound Graham was a Rivals.com four-star athlete who has emerged as Georgia Tech's quarterback. He has gone 75-of-158 passing for 995 yards, eight touchdowns and seven interceptions, and he has rushed 75 times for 166 yards and two scores. Graham threw for 229 passing yards, two touchdowns and an interception, and rushed for 42 yards and a score, in the 33-28 loss at Virginia. It was just his second passing effort of at least 200 yards.
Junior punter Pressley Harvin III — The 2018 second-team All-ACC selection is enjoying another strong season for the Yellow Jackets. The 6-0, 245-pounder is averaging 44.3 yards on 63 punts with a long of 58. He has landed 16 inside the 20-yard line and 16 have been fair caught. Harvin averaged 44.3 yards per attempt last year and 44.1 his freshman year, so he's been the epitome of consistent.
Sophomore running back Jordan Mason — The 6-1, 219-pounder has proven to be a quality ACC running back. He rushed for 721 yards and seven touchdowns last year, and has followed up with 659 yards and seven scores this season. Mason rushed 20 times for 141 yards and one score in the 28-21 overtime win over Miami Oct. 19, which was the third time this season he passed 100 all-purpose yards.

What To Watch For From Georgia Tech Football
1. Inconsistent passing game: Switching from a triple-option offense to a spread is a major undertaking, not just at the quarterback position. Offensive line and wide receiver recruiting was different under former coach Paul Johnson and his unique style of attack.
Graham has a strong arm for the deep ball and is mobile, but he has struggled mightily at times. He passed for just 43 yards, tosses two interceptions and at times threw the football up for grabs last Saturday in a 45-0 loss vs. Virginia Tech. He also went 3-of-13 passing for 57 yards, one touchdown and one interception in a 20-10 loss versus Pittsburgh. Backup Lucas Johnson came in and threw for 51 yards against the Panthers.
2. Big-play speed: The passing game might be struggling but every now and then the Yellow Jackets will pop a big play. Georgia Tech is a poor man's Louisville in that respect. Redshirt sophomores Tobias Oliver and Adonicas Sanders, sophomore Malachi Carter and freshman Ahmarean Brown have formed the new-look wide receiver group for Georgia Tech.
The speedy Brown caught a 59-yard touchdown against Virginia and a 51-yard score versus Pittsburgh in two of his last three games. Brown has five touchdowns, which is two shy of Calvin Johnson's freshman school record set in 2004. Oliver was the starting quarterback last year and rushed for 876 yards and 12 scores in the option. He has rushed for 279 yards and two scores this season, and caught 10 passes for 93 yards.
3. They're sneaky good at blocking kicks: Georgia Tech has blocked two punts and a field goal over its last five games. They blocked a punt at Duke and another punt versus Pitt. Mixed between was a blocked field goal at Miami.
Add in that Harvin is one of the best punters in the country, and the aforementioned Oliver is averaging 22.2 yards on 13 kickoff returns with a long of 52.
Three Keys To The Game
1. Can NC State finally get a turnover? The Wolfpack haven't forced a turnover in six ACC games, which is almost unheard of. The football gods could make up for it a little bit between playing Georgia Tech and North Carolina. NC State ranks last out of 130 teams in the country for turnovers gained (five) and 124th in turnover margin (minus-11).
2. Put pressure on Georgia Tech quarterbacks: The Wolfpack ranks 15th in the country and fifth in the ACC in sacks, averaging 3.2 per game, and Georgia Tech has a reworked offensive line and inexperienced quarterback.
NCSU fifth-year senior defensive lineman Larrell Murchison has seven sacks, which is fourth in the league, and he could be due for a big game. NC State may be without fifth-year senior defensive end James Smith-Williams, who exited the Louisville game with a scary injury and wasn't listed on the depth chart Monday.
3. Don't waste kicker Christopher Dunn's talents: The sophomore kicker has gone 18 of 21 this season with a long of 46, and he could be a busy guy against Georgia Tech. Dunn has made all 14 field-goal attempts inside of 39 yards this season. Dunn has made 41 of 47 field goals in his career, and is in the midst of having a special college career, but he could use some game-winners on the résumé.
Three Georgia Tech Football Numbers Of Note
27 Sacks allowed by Georgia Tech, who has lost two offensive line starters for the season due to injury.
78 Rushing yards on 25 carries this season for former NC State class of 2019 commit verbal commit Jamious Griffin, who flipped to Georgia Tech.
290.2 Total yards per game averaged by the Georgia Tech offense, which ranks 14th in the ACC and 125th nationally.