Scouting East Carolina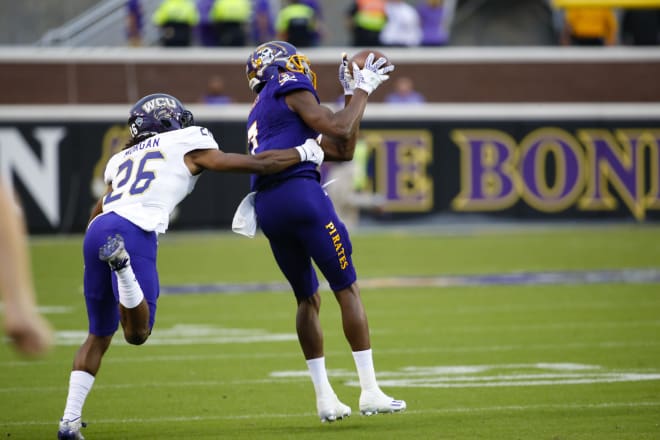 Five East Carolina Players To Watch
Senior wide receiver Isaiah "Zay" Jones — Jones is the son of former NFL and ECU star middle linebacker Robert Jones, and his uncle is past pro quarterback Jeff Blake, who also played for the Pirates. His older brother Cayleb Jones played at Texas and Arizona in college and is with the Philadelphia Eagles. Zay Jones caught 10 passes for 180 yards and a touchdown in the 52-7 win over Western Carolina last Saturday. He has 251 career receptions for 2,713 yards and 16 scores in 39 games played.
Fifth-year senior quarterback Philip Nelson — The 6-1, 216-pounder started off his college career at Minnesota, then transferred to Rutgers after the 2013 season, before making his way as a walk-on to East Carolina following off-the-field legal issues. He completed 28 of 32 passes for 398 yards with five touchdowns, plus rushed for a score, in the win over Western Carolina. In 2013 with Minnesota, he was 94-of-186 passing for 1,306 yards with nine touchdowns and six interceptions, and rushed 93 times for 364 yards and six scores.
Redshirt junior free safety Travon Simmons — The 5-10, 187-pounder anchors the secondary for the Pirates. He has accumulated 54 tackles, 13 passes defended, one forced fumble and two interceptions in 22 games played. Simmons opened the season with a pick against the Catamounts. Athlon named him preseason second-team All-AAC.

Junior right tackle Brandon Smith — The massive 6-8, 325-pounder from Kernersville, N.C., has started 12 games and played in 18, and he could end up being a three-year starter. Phil Steele named him third-team All-AAC going into this season. He established a positional record with a power clean of 362 pounds last spring, and has done 25 bench press reps of 225 pounds. Smith helped ECU average 414.6 yards per game last year, and five times Pirates quarterbacks threw for at least 317 yards.
Senior wide receiver James Summers — The Greensboro, N.C., product took a circuitous route to ECU. He verbally committed to NC State, but switched his pledge and signed with North Carolina in 2012. He didn't qualify academically and went to Chatham (Va.) Hargrave Military Academy. He then attended Hinds (Miss.) Junior College before signing with the Pirates. He has played quarterback, running back and wide receiver over the last year. The 6-3, 218-pounder rushed 10 times for 95 yards against WCU. He has rushed for 541 yards and eight touchdowns and passed for 698 yards and five scores for East Carolina.

Three Keys For NC State
1. Turn Matthew Dayes loose. The East Carolina defense appears to be fast but undersized based on its season-opening 52-7 win over Western Carolina last Saturday. NC State senior running back Matthew Dayes could be poised for a monster game.
The 5-9, 203-pounder shook off the rust of missing part of his junior year and this past spring with a foot injury, and he rushed 23 times for 138 yards and two touchdowns against William & Mary. He also added two catches for 18 yards in the 48-14 win.
The 25 touches is the second most of his NC State career, only trailing the 29 he had in the season opener last year against Troy. Dayes could end up with 30-plus touches against East Carolina. Western Carolina collectively had 38 carries for 148 yards and a touchdown against the Pirates' defense.
2. Battle of the slash guys. NC State junior H-Back Jaylen Samuels will be used in a variety of ways in the passing game and running game. East Carolina will be using senior backup quarterback James Summers in a various forms.
The 5-11, 223-pound Samuels was used similarly last year, despite the coaching change with Eli Drinkwitz taking over the offensive coordinator position at NCSU. Samuels caught five passes for 66 yards and a touchdown and rushed five times for 24 yards and two scores against William & Mary. The 10 touches is the fifth most he has had during his Wolfpack career.
Summers is listed at wide receiver, but he has only one career catch. He does line up in the slot and at quarterback.

3. Put consistent pressure on ECU's quarterback. NC State was only able to get one sack against William & Mary — which was by junior defensive end Kentavius Street, who negated the sack with a celebration penalty.
NCSU will get plenty of chances to sack East Carolina senior quarterback Philip Nelson and will need to get the former Minnesota starter out of rhythm. Nelson didn't get sacked once in the opener against Western Carolina, and he torched the Catamounts. The Pirates threw 33 times for 413 yards in the opener.
Nelson doesn't have a huge arm, but it's good enough. He proved accurate against WCU, despite not playing since 2013. The last time he played was Dec. 27, 2013, passing for 18 yards and rushing for 14 in a 21-17 loss to Syracuse in the Texas Bowl. The last big game he had was when he threw for 298 yards and four touchdowns in a 42-39 win his sophomore year at Indiana on Nov. 2, 2013.
Three Questions With ECU Head Coach Scottie Montgomery
On NC State's defense:

"[NCSU defensive line] coach Ryan Nielsen has done a great job on their defensive line. They are as stout as we will see, and we look forward to that challenge. I can't say enough about them at the linebacker position. They have some veteran leadership there and a big-time player, but in his defense, you have to start with the defensive line. [NCSU junior defensive end Bradley] Chubb has been there, and he knows he's a great leader in that front. That's going to be a battle for us.
"In the secondary, they have some experience there with [senior cornerback Jack] Tocho. The first time I saw Tocho was when I first got back from the National Football League, and I was out recruiting in the spring. He had already decided to go to NC State and he was working out, out back. He's a physical specimen, and he puts in the effort when you watch him on tape. He's putting in the effort in the classroom, too. He's a good player and an anchor back there at times for them."
On NC State offense:

"What you see is speed. No. 1, Samuels, he can play it all. He'll be lined up in the end-line situations at tight end, he'll be in the slot, and they can put him at back and quarterback. They have a lot of position flexibility with him.
"In the slot, another kid that's a native of North Carolina, [sophomore receiver] Nyheim Hines, is fast and will present us some challenges running vertical seams."
On personal past against NC State:

"We've been against them a few times, but it has actually been a while because of the realignment. It's going to be a big-time atmosphere. The physicality and speed is what we have to get prepared for. We've been in this battle before and we know that our guys will take the step that they need to take this week.
"We have to do the things that require no physical talent. That's what we have to be great at this week."
Three Questions With NC State Head Coach Dave Doeren
What did you take away from defeating William & Mary 48-14 in the season opener?
"There's a lot of positives. I thought our offensive line played well for the first time together, and quarterback Ryan Finley had a really good rhythm going, threw a very catchable ball, made quick decisions and got our guys lined up. Thought the receivers not just caught the ball well but blocked on the perimeter for each other. It was good to have Matt Dayes back out there.

"We were able to play a lot of guys defensively. Outside of the first drive of the game, I thought guys played really well. They had 75 yards, I think, in the first drive, and after that 93 for the rest of the game."
You have talked about the mentality of the players you had at Northern Illinois, who had a chip on its shoulders versus Power Five programs. How do you manage that at ECU?
"I know the game means a lot when you're playing up a level. I think it means a ton. I know their players are preparing like this is the biggest game on the schedule and I've been a part of that and we've shared those things with our players.

"To us it's another opportunity, it's another chance to go out on the field and prove ourselves. All the work we put in in the summer and fall camp, regardless who we play, we've got to be playing better than we did the week before. That's what our focus is, not just them, but us."
What difference do you think it makes that the game is in Greenville?
"I think anyone that has a great home-field advantage, they're going to try to play to it. It's our job to control the noise. I've always felt like when you go on the road it's going to be as loud as you allow it to be. If you can play really well, it doesn't get as noisy. If you don't, then it does.

"Telling us to control the controllables. We can't determine what their crowd does. We have to determine what we do, and we know the impact that can have if we do a good job."