Saturday carries special meaning for Earl Wolff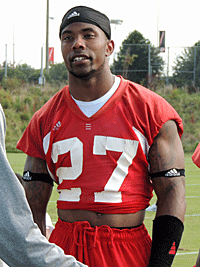 Saturday is NC State's annual Military Appreciation Day, and you can expect the evening to carry a special meaning for fifth-year senior safety
Earl Wolff
.
"It means a lot," Wolff acknowledged. "My mom is overseas right now fighting for our country. She don't come back till November. She's on my mind every day. Saturday is a big day for me."
Wolff will have out-of-town family coming into Raleigh for the game. He hails from a military family. He has two older brothers in the services, one in the Navy and the other in the Marines.
"I just want to play hard for them, and play hard for my mom," Wolff said. "I am going to play for all of them."
His play this fall has been good thus far. He leads the Pack with 31 tackles despite being limited in the Connecticut and South Alabama games with a sore groin.
Wolff was a game-time decision last Saturday against USA, but he insisted that he is fine.
"I feel better right now than I have ever felt," he stated.
State may need him Saturday. The Citadel comes in after back-to-back wins over FCS top-10 opponents Georgia Southern and Appalachian State. Last Saturday they ended Appalachian's 18-game home winning streak while handing the Mountaineers their worst loss in eight years.
The Bulldogs run the option offense, similar to what Georgia Tech operates, but Wolff added that The Citadel actually uses more formations than the Yellow Jackets.
NC State went 1-1 against Georgia Tech the last two seasons while defending their option.
"It's rough," Wolff remembered. "Everybody has to run to the ball cause you never know what's going to happen.
"You have to be disciplined. You have to play your assignment because if one person messes up and misses his assignment, it's a bust. It could be a long play, a big play. Right now we are just working on discipline. Everybody does your job. If you do your job, luckily with the great coaches we have, basically we'll execute."