Quick hits from NC State football's 52-31 win over Arizona State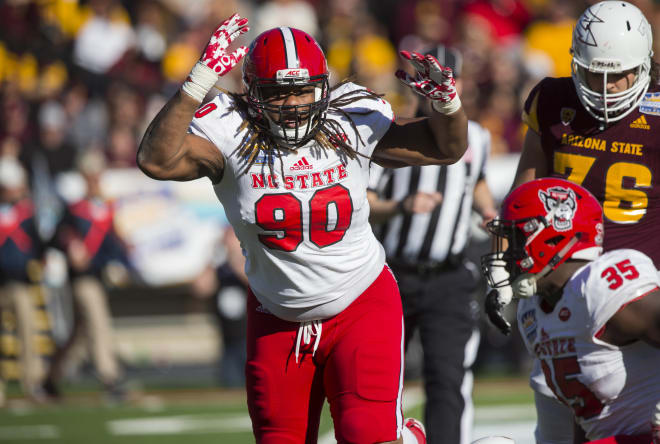 Don't miss out on any of our exclusive football, basketball and recruiting coverage. Click here to get your 30-day free trial!
Quick hits and notes from NC State's 52-31 win over Arizona State on Friday in the Sun Bowl in El Paso, Texas.
Bradley Chubb elects not to play, but Wolfpack handle business
NCSU senior defensive end Bradley Chubb dominated the news leading up to the Sun Bowl with whether or not he would play. A few running backs have passed up on recent bowl games — including Stanford star back Christian McCaffrey in the Sun Bowl last year — but rarely a player of Chubb's ability on defense has skipped a bowl before.
Chubb watched the game, but it was clear during the week that he wasn't preparing to play. Junior defensive end Darian Roseboro got the start in his place and he had three tackles and deflected a pass.
The Wolfpack finished with three sacks and four quarterback hurries. Senior defensive end Kentavius Street led the way with 1.5 sacks, redshirt freshman Shug Frazier had half a sack and fifth-year senior middle linebacker Jerod Fernandez had one. Arizona State quarterback Manny Wilkins passed for 352 yards and three touchdowns, but also had three interceptions, some of which due to NC State's pass rush.
It turned out that Chubb wasn't the only defensive player in the game to pass on playing to preserve his health leading up to the NFL Draft. Arizona State's defense was missing star junior weakside linebacker Christian Sam, who elected to not play, and the Sun Devils also struggled against the run versus the Wolfpack. Sam had 127 tackles, 9.5 tackles for loss and three sacks this season. His absence helped open the door for the Wolfpack to rush 44 times for 173 yards and six touchdowns.
Records watch
Senior H-back Jaylen Samuels entered the game needing six catches to top Jerricho Cotchery for the all-time mark at NC State. Samuels finished with seven grabs for 46 yards, and added six rushes for 20 yards and a score to finish off his terrific Wolfpack career. He also returned an onside kick 39 yards to set up the final touchdown.
Samuels will exit the record books with 202 catches for 1,855 yards and 19 touchdowns, plus 173 carries for 1,106 yards and 28 touchdowns. The 47 career touchdowns is three shy of the school record set by Ted Brown. He also owns the school mark for most consecutive games (41) with at least one reception.
Wolfpack feature 3,500-1,100-1,000 club
NC State sophomore wide receiver Kelvin Harmon was seven yards away from reaching 1,000 yards for the season.
Arizona State did a good job against Harmon, but he managed four catches for 24 yards to reach the magical milestone. He became the first Wolfpack receiver to reach 1,000 yards since the previous mentioned Cotchery in 2003, and Harmon is just the fourth overall wideout to eclipse 1,000.
Redshirt junior quarterback Ryan Finley was as efficient as could be, connecting on 24 of 29 throws for 318 yards with a touchdown. He finished with 3,518 passing yards, which was complemented by junior running back Nyheim Hines, who had 1,112 rushing yards.
Finley's total ranked fourth on NCSU's all-time list for most passing yards in a single season, while Hines posted the school's eighth-best rushing total.

Bowl records
Hines's three touchdown runs tied Stan Fritts' record total against West Virginia in the 1972 Peach Bowl. Finley's 318 passing yards is third best behind Philip Rivers' 475 yards against Kansas in the 2003 Tangerine Bowl and Mike Glennon's 383 yards in the 2012 Music City Bowl versus Vanderbilt. However, Glennon (53 pass attempts) and Rivers (45) threw far more passes than Finley's 29.
The 52 points scored is the second highest total in a bowl game for NCSU, trailing only the 56 that Rivers and company posted on Kansas in a 30-point win.
Lineup changes
Chubb wasn't the only player missing for the Wolfpack. NCSU senior right guard Tony Adams and senior cornerback Mike Stevens both missed the game due to injuries.
NC State turned to true freshman Josh Fedd-Jackson to replace Adams, which he had done when Adams and redshirt freshman Joe Sculthorpe suffered injuries in the regular-season finale against North Carolina. Fedd-Jackson played 37 of his 53 snaps on the season against the Tar Heels.
Former starter Nick McCloud got the start at cornerback in place of Stevens and he responded with a nice interception off a deflected pass. It was one of three interceptions on the day for the Wolfpack, and for McCloud it was his first career pick.
The sophomore had started the first six games of the season, but still played half the game in a cornerback rotation, with the exception when he got just six snaps against Clemson. McCloud finished with seven tackles plus the interception against the pass-happy Sun Devils.
What the win means
NC State became just the 12th team in school history to record nine wins in a season out of 125 seasons. The Wolfpack improved to 17-13-1 in bowl games and head coach Dave Doeren is now 3-1 in the postseason during his time in Raleigh.
The 20 Wolfpack seniors won three bowl games — with previous bowl victories against Vanderbilt last year and Central Florida in 2014.
The six rushing touchdowns also set a new NC State bowl record.
——
• Talk about it inside The Wolves' Den
• Subscribe to our podcast on iTunes
• Learn more about our print and digital publication, The Wolfpacker
• Follow us on Twitter: @TheWolfpacker
• Like us on Facebook