Notebook: Markell Johnson returns to lineup
NC State basketball welcomed back senior point guard Markell Johnson, who helped the Wolfpack top Detroit Mercy 84-65 in front of 13,430 fans at PNC Arena.
Johnson missed the season opening, overtime loss against Georgia Tech on Nov. 5 due to an ankle sprain. He returned to practice this past Friday and said he felt his ankle was "straight, but sore." Johnson added that he'll continue to get treatment.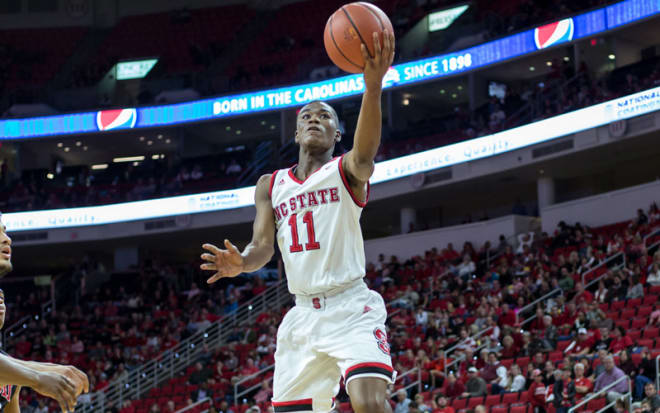 "I'm just trying to get back to myself," Johnson said.
Johnson didn't look for his shot that often, but dished out 10 assists to go with seven rebounds and three points. He went 1 of 6 on three-pointers and 1 of 8 overall against the Titans, who mainly played zone defense in their first game of the season.
"It was good to have Markell back on the floor even though he didn't score," NCSU coach Kevin Keatts said. "He moved the ball, and it's good to have a legitimate point guard out there to make some plays."
Johnson's passing skills helped free up the Wolfpack shooters, notably, junior guard Braxton Beverly. The combo guard was able to play off the ball and do what he does best — stretch the defense and fire away from three-point land. He had a career-high 23 points and went 6 of 8 on three-pointers.
"It seems like the kid has been here for 40 years," said Keatts after expressing his surprise that Beverly had a new personal best for points scored.
Keatts knows when Johnson's scoring returns it will give the Wolfpack offense another weapon on the perimeter. In the meantime, having Beverly and fifth-year senior wing C.J. Bryce combine for 42 points is a great situation.
"Having one of the best point guards in the country, and not just the ACC, but the country,," Beverly said. "He can distribute. He can always score and has that ability."
"It is always easier to play with Kell," NCSU redshirt junior wing Devon Daniels said. "He is a great player. That boy can pass. He is a weapon, and teams have to respect him. He opens up the floor for everyone else."

NC State Makes Antoine Davis Earn His Points
Daniels was tasked with imitating Detroit Mercy scoring whiz Antoine Davis in practice, and then was part of a cadre of defenders guarding him Sunday. Davis is the son of Detroit Mercy head coach Mike Davis.
"I got a lot of shots," said Daniels on pretending to be Davis.
Davis, who averaged 26.1 points per game last year as a freshman, was able to get his points, but needed 23 shots to do it. He went 11 of 23 from the field and added four assists and six rebounds in the loss.
"He is a good player, and he has a chance to play at the next level because he scores the ball," Keatts said.
Daniels, Johnson, Beverly and Bryce all took turns guarding Davis, who was most successful making pull-up mid-range jumpers. Daniels tried to take away Davis' right hand and force him into tough mid-range shots.
"He is a good player and knows how to score," Daniels noted. "He knows how to make shots."
The defensive principles used by NC State could one day help against some of the ACC high scorers, such as UNC freshman point guard Cole Anthony or perhaps Syracuse redshirt junior wing Elijah Hughes.
"We came into the game knowing we were going to play against an elite scorer in Davis," Keatts said. "We wanted him to take a lot of shots to get his points. We accomplished what we wanted to."
Dads and sons became a theme Sunday with Kentucky coach John Calipari and his family coming to watch his son play for Detroit. Junior guard Brad Calipari missed all four of his three-point shots.
Keatts joked that he isn't worried if his sons turn into 26.1 points-per-game college scorers one day.
"When it comes to my sons, if they are fortunate enough to play Division I or Division II basketball, all the recruiting will go through my wife," Keatts said.
Manny Bates Has 12 Blocks In Two Games
NC State centers Wyatt Walker and D.J. Funderburk defended the basket in their own ways last year, but neither is like redshirt freshman shot-blocker Manny Bates.
Walker would draw charges and Funderburk was active, but Bates is truly a defensive weapon around the basket. The fact Detroit Mercy didn't have anyone taller than 6-8 playing also helped aided Bates, who finished with seven blocked shots in 21:05 minutes.
"The dude is a game-changer on the back end of the press," Keatts said. "I have to give him a little bit of credit, and I'll ask everyone to be a little patient with him. The first thing you think about a post guy is how good is he offensively? It doesn't account for the mistakes that we make that he erases."
Former NC State center BeeJay Anya took in the game Sunday, and he was a talented shot-blocker. Bates already has 12 blocks in two games for the Wolfpack and could eventually challenge all of Anya's school records. Anya holds the NC State record with 243 career blocks and single game mark of 10 blocks against Jacksonville on Nov. 20, 2014, and Thurl Bailey set the mark with 95 blocks in the 1982-83 season. J.J. Hickson has the freshman record with 47 blocks in 2007-08.
"He is getting better and he's starting to get more confident in his role," Keatts said. "He has to do a little bit more talking on the back end of it."
Daniels said the Wolfpack defense is different this year thanks to Bates.
"Manny is going for all of them and is jumping for everything," Daniels said.