NCSU rolls to easy 52-14 win over The Citadel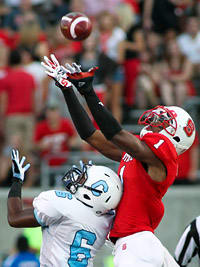 The true freshman running back started the game due to a combination of injuries and suspension to the Pack's top three tailbacks, and Thornton responded by rushing for 145 yards on 21 carries and scoring touchdowns on State's first two drives en route to a 52-14 Wolfpack win.
"I think when we decided to play Shadrach he is going to be part of the rotation going forward. I think he showed today he can go in there and play."
"[Thornton's] the only healthy back that practiced all week," O'Brien noted.
Thornton took his preparations to heart this week knowing his opportunity might come.
"You practice how you play," Thornton said. "Regardless if I was going to get in or not, I'm going to go 110 percent. The game is won in practice. That's where you put in all the hard work."
Then the turnovers happened, breaking open the floodgates.
It was the fourth straight game to start the season that Underwood had a touchdown reception.
Amerson came up with a leaping interception at the NC State 42, his 16th of his career, which ties a school record for most career picks. Glennon converted the turnover into points when he scrambled in from two-yards out with 11:15 to go in the half, giving State an insurmountable 28-7 lead.
Glennon completed the first half scoring with a one-yard run as time expired, giving State a 42-7 edge at the break.
Glennon's mishandled lateral to Underwood gave The Citadel good field position at the NCSU 28, setting up freshman fullback Vinny Mitchell's 15-yard touchdown with 6:10 left in the third quarter.
Afterwards, despite Thornton's breakthrough performance, O'Brien seemed more pleased with his defensive effort that held The Citadel's tricky option attack to 226 total yards.
"Certainly the offense getting ahead against a team like this helped, big time," O'Brien said.
"[The Citadel] rushed for under 200 yards, of which 80 was on two touchdowns. You take that out, you got 110 yards rushing. Like I said, I think the defense did a great job."
The Citadel's Robinson, on the strength of his 65-yard score, did become the first 100-yard rusher allowed by NC State since Cincinnati's Isaiah Pead lit the Pack defense up for 167 yards last season, ironically on Sept. 22. Robinson ran nine times for 102 yards.
Attendance Saturday evening at Carter-Finley Stadium was 55,145.