NC State to face different defensive scheme, mobile QB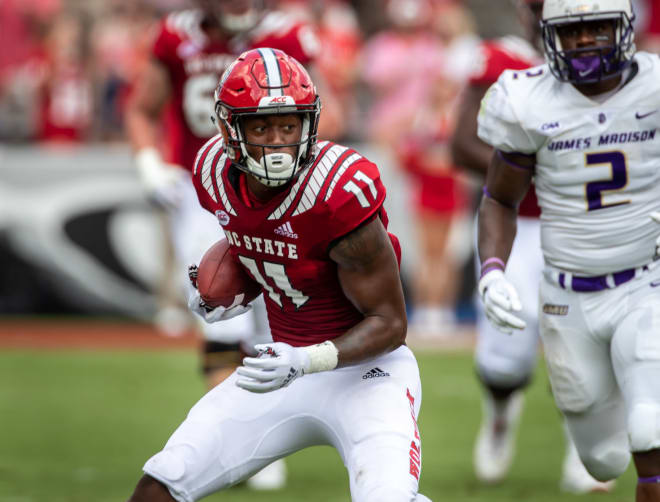 NC State battled James Madison and the heat, and a few players suffered injuries, but the Wolfpack also hope to welcome back some guys Saturday against Georgia State.
Fifth-year senior wide receiver Stephen Louis missed the opener with a hamstring injury, but head coach Dave Doeren expects him to be ready to go vs. the Panthers. However, star redshirt junior slot receiver Jakobi Meyers, who caught 14 passes for 161 yards against JMU, will be a "game-time decision."
"Steph is great and he's practicing," Doeren said. "He really looked good. We were careful with him on Tuesday and he practiced yesterday and today.
"Jakobi will be a game-day deal, but he's trying like heck to get back. He ran late night and he'll run again tonight. Every day he has gotten better."
Doeren also expects a potential increased role for redshirt junior nickel Stephen Griffin, who played seven snaps in the opener. Freshman Tanner Ingle got the start and majority of playing time, finishing with four tackles. Griffin had missed most of fall camp with an ankle injury and is starting to work his way back. Griffin will have added special team duties Saturday and Doeren expects his snap count to gradually increase over time.
"He is getting there," Doeren said. "He didn't practice in 20 of the 25 practices we had in training camp, so he got out of shape. Your physical fitness is like money, it's hard to earn and easy to spend. He was in great shape coming into camp.
"We didn't want to give him everything at once, and then all of a sudden he has a hamstring pull."
The Georgia State defense limited Kennesaw State to two touchdowns last Thursday, and the Panthers will give NC State a different look.
Georgia State runs a 3-4 defensive scheme, which will start a mini-trend of sorts. West Virginia has a 3-3-5 alignment Sept. 15, and Marshall has a pair of outside linebacker-sized starters playing the "Fox" or "Stud" spots with three down lineman. Playing variations of the 3-4 has always been immensely popular in the NFL thanks in part to the success of head coach Bill Parcells and his New York Giants teams, and then carried on through his pupil Bill Belichick, who is the legendary head coach of the New England Giants.
The 3-4 has also started to drift down to the college level, where the thought process was always that it would be harder to find defensive lineman for the scheme. The GSU defensive lineman try to eat up blocks to allow the linebackers to make plays.
Doeren has distinctly noticed that the Panthers have carried over Appalachian State's defensive schemes.
"They [Georgia State] don't pressure a lot, but they will bring their boundary player," Doeren said. "They will bring their field nickel, and sometimes their Mike or Will. It's more four- or- five-man rush stuff. Obviously, they have the ability to bring more than that.
"It's more zone defense than man. Some teams like West Virginia will have a ton of different coverages. These guys don't have as many."
NC State went from a 4-3 alignment to a 4-2-5 a few years ago, and having four down lineman is always going to be a preference with Doeren.
"You do in some conferences," said Doeren about the rise in 3-4 schemes on the college level. "I think it's preference of the head coach and what they are used to. In our league, you see both. You see a lot of 3-4 in the SEC when you watch film. A lot of those 3-4 teams are playing 4-2-5 defenses with them, by moving their fronts.
"For me, it's always about using four downs. It is what i know. It is where I cut my teeth in football. The 4-2-5 we feel allows us match up better with skill and play with some of the route concepts and receiver skill in our league."
A popular theme for the week will be trying to contain Georgia State junior quarter Dan Ellington, who passed for 187 yards and three touchdowns and rushed for 77 yards in the win over Kennesaw State. Doeren has preached having a "cage" around the quarterback for his various four defensive linemen or blitzers. There will be inside rush lanes and outside rush lanes.
"If you are the quarterback, picture lines to where the defensive lineman are lined up," Doeren said. "That is the cage.
"You want to keep it to where he is inside that cage. The quarterback moves, the cage moves with him."
Ellington, who is a junior college transfer from Itawamba (Miss.) C.C., will do some designed zone reads, but then has the capability to extend a play or take off if the initial pass patterns get covered. Good coverage will also cause Ellington to hang on to the ball a few ticks longer than needed, and Kennesaw State was able to get two of its three sacks as "coverage sacks."
"You always talk about the launch point with where he is in the pocket on certain plays, and what your angles are to him," Doeren said. "As a defensive lineman, you aren't counting when you are rushing, but you are trying to get there."