NC State closing in on 1,000 NFL TD passes
With Ryan Finley poised to make his first career start this weekend for the Cincinnati Bengals, upping the total to four former NC State quarterbacks now starting in the NFL, cumulative statistics will soon start overflowing, lava-like.
And the biggest number is just over the horizon: 1,000 total NFL touchdown passes thrown. The passers from #QBU need only 32 more to reach that remarkable four-digit total.
That number is not necessarily limited to quarterbacks, of course, since running back Jaylen Samuels of the Pittsburgh Steelers and wide receiver Jakobi Meyers of the New England Patriots are at least threats to throw, just as halfback Alex Webster, punter Johnny Evans, running back Dick Christy, fullback Stan Fritts, running back Ted Brown and safety Joe Scarpati were in their careers.
Below is a list of every former NC State player who has ever thrown a pass in an NFL game, from the 7,305 thrown by Rivers to the one each thrown by Webster and Brown.
(Give Brown credit – he completed the only pass he ever threw. It just happened to be to a player for the opposing team. Samuels has a similar streak going. He's attempted five passes this season for the Pittsburgh Steelers and all five have been caught: four by the Steelers and one by an opponent.)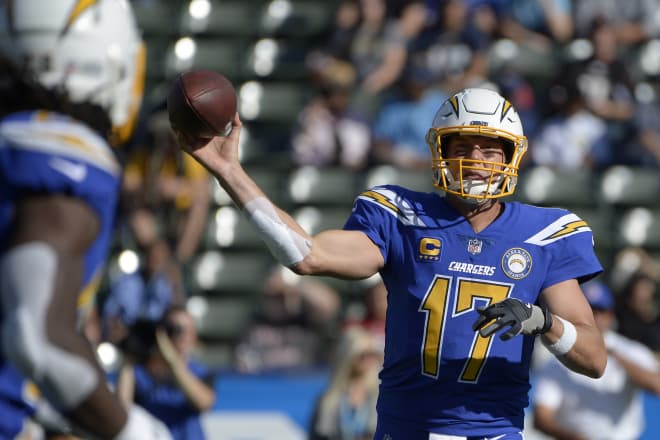 Rivers, Russell Wilson and Roman Gabriel are three of the 43 quarterbacks in NFL history to throw at least 200 career touchdown passes, accounting for 805 of the 968 scoring passes thrown by former NC State players in the NFL. The only other school with three on that list is Purdue with Drew Brees (522), Len Dawson (239) and Jim Everett (203).

In case you're wondering, 12 Purdue quarterbacks have accounted for 1,434 NFL touchdown passes.
Rivers, already sixth on the career touchdown passes list, will soon join Peyton Manning, Tom Brady, Brees, Brett Favre and Dan Marino as the only NFL quarterbacks with 400 career scoring tosses. He has 386 going into the Chargers' game Thursday night at Oakland.
Finley has yet to throw an NFL pass, but he was named the Bengals' starter 10 days ago, surprisingly taking over for struggling veteran Andy Dalton. A fourth-round pick, Finley wasn't necessarily expected to be the face of the franchise, but he is likely to get the final eight games of this year to show that the team won't need to spend its 2020 first-round selection — potentially the No. 1 overall pick — on a quarterback.

Like Wilson, Finley is a hard player to bet against. He proved himself worthy throughout his college career, which took a circuitous route from Phoenix to Raleigh through Boise. He ended up starting 40 games for the Wolfpack in three years and finished between Rivers and third-place Jamie Barnette on the school's all-time leading passer list with 10,505 yards and fourth behind Rivers, Wilson and Mike Glennon with 59 career touchdown passes.
Finley said he is a bit nervous going into Sunday's first career start against the Baltimore Ravens, but not to the point that it will adversely affect his game.
"I would be worried if I wasn't nervous because that would mean I didn't care," Finley told the Cincinnati Enquirer.
"I'm more excited than anything. I feel like it's been a while since I played in a football game, and it has been, but it'll be fun to get out there."
Probably more fun than his last game, the Wolfpack's season-ending 52-13 loss to Texas A&M in the Gator Bowl on New Year's Eve.
Former NC State Players' NFL Passing Stats (Through Nov. 5, 2019)
| Player | Team(s) | Pass Comp-Att-Yds | TD-Int |
| --- | --- | --- | --- |
| Jacoby Brissett | Patriots, Colts | 465-764-5,149 | 27-10 |
| Ted Brown | Vikings | 0-1 | 0-1 |
| Dick Christy | Steelers, Patriots, Jets | 6-18-94 | 2-2 |
| Johnny Evans | Browns | 2-3-33 | 0-0 |
| Art Faircloth | Giants | 3-5-30 | 1-0 |
| Stan Fritts | Bengals | 2-4-31 | 0-0 |
| Roman Gabriel | Rams & Eagles | 2,366-4,448-29,444 | 201-149 |
| Mike Glennon | Bucs, Bears, Cardinals, Raiders | 484-794-5,107 | 36-20 |
| Erik Kramer | Falcons, Lions, Bears, Chargers | 1,317-2,229-15,337 | 92-79 |
| Coley McDonough | Bears, Eagles | 47-125-865 | 5-4 |
| Philip Rivers | Chargers | 4,741-7,305-57,265 | 386-185 |
| Jaylen Samuels | Steelers | 4-5-34 | 0-1 |
| Joe Scarpati | Eagles, Saints | 1-2-3 | 0-0 |
| Alex Webster | Giants | 0-1 | 0-0 |
| Russell Wilson | Seahawks | 2,295-3,554-28,129 | 218-64 |