Ryan Finley eager to compete for quarterback spot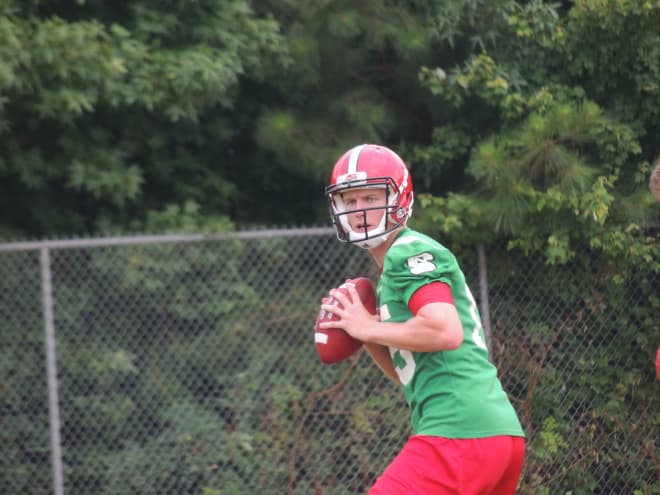 New NC State quarterback Ryan Finley knows he wouldn't be in Raleigh if not for new Wolfpack offensive coordinator Eli Drinkwitz.
Finley visited NC State and North Texas, but Drinkwitz made the decision easy after their time together at Boise State. Drinkwitz was the tight ends coach during Finley's redshirt freshman season, and then offensive coordinator/quarterbacks coach for his final year. NCSU hired Drinkwitz following the Broncos 9-4 season, and Finley needed a new home after then-freshman Brett Rypien had established himself as the quarterback of the present and future.
One noticeable difference between the two colleges is the humidity Finley half-joked.
"It's fun and different, but a fresh start and I'm excited about it," said Finley, who is from Phoenix, Ariz. "Coach Drinkwitz was the most important thing to me [during recruiting process]. You win with people, and I had a real good relationship with Drink; and he said it would be an open competition. That was the deciding factor."
The 6-foot-4, 200-pound Finley might have signed for one set of coaches at Boise State that left for Washington after the 2013 season, but Drinkwitz won him over when he arrived to the land of the blue turf in 2014.
"He is real personable," Finley said. "I think he cares for you at a whole different level than just football. You can talk to him about anything. He's just another father figure in my life, and that's a big part."
Chris Peterson was the head coach at Boise State when Finley signed. New coach Bryan Harsin arrived after Peterson accepted the job at Washington, and Harsin hired Drinkwitz for his staff. Finley played in five games in 2014 and went 12-of-27 passing for 161 yards, two touchdowns and an interception.
Finley and Rypien battled for the job during 2015 fall camp, and Finley earned the nod for the season opener against Washington. He guided Boise State to a 16-13 win, passing for 129 yards and an interception.
Finley went 25-of-38 passing for a career-high 297 yards and had one touchdown but also three interceptions in a 35-24 road loss at BYU. He then broke his ankle the next week against Idaho State, ending his season.
"I was able to get a lot of experience, game experience," Finley said. "It's just valuable to be out there and playing."
Finley maintained he's 100 percent healthy — he also had a torn rotator cuff surgery early in his Boise State career — and is poised to battle redshirt sophomore quarterback Jalan McClendon and redshirt freshman Jakobi Meyers for the starting job.
"I'm just happy to compete," Finley said. "We have a bunch of guys that can throw it around."
He might be in competition with McClendon and Meyers, but Finley is also helping them out in understanding the offense. Some of the terminology is different and things have been added, but Drinkwitz carried over similar concepts from Boise State.
"I knew the offense for the most part," Finley said. "Drink is always evolving and coming up with new stuff. For the most part, I knew the DNA. I'd be one notch up [in knowing the offense]. We are all in this together. We are trying to be the best unit we can be."
There are two graduate transfers on the NC State squad, with Finley joining former South Alabama center Joe Scelfo. Finley said the two have been able to lean on each other to adjust to NC State smoothly.
"To have another guy go through it is real nice," Finley said. "It's not like we haven't done this before. It's just a new team, new program and new guys. We know how things work."

Finley also hasn't needed a long time to figure out that getting the ball to senior running back Matthew Dayes and junior tight end/fullback Jaylen Samuels is a good idea for a new quarterback. He watched all 13 NCSU games from last year during the summer.
"It's about operating and executing, and getting touchdown drives," Finley said. "That is what it is all about. We got a bunch of playmakers, and we have to do our job. That is about it."