NC State lands four-star Jamie Lewis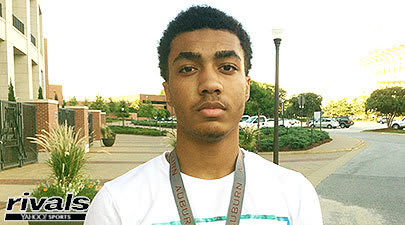 Atlanta (Ga.) Westlake senior point guard Jamie Lewis has been battling some minor injuries off and on, but NC State's faith in him was rewarded Thursday.
Lewis verbally committed to NC State over finalists Georgia Tech, Baylor and Wake Forest. Lewis unofficially visited Wake Forest and NCSU this week, and Wolfpack head coach Kevin Keatts and assistant coach Takayo Siddle were able lock him up following Wednesday's trip to Raleigh.
Keatts offered Lewis in late April, joining Baylor as his new offers during his junior year. Wake Forest showed interest and other schools were hopeful to watch him during the July evaluation period with his new traveling team, Team Loaded NC on the adidas circuit.
Rivals.com ranks the 6-foot-2, 180-pound four-star prospect No. 68 overall in the class of 2018, but he has missed the majority of events this spring due to a groin injury.
Lewis has been a stalwart with the Georgia Stars traveling team program, helping them win the 16s title at the Nike Peach Jam when he was a freshman. He was able to play with his older brother Danny Lewis at Westlake and with the Georgia Stars. Danny Lewis is an incoming freshman shooting guard for Central Florida.
The early success led Lewis to pick up several offers during the summer of 2015, including the former coaches at California, Missouri and Florida. Kansas and Iowa State jumped in Dec. 14, 2015, and new Georgia Tech coach Josh Pastner offered shortly after getting hired.
Lewis returned to the Georgia Stars this spring, but only played one of the four legs of the Nike Elite Youth Basketball League. He went 5 of 21 from the field and averaged four points per game while trying to shake off the rust from missing time April 21-23 in Hampton, Va.
Lewis joins North Carolina Wilmington shooting guard transfer C.J. Bryce and Utah small forward transfer Devon Daniels in the Wolfpack's class of 2018. NCSU has landed six perimeter players since April 1 to solidify the roster for next year and beyond.