NC State football signing day notebook: Older newcomers add depth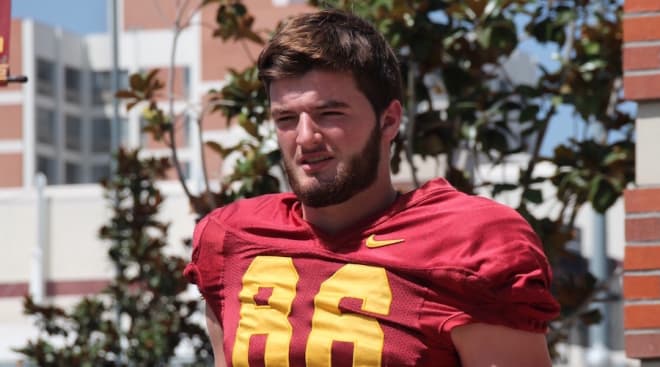 NC State started nine seniors on defense last season, and had three more on offense.

Twelve seniors on the first string is a high number in college football. Couple that with the early departures of a pair of juniors to the NFL — running back Nyheim Hines and right tackle Will Richardson — and the Pack will inevitably be younger and less experienced in 2018.
Perhaps anticipating that, NC State will have six additions that are older than your typical newcomer. Two of them have actually been on campus since this past summer. Tennessee safety transfer Stephen Griffin redshirted last year and will be a redshirt junior. Defensive tackle Larrell Murchison, a junior college transfer from Louisburg College, also redshirted after being a late addition in the class of 2017.
Both come with good credentials. Griffin was rated as the No. 23 safety in the 2015 class and the No. 18 player in North Carolina coming out of South Mecklenburg High in Charlotte, according to Rivals.com. He got onto the field as a true freshman with the Vols and then worked his way up the depth chart as a sophomore, playing in 11 games and registering a start. He finished that year with 13 tackles, four passes broken up and a forced fumble.
Murchison was an honorable mention junior college All-American after tallying 41 tackles, 17.5 stops for loss and 5.5 sacks as a sophomore, and took official visits to Texas, Georgia and Ole Miss before signing with NC State.
Murchison figures to be a prominent contender to help fill in the defensive line rotation that lost four senior starters, who were all invited to the NFL Scouting Combine. He'll also have some company with the addition of a pair of junior college transfers in the 2018 class.
Defensive end Joe Babros is already on campus. The 6-4, 239-pounder had 7.5 tackles for loss and 4.5 sacks in eight games as a sophomore at Saddleback Community College in his hometown of Mission Viejo, Calif., and he signed with NC State over offers from Colorado State, Iowa State, Nevada and North Texas.
Defensive tackle Val Martin (6-2, 305 pounds) was the last recruit to emerge on NC State's recruiting board this year. He had 49 tackles, 6.5 tackles for loss, three sacks, and a fumble recovery for 11-1 Iowa Western Community College, one of the nation's premier junior colleges. The Marietta, Ga., native chose the Pack over offers from Washington State and FAU, and was at one time scheduled to officially visit West Virginia.
Martin has three years to play three while Babros has three to play two. Their additions coupled with Murchison will allow defensive line coach Kevin Patrick to potentially avoid relying on a group of redshirt freshmen and true freshmen to fill out the depth chart unless those rookies are ready to play.
Griffin could slide into a starting spot in the secondary that lost starting safety/nickel Shawn Boone. The Pack also lost two starting corners in Mike Stevens and Johnathan Alston. Rising junior Nick McCloud has plenty of experience and could slide into one spot, but the other is wide open. Thus junior college transfer Kishawn Miller, who intercepted three passes (including one pick six) and had four passes broken up as a sophomore at Georgia Military College in Milledgeville, Ga., could get into the mix.
Both Babros and Miller were ranked by some services among the top 100 junior college recruits in the country.
Offensively, the one position that took the heaviest hit was tight ends were stalwarts Cole Cook and Jaylen Samuels have graduated. Enter Cary Angeline, who should be eligible after the first four games if not earlier next fall. Angeline left USC during his redshirt freshman season, but prior to that he impressed enough to be its Offensive Service Team Player of the Year (USC's version of the scout team) and he is a former top 250 player in the 2016 class by multiple outlets.
Athleticism Boosted In Secondary
In the past, NC State looked determined to add length to its defensive secondary. This year it appeared to be a concentrated effort to make the secondary more athletic.
The aforementioned Miller earned an offer from NC State after the Pack coaches watched him at a satellite camp at Mercer University, where Miller reportedly ran the 40-yard dash in 4.45 seconds.
Potential nickel Tanner Ingle from Orlando (Fla.) Dr. Phillips High had the 26th best Nike Rating (105.06) among hundreds at the Nike Camp in Orlando, where he had a laser-timed 40-yard dash of 4.50 seconds and shuttle of 4.15 seconds and also registered a 35.0-inch vertical.
Late corner addition Taiyon Palmer of Archer High in Lawrenceville, Ga., had a Nike Rating of 114.03, 73rd best from all of the Nike Camps combined. His laser times were 4.62 seconds in the 40 and 4.07 seconds in the shuttle, and he added a 37.3-inch vertical.
Four-star corner early enrollee De'Von Graves from Appomattox (Va.) County High was timed at 4.50 seconds in the 40 and 4.15 seconds in the shuttle with a 32.2-inch vertical at NC State's summer camp in 2016. At a camp this past summer, safety/nickel pledge Tyler Baker-Williams from Southeast Raleigh High had a 4.54-second 40-yard dash and registered a 9-foot-4 standing broad jump.
Three-star corner Teshaun Smith from Davie (Fla.) Western High has a reported 4.57-second 40-yard dash time.
In the 2016 recruiting class, NC State made a splash by signing four corners all at least 6-0. Going into the spring of 2018, two (Bryce Banks and J.J. Givens) were no longer with the team and a third (Markel Valdez, formerly known as James Valdez) is recovering from a knee injury.
Wolfpack Fishing In Good Recruiting Ponds
There are two measures to evaluate recruiting classes that have yet to step on a football field: rankings and offers. In the latter category, NC State continues to take a step forward.
During the recruiting days of Tom O'Brien, the Pack routinely was alone in recruiting a player. Unofficially, 25 signees in O'Brien's full recruiting classes from 2008-12 had no other Football Bowl Subdivision offers.
This year's recruiting class is loaded with players who had some impressive offers:
• Junior college defensive end Joe Babros: Had a Big 12 offer from Iowa State.
• Three-star defensive back Tyler Baker-Williams: Most of his offers were mid-majors like Appalachian State, Colorado State, East Carolina and Old Dominion.
• Three-star offensive tackle Kahric Belle: Offers from Arkansas, Florida, Illinois, Kentucky, Miami, Oregon State, Syracuse and Wisconsin.
• Three-star defensive end Joseph Boletepeli: Took official visits to Maryland and Michigan State, and also considered offers from Georgia Tech, North Carolina and Wake Forest.
• Three-star wide receiver Devin Carter: Also had offers from Michigan State, Minnesota and Wake Forest.
• Three-star safety Malik Dunlap: One of the few who did not have a FBS offer at the time of his pledge, which may have been due to missing most of his junior season with an injury.
• Two-star kicker Christopher Dunn: Committed before his junior season when NC State offered, but that did not stop colleges from trying to gauge his interest along the way.
• Three-star defensive lineman Derrick Eason: Originally picked NC State over offers from Maryland, UNC and Temple, but then nearly flipped to Notre Dame after a late push from the Irish.
• Three-star offensive tackle Gabriel Gonzalez: Compiled an impressive list of offers that included Duke, Minnesota, Purdue, Vanderbilt, Virginia Tech, Wake Forest and West Virginia before picking NC State.
• Four-star defensive back De'Von Graves: NC State jumped on Graves early, but after his pledge Tennessee, Virginia, West Virginia and especially Virginia Tech all tried to pull him away from NC State.
• Two-star linebacker Calvin Hart Jr.: His co-finalist was Texas A&M, where he visited over the summer.
• Three-star defensive back Tanner Ingle: One-time Tennessee verbal commitment.
• Four-star quarterback Devin Leary: Picked up offers along the way from Baylor, Boston College, Indiana, Iowa, Maryland, Minnesota, Pittsburgh, Rutgers, Syracuse, Wake Forest and West Virginia, but it was a late summer push from Penn State that most worried NC State.
• Junior college defensive tackle Val Martin: Had offers from Buffalo, FAU, Washington State and West Virginia, and visited all but WVU, where he had a trip lined up to at one point.
• Three-star defensive tackle Davontae McCrae: Initially chose NCSU over offers from Louisville, UCF and Wake Forest, among others. Louisville continued to pursue him throughout the fall, and both Maryland and Virginia sent him late offers.
• Four-star defensive lineman Alim McNeill: One of the most heavily recruited players in the state of North Carolina picked up an Alabama offer the day of his verbal commitment to the Pack. Chose NCSU over Virginia Tech and Michigan.
• Junior college defensive back Kishawn Miller: Along with Dunlap, the one prospect who did not have a major FBS offer when before or after he committed.
• Three-star cornerback Taiyon Palmer: Was headed to Duke, but after decommitting made official visits to Nebraska and Tennessee in addition to NC State.
• Three-star running back Trent Pennix: Was thought to be a Virginia Tech lean before NC State offered. Boston College, Louisville, Maryland, Minnesota, Wake Forest and West Virginia also offered along the way.
• Four-star running back Ricky Person: Had he not committed so early, Person probably could have chosen his college.
• Three-star wide receiver Jasiah Provillon: Chose NC State over offers from Louisville and Michigan State.
• Three-star corner Teshaun Smith: Had offers from Kentucky, Pittsburgh and Vanderbilt when he committed to NC State, and then added a late offer from Nebraska after former UCF coach Scott Frost took the Huskers job.
• Three-star offensive tackle Jalynn Strickland: Committed to NC State on the Fourth of July over Arkansas.
• Four-star linebacker Payton Wilson: Originally chose UNC over Clemson and Virginia Tech and then picked NC State over Notre Dame the second time.
——
• Talk about it inside The Wolves' Den
• Subscribe to our podcast on iTunes
• Learn more about our print and digital publication, The Wolfpacker
• Follow us on Twitter: @TheWolfpacker
• Like us on Facebook