NC State, ECU set for spirited battle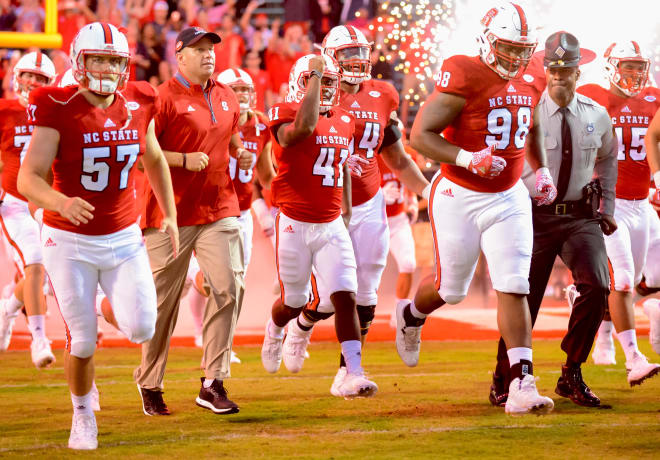 Players have changed as did one of the head coaches the last time NC State played East Carolina in 2013, but lingering feelings still remain.
NCSU coach Dave Doeren still remembers the frustration of having the Pirates come into Raleigh and win 42-28 on Nov. 23, 2013. ECU raced out to a 35-7 and then star quarterback Shane Carden finished with three passing touchdowns and two rushing scores.
NC State has been building up the roster since Doeren's first season, while East Carolina entered some flux with the firing of coach Ruffin McNeill. Duke offensive coordinator Scottie Montgomery was hired and he won his first game 52-7 against Western Carolina last Saturday. Doeren and the Wolfpack were able to watch the contest, after rolling to a 48-14 win last Thursday.
Doeren is expecting a hostile environment at 12 p.m. Saturday in Greenville, N.C.
"Their fans did a great job in our stadium," Doeren said. "Obviously, the team that I coached and we played with, created that. Our job is to go down there and not that spirit."
Doeren knows the ECU fans were celebrating at Carter-Finley Stadium, but understands that is the nature of the beast. He half-joked that his neighbors who are ECU fans didn't let out their emotions too much.
"No, they are classy people," Doeren said.
Both programs have sometimes tried to battle over how much the game means to each other. Doeren knows how much a win Saturday means for his Wolfpack squad.
"It's a huge game, the next game on our schedule and an in-state game," Doeren said. "It's a pride game. It's very important to our guys and staff."
Doeren sees some similarities between East Carolina's previous "Air Raid" offense, and what Montgomery and new offensive coordinator Tony Petersen are trying to accomplish this season.
"Last year, they were dealing with some quarterback injuries, so they were rotating guys," Doeren said. "They are playing with a lot of confidence, you can see that. They are a spread offense and up-tempo, which is what Ruffin was as well."
Doeren pointed out that the perimeter screen game isn't as emphasized this season as in year's past. Both teams hope to dictate the tempo of the game.
"Going against that kind of tempo obviously shouldn't be that difficult, going against that in practice," Doeren said.
NC State might have needed to show everything in its arsenal against William & Mary, but Doeren definitely expects improvement each and every week. One of the long-time football adages is the most improvement should come after the first game.
"I hope there is improvement every game," Doeren said. "For the guys that are first-year players, that is especially true."