NC State baseball preview: Pitching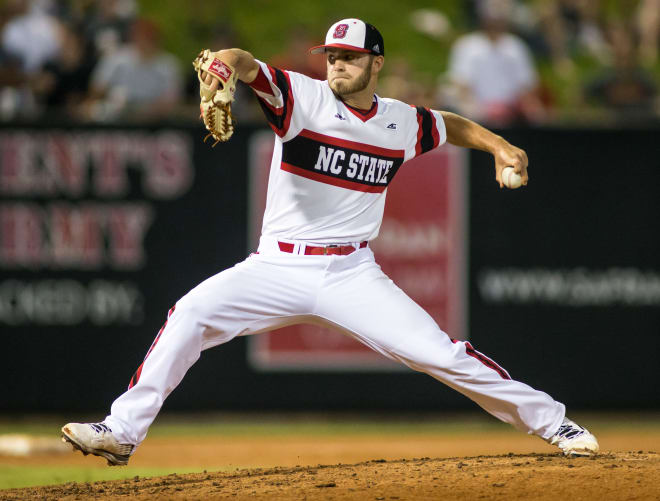 Most of Wolfpack nation will probably be asleep when NC State begins its 2017 baseball season Friday at Hawai'i.
First pitch is scheduled for 11:35 p.m. However, if head coach Elliott Avent's team can reach its full potential, the Wolfpack is going to give State fans reasons to stay up late watching this spring and summer.
Part I of our preview of the 2017 season details the deep pitching staff that has many options when it comes to filling out a rotation and bullpen.
A wrinkle that has already been thrown into this mix is the news that junior lefty Brian Brown will miss the opening series with forearm tendinitis. The move is reportedly precautionary. Brown has gone 14-6 on the mound in his first two seasons with the Pack, striking out 157 in 167.1 innings while scattering 119 hits.
A healthy Brown is a good bet to be in the weekend rotation. The questions surround who would join him. Newcomer Dalton Feeney could be one of them.
Feeney is a freshman from Bismarck, N.D., and likely would have been a top 5-10 round MLB Draft choice in June, had he not been set on attending college first. That was supposed to be at Missouri, but a coaching change there led to Feeney ending up at NC State instead.
MLB.com noted in its scouting report on Feeney, who was also a high school quarterback, that he has hit 96 miles per hour on his fastball.
"More than just a thrower, he flashes a pair of plus breaking balls and shows signs of developing at least an average changeup," the scouting report added.
Among the veteran options, both senior righties Joe O'Donnell and Cory Wilder have extensive starting experience. O'Donnell was one of the Pack's more consistent performers last year before he was shut down with a shoulder injury. In six starts, he was 3-2 with a 4.02 earned-run average in 31 1/3 innings pitched. Before that, he was a dominant bullpen performer, sporting a 2.08 ERA in 52.0 innings during 25 appearances his sophomore year. He gave up just 37 hits and struck out 54.
Wilder has always battled control issues, walking 89 batters over 121 innings pitched during the last two years. He has made 27 starts in 30 games and has electric stuff when he can control his pitches.
A couple of former bullpen options could also be in line for a promotion. Redshirt junior lefty Cody Beckman pitched far better than last year's numbers (6.05 ERA in 16 games) indicate, giving up 14 hits in 19 1/3 innings and striking out 23. He turned down the New York Mets to return for this season.
One-time closer and junior righty Tommy DeJuneas, who saved 12 games over the past two seasons, began working this past fall as a potential starter, where the hope is that by dialing back his lively fastball, he will have better control of his pitches.
Fifth-year senior lefty Sean Adler, a former USC transfer, is also in the mix and expected to get the first call Friday as pitchers begin auditioning for a role in the weekend rotation. Adler made one start last year in 19 overall appearances, during which he pitched 23 1/3 innings. He struck out 26, but also walked 21 and gave up 24 hits.
A potential option at closer is fifth-year senior righty Johnny Piedmonte, who last season in the ACC Tournament pitched a perfect inning by striking out the side against Georgia Tech for his first career save. The 6-foot-8 hurler has primary started in the past, but could prove more effective in short relief.
Redshirt sophomore Austin Staley had a solid rookie season out of the bullpen last year and could anchor the middle relievers. He threw in a team-high 26 games, giving up just 17 hits in 15 2/3 innings while sporting a 3.16 ERA.