NC State athletics director Debbie Yow Q&A, part I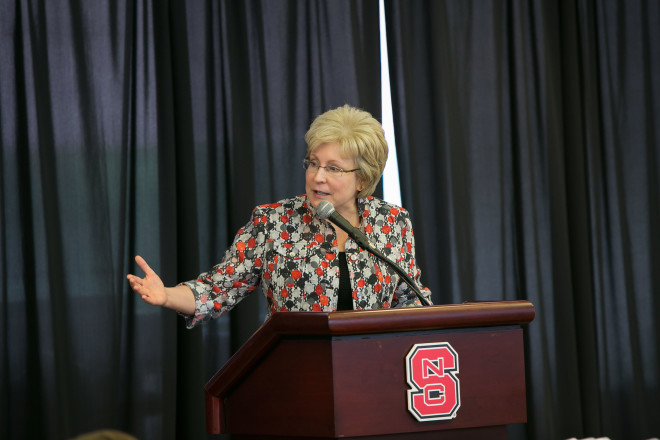 Over the past five years, NC State has achieved five of its 10 highest finishes in the Directors' Cup — a competitive measure of each university's athletics programs.
The Wolfpack is 34th currently in 2015-16 and appears positioned to potentially finish in the top 25 next year, which was the goal outlined in the Wolfpack Unlimited strategic plan released in July 2012.
Nine programs have or will finish ranked in the top 25 of their sports after 10 did so in 2014-15. That compares to just one in the year prior to athletics director Debbie Yow's arrival in the summer of 2010.
Academically, the most recent rankings of the Graduation Success Rate showed the Pack (83 percent) achieving its highest GSR in school history.
Yow sat down with The Wolfpacker to talk about these successes and more. Here is part I of that interview.

When you look at the year in sports, how would you evaluate NC State?
"I would look at this as a work in progress. We do have a strategic plan, and we are meeting our strategic plan goals for 2015-16. Next year is a huge year for us. It's the year as a program we need to reach top-25 status.
"The closer we've gotten to that, the more challenging it has become, because at this level everybody has financial support, experienced administrators, talented coaches and great athletes. It's a daunting challenge to get there.
"I don't think I can look at 2015-16 men's basketball without thinking what an anomaly that was with what occurred to us from an injury perspective. I don't expect to ever see another year like that. To Coach [Mark] Gottfried's great credit we have gone from that season to having a recruiting class for 2016 that's No. 7 in the nation and No. 2 in the ACC behind only Duke.
"I suspect that there are a number of people who will be amazed by that, given where we were when the Martin twins chose to go elsewhere.
"I am very proud of what he and his assistant coaches have been able to achieve in a very short period of time. They have worked so hard to get where we are, and of course they are continuing to work on the class of 2017 and 2018, even as we plow through getting a critical mass of highly talented players for 2016."
How would you analyze football last season?
"We had a couple of choices to make during the year that impacted us in football. One of those was what to do with the incident that occurred with Shad [Thornton]. I realized there are programs that absolutely would not have removed him from the team at that point.
"Coach [Dave] Doeren and I discussed it very seriously and made the choice to make the change. It had nothing to do with how we feel about Shad. I would help him today if there is any way that I could, and I think Coach Doeren feels the same way.
"That incident happened in the middle of the week before the opening ACC game on the schedule, a much less than ideal situation. A little later Matt Dayes goes down with an injury. Things looked different after that.
"I do believe Coach Doeren evaluated all facets of our program and made the changes that he felt would be most beneficial. We'll see how things go this year with the most challenging schedule in the ACC. That comes straight from ESPN, not from us internally.
"It was never designed to be the most difficult schedule in the ACC. The fact is things happen in programs. In our case, we are in the Atlantic Division, and we will have to face Florida State, Clemson and Louisville every single year. That is not going to change. There is no movement in the ACC to do away with the divisions, which is something I have wanted to do from day one.
"I do believe those in the Coastal Division are very happy with the situation.
"We're also not going to play two FCS schools in any given year, knowing that only one of those can be counted towards bowl eligibility.
"It just happens to be the year we go to East Carolina, which is always a challenging game for us."
You just announced a record sellout of football season tickets. The NCAA reported that on average that 2015 was the lowest attendance per game since it began keeping stats in 2003, and the ACC dropped by an average of 1,258 per game.

Yet, last year NCSU was 23rd nationally in average game attendance increase from 2014 to 2015. How have you managed to avert the downward trend in football attendance?
"There are several factors that can be attributed to our success in attendance. The most important one is the loyalty of our fans and the great tailgating experience you can have at Carter-Finley. We work hard to maintain that opportunity.
"The second thing is I do believe people understand that Coach Doeren and his staff are some of the hardest working coaches ever, and they are relentless recruiters.
"We've had very young teams for several years, and this will be the first year that we will change that since he's been here. I think there has always been hope in our young talent, that if we give them the opportunity to mature that we could have some very special moments here.
"We're not at the juncture where FSU is trying to find its way and retire a legend and find someone new. They are fully installed, operating at a high efficiency level. Same thing with Clemson. They have their guy. I believe we've found our guy, but we are not catching anyone off guard.
"The schedule is very attractive, and it's going to be from now on. I think our fans appreciate that and enjoy thinking about us playing top-level competition. I still maintain that the most satisfying thing is winning the games, so we do have our work cut out for us.
"I believe that Coach Doeren and his staff are up for the challenge."
The University of Texas just announced it would join the growing number of colleges allowing alcohol sales at football games. What are your thoughts on this?
"We are going to be serving for the first time, in a restricted area of the Dail Club, beer and wine. That's in Vaughn Towers. It's a change for us, and we'll see how that goes.
"We'll be very cautious about this. I know there have been people who have wanted to serve alcohol who have commissioned studies that said it's helpful. I really don't know what to think about that. I really have to take an in-depth look at the survey and who paid for it.
"We're not there yet, but we are expanding into the Dail Club section."
It appears that the nine-game ACC schedule for football might be back on the table. Could that happen and where do you stand on it?
"I think nine games is a legitimate possibility, but I would much prefer doing that with no divisions; just do an equitable rotation with one partner, and for us that would always be UNC-CH."