Monday morning quarterbacking: NC State vs. Arizona State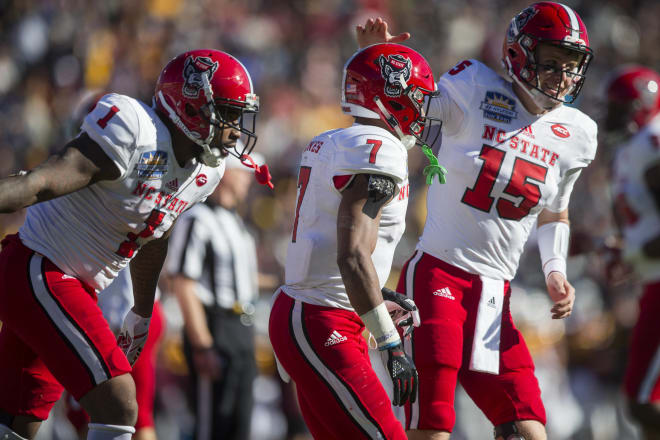 Don't miss out on any of our exclusive football, basketball and recruiting coverage. Click here to get your 30-day free trial!
NC State hammered an Arizona State program in flux, 52-31, dominating the Sun Devils in nearly every category at the Hyundai Sun Bowl in El Paso, Texas. NCSU finished the season 9-4.
Now it's time for a final look at the contest with some Monday morning quarterbacking.
Key moment of the game:
There weren't many times where the game hung in the balance. NC State made its move during the second quarter and had to rebound from a tough penalty to make it happen.
NC State defensive end James Smith-Williams was called for roughing the punter, giving Arizona State new life at the NC State 45-yard line. ASU drove to the NCSU 6-yard line, but the Wolfpack defense stiffened and forced a field goal to maintain a double-digit lead at 14-3.
NC State took over and used a nifty flea-flicker from redshirt junior quarterback Ryan Finley to redshirt junior wide receiver Stephen Louis for 40 yards to the ASU 5-yard line. Junior running back Nyheim Hines ran it in on the next play for a touchdown, and the Wolfpack took a commanding 21-3 lead with 4:37 left in the second quarter. That proved to be a large enough buffer for the rest of the game.
Three things that worked:
1. Owning possession
NC State's ground game rushed 44 times for 173 yards and six touchdowns to help the Wolfpack to a 34:29-25:31 advantage in time of possession.
Arizona State didn't have star junior linebacker Christian Sam, who led them with 127 tackles, and the Wolfpack pounded the Sun Devils up the middle. Junior running back Reggie Gallaspy provided a nice one-two punch with the aforementioned Hines, especially in the second half. Gallaspy had a game-high 12 carries for 79 yards and two scores.
2. Winning turnover margin
Arizona State didn't have its offensive coordinator, Billy Napier, who took the head coaching job at Louisiana-Lafayette. Whether it played a role for the Sun Devils, only redshirt junior quarterback Manny Wilkins would know.
Wilkins threw just five interceptions in 370 passes in 12 regular-season games — and 14 picks in 681 career pass attempts going into the game — but threw three in 40 passing attempts against NC State. Add in ASU sophomore wide receiver Kyle Williams fumbling on the second play of the game, and that's usually a sign of a team just not ready. In turn, NC State was more than ready to play, with the lone hiccup coming on a botched punt return for a fumble.
3. Winning the trench on defense
The biggest storyline going into the game was whether NC State senior defensive end Bradley Chubb was going to play or not in his last Wolfpack game. Chubb, who will be an early NFL first-round draft pick, was one of a handful of players in college football this bowl season who have elected to skip the game.
NC State missed his pass-rushing ability at times, but it held up fine in getting three sacks and limiting Arizona State to 117 rushing yards and a touchdown on 30 carries.

Three things that did not work:
1. Special teams struggles
NC State has been much maligned for its kicking game, but that wasn't the major problem in the Sun Bowl. The aforementioned roughing the punter penalty and botched punt return where cornerback Nicholas Lacy got in the way of punt returner Hines were just two of the issues.
NC State tried a fake field goal in a 0-0 game and came up inches short of a touchdown, had a low snap on a punt attempt, failed to recover one of the four onside kick attempts and had a punt tipped.
2. Coverage issues
If Arizona State was going to have offensive success, the Sun Devils would have to sling the ball around.
The secondary has been a weakness for the Wolfpack this past season, and there were a few drives where the Sun Devils drove right down the field. ASU sophomore wide receiver N'Keal Harry in particular dominated an entire series, but he's also the most likely top NFL Draft prospect for the Sun Devils. He finished with nine catches for 142 yards and a touchdown. Wilkins threw for 352 yards and three scores, but also tossed three interceptions.
NC State played the game without starting senior corner Mike Stevens.
3. Inconsistent safety play
Part of the pass defense issues were a result of the safety play, but the Wolfpack also made sure to try different guys, some due to a temporary injury or ineffective play.
Redshirt sophomore Jarius Moehead and sophomore Tim Kidd-Glass started the game, but then redshirt freshman Isaiah Stallings and redshirt junior Dexter Wright were called into action.
Collectively, the four safeties finished with 12 tackles (six solo) and Morehead got one of the interceptions and a fumble recovery. All four are back and NC State will be looking for improvement.
Position-by-position battles
NC State's offensive line vs. Arizona State's front seven
Big advantage for the Wolfpack. Once it became known that Sam wasn't going to play, the ASU front seven took a major hit, and the results showed. NC State ran the ball effectively, and the Wolfpack allowed just two sacks (one on a blitz) and zero quarterback hurries. The "Band of Brothers" took care of business, and did it without star senior right guard Tony Adams, who missed the game due to an injury.
Arizona State's offensive line vs. NC State's front seven
NC State swept the battle in the trenches. NCSU ended up with three sacks and four quarterback hurries, and other than that one fourth-quarter touchdown drive stood up well against the Arizona State running game.
NC State's wide receivers vs. Arizona State's secondary
We had mentioned Arizona State's secondary as being the weak link this season in our Scouting Arizona State story. The Sun Devils had four different quarterback throw for 345 yards this season, and Finley came close with 318. ASU redshirt freshman Chase Lucas is a quality cornerback, but the Wolfpack attacked the rest of the secondary. Louis finished with three catches for 115 yards and redshirt sophomore Jakobi Meyers had seven grabs for 76 yards and a score.
Arizona State's wide receivers vs. NC State's secondary
Harry, Kyle Williams and Frank Darby all had touchdown receptions, but it was Harry and Ryan Newsome that were most efficient for ASU. NCSU sophomore cornerback Nick McCloud had an increased role due to Stevens missing the game, and McCloud had one of the three interceptions.
Quarterbacks
Finley didn't win any of the postgame awards, but a strong case could have been made that he was the Wolfpack's MVP. He ran a tight ship by completing 24 of 29 throws for 318 yards with one touchdown, and played a clean game. He had a couple of scary throws that could have been interceptions, but otherwise spread the ball around in typical fashion.
Running backs
Hines finished at the goal line and Gallaspy got free in the fourth quarter for two touchdown runs, helping the Wolfpack dominate this matchup. Then add in a smidge of senior Jaylen Samuels lining up in the backfield and the Wolfpack controlled the clock. Senior Demario Richard and promising freshman Eno Benjamin combined to log 18 carries for 92 yards for ASU.
Tight ends/fullbacks
Samuels capped his outstanding NC State career with seven catches for 46 yards plus six rushes for 20 yards and a score. He also nearly returned an onside kick for a touchdown. Arizona State doesn't feature a tight end or fullback in its offense.
Special teams
This phase of the game was definitely a mixed bag for the Wolfpack. Arizona State didn't make anything dynamic happen in the return game, averaging 19 yards on six kickoff returns. The best NC State statistic was that junior punter A.J. Cole only punted once.
——
• Talk about it inside The Wolves' Den
• Subscribe to our podcast on iTunes
• Learn more about our print and digital publication, The Wolfpacker
• Follow us on Twitter: @TheWolfpacker
• Like us on Facebook