East Carolina 33, NC State 30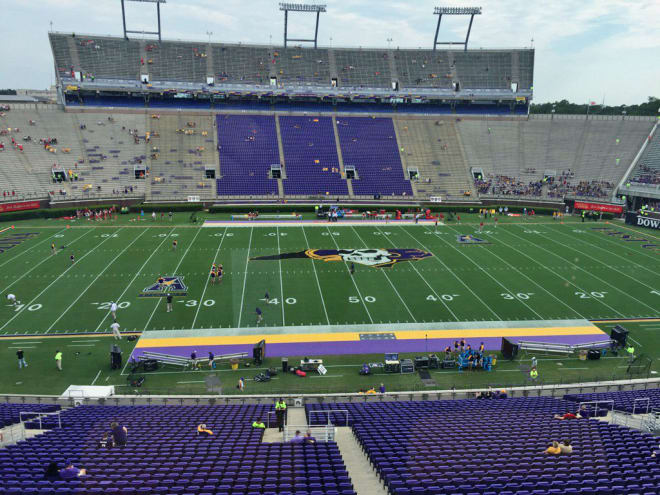 Time expires on Wolfpack
As Bra'Lon Cherry was getting tackled at the ECU 25, the clock's final seconds ticked off and the Pirates prevail 33-30.

Down to last possession
ECU got a first down and forced the Pack to use all three timeouts before punting away with 51 seconds left. Pack takes over at its own 38.

Pack possession goes awry quickly
Nyheim Hines fumbled the kickoff return and was tackled at the four-yard line. NCSU got two first downs, but eventually was forced to punt from their own 23 with 2:35 left. The good news is that punter A.J. Cole booted a 61-yarder to reverse the field, and NC State has all three timeouts left.

ECU with a long drive for the lead
Behind Philip Nelson, who has completed 14 passes in a row, the Pirates marched 14 plays for 84 yards in 7:15 to take a 33-30 lead with 5:49 remaining in the game. Anthony Scott had the go-ahead TD on a 5-yard run.
The drive was extended by a pass interference on NCSU corner Mike Stevens at the NC State 8 on third and nine.

Pack runs back into the lead (2:43)
NC State goes 90 yards to retake the lead 30-26 with 13:04 left. Quarterback Ryan Finley runs 15-yards on the read option for the score. NCSU ran eight times for 62 yards on the drive, including a 5-yard draw by Finley on third and three.
The drive came at a potential cost though. Both Jaylen Samuels and Nyheim Hines limped off with injuries.

Stats through three quarters (2:40)
Down to the fourth quarter (2:36 PM)
The Pack will have a third and three at the ECU 38 when they return to start the fourth quarter, the Pirates leading 26-23.

Potential key injury for ECU
Linebacker Dayon Pratt, who had three tackles for loss and a sack in the first half, goes straight to the locker room after a head-on collision with Nyheim Hines with 3:38 to go in the third quarter.

Summers does it again
ECU quarterback Philip Nelson left the game for a play when he was creamed by Pack defensive end Bradley Chubb (who was flagged for a late hit that was offset by ECU holding penalty). So former NCSU commit James Summers came in and on the first play rumbles for a 15-yard touchdown run, running over and pushing tacklers into the end zone.
East Carolina regains the lead at 26-23 with 4:04 left in the third quarter. Summers has two touchdown runs of 27 and 15 yards. On his other three carries he has -1 yard.

Kyle Bambard finally gets his chance
After watching Connor Haskins miss two field goals and then not getting the chance on a fake field goal attempt, Kyle Bambard successfully boots a 30-yard field goal to put NCSU up 23-19 with 7:05 to go in the third quarter.
The possession was set up when defensive tackle B.J. Hill forced a fumble on a short pass to running back Anthony Scott and defensive end Kentavius Street recovered at the ECU 19.

Trick play does not work
Instead of kicking a field goal, the Pack dialed up a trick play. Holder A.J. Cole, NCSU's punter, ran an option and kept but only got a yard to the 10 when he needed five.

Halftime thoughts (1:44 PM)
Bad special teams kicking: Both teams have missed field goals (two for NC State and both by Connor Haskins, technically one for ECU but a miss was negated by a Wolfpack penalty). ECU missed an extra point as well. NCSU tried a two-point conversion on a trick play that did not work either. All total: NC State left eight points and ECU four points in the kicking game.
Big plays missed: More points were left on the board. Wide receiver Gavin Locklear threw a nice 28-yard pass to wideout Stephen Louis, but he had Bra'Lon Cherry wide open for a likely touchdown. NCSU ended up missing a field goal on that possession. Later in the half, quarterback Ryan Finley overthrew running back Matthew Dayes on what would have likely been a long touchdown pass. Linebacker Jerod Fernandez also dropped a probable pick six in the ECU red zone.
For the Pirates, running back Anthony Scott flat out dropped an easy touchdown on a nice pass from quarterback Philip Nelson after Scott had slipped uncovered out of the backfield on a wheel route.
Tocho's key pick: East Carolina had all the momentum until cornerback Jack Tocho for NC State intercepted Nelson one play after NCSU got on the board following running back Reggie Gallaspy's physical 37-yard touchdown run. That helped swing the game from a potential ECU runaway to a track meet the rest of the half.
Big gainers: ECU had runs ofr 28 and 27 yards and passes of 25 and 33 yards in the first half. NCSU had Gallaspy's 37-yard and passes of 80 and 34 yards between Finley and Louis.

Halftime stats (1:44 PM)
NCSU survives late turnover
Receiver Bra'Lon Cherry's fumble at the NCSU 38 did not cost the Wolfpack points. Davis Plowman missed two shots at field goals. His 45-yarder was off but State ran into the kicker. He then missed a 40-yarder with 18 seconds left in the half.
NCSU ran out the clock and takes a 20-19 halftime lead. ECU receives the opening kickoff.

Pack responds (1:17 PM)
One play, one broken tackle, 80-yard touchdown catch and run by Stephen Louis. Pack back out in front 20-19 with 4:07 left in the half.

ECU responds (1:14 PM)
Two big plays (28-yard run and 25-yard TD pass) were aided by a 15-yard sideline interference penalty on NC State. ECU retakes the lead 19-13 with 4:26 to go.
The touchdown came on a wheel route to the running back Anthony Scott. Receiver Zay Jones ran a pick with his route, and linebacker Airius Moore and corner Mike Stevens got caught up, leaving Scott wide open.

Gallaspy's run (1:09 PM)
Momentum swings to NC State (1:05 PM)
One play after Reggie Gallaspy's big touchdown run, Jack Tocho plays a deep pass perfectly and picks off Reggie Nelson at the ECU 49. NCSU then drives the field and runs its patented sweep to Jaylen Samuels for a five-yard score to take the lead.
A trick play for two-point conversion though did not work when Kyle Bambard's pass to tight end Clark Eyers was dropped. NCSU leads 13-12 with 6:25 to go in the half.

Pack finally on the board (12:56 PM)
Reggie Gallaspy runs for a 37-yard touchdown, running over ECU star safety Travon Simmons inside the 10-yard in the process, to get the Pack on the board with 8:15 left. Kyle Bambard got the chance to kick the extra point after Haskins missed a pair of field goals. NCSU trails 12-7.
Starting guard Garrett Bradbury had to go off the field for a play when his helmet came off, but backup Terronne Prescod came in and delivered a nice block on an 8-yard end around for H-back Jaylen Samuels. Samuels got three touches on the drive after getting just one prior to it.
During the official timeout, ECU is playing highlights from the 1992 Peach Bowl that the Pirates came from behind to beat NC State.

Add a field goal for ECU
A 43-yard field goal by Davis Plowman gives the Pirates a 12-0 lead with 12:00 left in the first half.

First half stats (12:45 PM)
Fulp's hit (12:45)
Dominating first quarter for Pirates end
ECU is on the move again after Connor Haskins missed his second field goal try for NCSU. Pirates converted a fourth and one at their own 34, and three plays later converted a third and four with a 17-yard pass to the NCSU 38.
Wolfpack corner Jack Tocho was in position to what would have been a much-needed interception inside the 5-yard line to end the quarter, but ECU receiver Jimmy Williams played the throw like a DB and broke up the pass.

ECU loses safety (12:31 PM)
When the refs throw four flags on one hit, good chance it's an obvious targeting. ECU starting strong safety Bobby Fulp leveled Pack receiver Stephen Louis and was ejected for the hit.

Former Pack commit hurting NCSU (12:22)
James Summers committed to NC State as a senior at Greensboro (N.C.) Page High, and now he is making plays against the Pack. He switched his pledge to UNC before signing day, then never academically qualified to make it to Chapel Hill. He found his way at ECU, and he caught a 39-yard wheel route and took a direct snap 27 yards for a touchdown on third and one to put ECU up 9-0.
The Pirates had a holding penalty on its first extra point try, backing them up 10 yards. The next kick missed. Still, ECU is dominating early with 5:39 left in the first quarter.

Trick play works, somewhat
NCSU did a receiver pass from Ben Grazen to Stephen Louis that worked for 28 yards. Problem was he threw it to the wrong receiver. Bra'Lon Cherry was behind the East Carolina defense for a sure touchdown.
The Pack was stuffed on third and two when running back Matthew Dayes gained just one yard to the ECU 27. Connor Haskins got the call for a 45-yard field but missed, and ECU remains in front, 3-0.

ECU strikes first (12:10 PM)
After forcing a three-and-out for the Pack, ECU kicks a 23-yard field goal to take a 3-0 lead with 10:09 left in the first quarter. Pirate quarterback Phillip Nelson hit the deep pass to receiver Jimmy Williams for 33 yards to get ECU into field goal position. NCSU though able to hold ECU to the kick.

Game thread on the Wolves' Den message board
Scottie Montgomery gets the rivalry (11:57)
As Jimi Hendrix's "Purple Haze" is blasting, ECU first-year head coach Scottie Montgomery enthusiastically bounds out of the tunnel well ahead of his team to get the fans fired up.

Hot afternoon in Greenville (11:43 AM)
An enthusiastic, local meteorologist just let fans know via the video board that high temperature this afternoon during the game will reach 90 degrees. Factor in heat indexes and time of possession could be a crucial stat to watch. Both teams will need to use their respective depth to stay as fresh and hydrated as possible.

Scouts in the press box (11:13 AM)
NFL scouts from the Seattle Seahawks, New York Giants and Carolina Panthers have all been spotted lingering in the press box during pregame.

Today's travel roster (11:10 AM)
Most noticeable about the travel roster for today's game at East Carolina is three true freshmen defenders that did not see action in week one: safeties Isaiah Stallings and Tim Kidd-Glass and defensive tackle Ben "Shug" Frazier. Their inclusion does not necessarily mean they are about to burn their redshirts today, but at a minimum could be an indication of how well they are doing in practices.