Letter of intent No. 4: Offensive lineman T.J. McCoy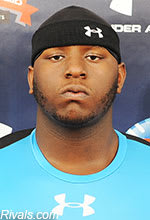 Offensive lineman
Groveland (Fla.) South Grove High
6-foot-1, 312 pounds
Measurables:
• At a Nike combine ran the 40-yard dash in 5.93 seconds and 20-yard shuttle in 4.93 seconds, registered a 21.7-inch vertical leap and had a 37.0-foot power throw for an overall SPARQ rating of 67.26.
Ratings:
• Rivals.com: Two stars.
• Scout.com: Three stars, No. 103 offensive guard in the country.
• 247Sports: Two stars, No. 32 center in the country, No. 305 in the state.
• ESPN: Three stars, No. 76 offensive guard in country, No. 175 in the state.
• National Underclassmen: No. 85 in the state.
• Orlando Sentinel: No. 43 prospect in Central Florida.
Honors/accomplishments:
• Played in the Central Florida All-Star Game in December.
• Named the Disctrict 8 Player of the Year by the Florida Athletic Coaches Association.
• Selected to the 6-A Associated Press All-State first-team.
• Picked to the Orlando Sentinel All-Central Florida region squad.
• Won offensive line MVP at the National Underclassmen Florida 5-Star Showcase in March.
• Son of former Florida All-SEC defensive lineman and eight-year NFL veteran Tony McCoy.
Recruitment:
• Earned an offer from NC State after a strong showing at its summer camp in June.
• Also picked up tenders from Rutgers, South Florida and Navy among others, and visited USF in August.
• Verbally committed to the Pack Sept. 13 and enrolled early.
Recruiter of record:
Quotable:
"He uses a powerful two-handed punch to knock pass rushers off their haunches. This lineman really likes to mix it up in tight spaces and is not afraid to whip his opponent to the ground. McCoy does a good job of sitting in his chair once he gets a yard deep in the backfield. He is what you would call a street brawler that likes to mix-it-up with toughness and grit." - National Underclassmen Vice President and National Analyst Barry Every.
Scouting report:
• Versatile lineman who played both sides of the ball and all across the offensive line, including center as a senior.
• Because of his size, projects as a center or perhaps guard in college.
• Reputed to be a physical, strong run blocker who has quick enough feet to be a good pass blocker as well.
2015 projection:
NC State is in a good position with the interior offensive line, which is probably why McCoy was signed as the only center/guard in the 2015 class. The Pack returns the core from its 2014 offensive line at those positions and should have good depth, which would allow McCoy to redshirt and improve his strength and conditioning.