Kentavius Street shines in East-West Shrine Game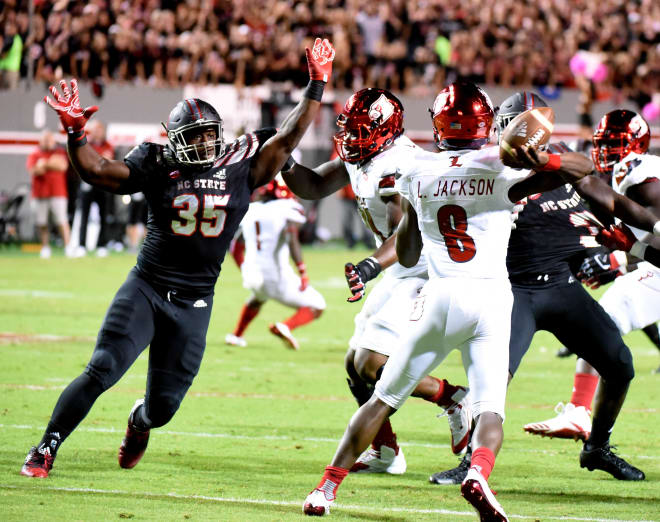 It was hard not to be overshadowed on the NC State defensive line this year. Consensus All-American Bradley Chubb stole towels and most of the headlines en route to setting the all-time Wolfpack marks for career tackles for loss (60) and sacks (26).
The interior was manned by seniors Justin Jones and B.J. Hill, a pair of 300-pounders at a position where the impact made isn't always reflected in the box score. Still, the duo combined for 91 tackles and are both currently drawing rave reviews at practices for the Senior Bowl.
Meanwhile, senior Keantavius Street split time opposite of Chubb with junior Darian Roseboro and compiled 38 tackles, 6.5 tackles for loss and 3.5 sacks.
Street showed at last Saturday's East-West Shrine Game, and all through the week of practice, the Pack front was so impressive that you could take one, like Street, that was practically in the shadows off that impressive line, and the 6-2, 287-pounder easily shines. Street finished the game with 1.5 sacks and was constantly praised throughout the week of practice.
"(Kentavius) Street is killing these guys." - Giants scout

— Trevor Sikkema (@TampaBayTre) January 17, 2018
NFL Network analyst Mike Mayock, who commended Street on the TV broadcast of the game, wrote: "After three days of practices leading up to the East-West Shrine Game, North Carolina State defensive end Kentavius Street is the guy I'm probably most intrigued by. … He can set a physical edge on first down outside and I think he's an inside rusher in sub packages. He's been dominant this week."
After the game, NFL Network counterpart Daniel Jeremiah listed Street as one of the five game day stars and noted "the stats won't bear it out, but he was very disruptive on Saturday. … Street made the most of his opportunity in the spotlight at the Shrine Game."
Josh Norris of RotoWorld named him the No. 2 draft prospect at the event, only "the tiniest of margins" away from No. 1.
"Street has a history of playing inside," Norris added. "I would not be surprised if he tests like one of the top edge rushers in this class."
"I feel like I had a really dominant performance throughout the week," Street told The Wolfpacker. "[One of the coaches] altered the way I thought about my pass rush game, and I think it helped me a lot. We emphasized the pass rush the whole week, it wasn't too much about stopping the run. I had to refine how I pass rushed, and I think it helped me out a lot.
"I wish I could've done a little bit more towards the end of the game, especially that final drive, but besides that I feel like I played really well."
Street was joined at the game by right guard teammate Tony Adams, who drew plenty of his own praise, and both started for the East team. They even matched up in practice on occasion, Street showing off his positional versatility and moving inside, which he also did in the game on a few situations.
"I can play all four downs at defensive end or outside linebacker because of the scheme I played with Coach [Dave] Huxtable, and then third down they can apply me anywhere," he explained. "I can go over the nose, rush the center, line up over either guard or play three[-technique tackle]. Through my experiences at State — playing defensive end but also D-tackle my sophomore year — I have experience across the line and can rush anywhere."
Street estimated he had 14 or 15 different meetings with professional teams during the week, including with several general managers.
Though the week represented the end of the on-field, padded portion of the pre-draft process, the stock of Street should only continue to rise. In July, he squatted 700 pounds in a viral video (below) and was was called the "biggest freak I've seen in the weight room" by strength and conditioning coach Dantonio Burnette, who has worked with former No. 1 overall pick Mario Williams, among others, during his time at NCSU.
If — and it really might be more a matter of when — he is invited to the NFL Scouting Combine, held Feb. 27-March 5, Street is looking to weigh in around 280 pounds and run a sub-4.6 40-yard dash.
"That's my ultimate goal," he said. "If I can do that I'll be happy."
Both Street and Adams are training in Tampa, Fla., at Applied Science Performance Institute, awaiting the next step in the process.
They may not have the profile of Chubb, a projected top-five pick and Street's personal prediction to go first overall, but they could still be important pieces to history. NC State has never had more than six players taken in the same NFL Draft, and with four from the defensive line alone looking like good bets to hear their names called, plus Adams, do-it-all dynamo Jaylen Samuels, two early entrants (running back Nyheim Hines and offensive lineman Will Richardson) and a handful of other draft hopefuls, there's a good chance for a new school record.
Eleven prospects, including all four defensive linemen, from just the 2014 recruiting class — which was probably underrated at 30th nationally — played significant roles in Raleigh and could be selected in the seven-round event April 26-28. The NFL Draft will be the last chance for that group to add to its NC State legacy before beginning their professional careers.
"I'm sure we're all competing to go as high as possible, but we haven't physically talked about it yet," Street said.
After four years of competing with the likes of Chubb and company, Street has set the bar high, but knows his teammates are working to outshine him once again.