Jamal Murray creating different path in Canada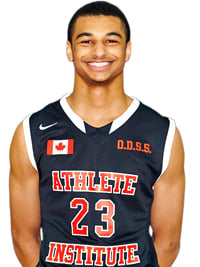 CIA Bounce traveling team coach Tony McIntyre knows first-hand what it is like to send his children away to play high school basketball in the United States.
The lineage of players that have come to the U.S. from Canada is a long one. Over a decade ago, Toronto natives Jeffrey Ferguson attended Benton Harbor (Mich.) High and Duane John went to Homestead (Fla.) Berkshire Academy in the class of 2001, and Olu Famutimi attended Flint (Mich.) Northwestern in the class of 2003. Famutimi signed with Arkansas, while Ferguson and John both started off at Missouri, but Ferguson finished at Pikeville (Ky.) College and John attended New Mexico State.
The usual array of prep power houses such as Henderson (Nev.) Findlay Prep, Huntington (W.Va.) Prep, Newark (N.J.) St. Benedict's or Montverde (Fla.) Academy, have featured star Canadians.
Tyler Ennis will also help continue the trend of Canadians getting drafted in the first round this month. Anthony Bennett of UNLV was the No. 1 pick of the Cleveland Cavaliers and Kelly Olynyk of Gonzaga went No. 13 to the Boston Celtics last year.
The hope for the future is that players of Murray's caliber will have a nearby option for high school, and have the chance to be with their family and friends during such formative years. The Tipping family, who owns the Athlete Institute, is helping make the dream a reality for the next generation of players.
"This has been great and one of the main reasons that I came here," Murray said. "It's close to home and I can still see my parents, and my dad for training. I've been able to keep my grades up, and it has worked out. It's just a perfect fit for me right now."
Murray burst on to the scene in the U.S. during the Jordan Brand Classic International game April 14, 2013 in Brooklyn, N.Y. Murray scored a game-high 24 points to earn co-MVP honors in a 76-72 loss. His play with CIA Bounce last year further established that he was going to be a highly-sought after recruit whether he played high school ball in the U.S. or Canada.
"I can do a little bit of everything, and I'm just an all-around player in all aspects of the game," Murray said. "There is always a way to improve everything, and shot percentage is one of them. I'm trying to be a true point guard and learn more ways to use my skill."
Athletes Institute coach Larry Blunt, who is from Courtland, Va., and was an assistant coach at Shaw University in Raleigh, has watched Murray's game continue to evolve since the Jordan Brand Classic International game.
"He is a special kid when he came here in the fall and he just continues to improve," Blunt said. "He is going to be a coast-to-coast recruit."
Rivals.com ranks the physical floor general No. 18 overall in the class of 2016. The 6-foot-5, 185-pounder from Kitchener, Ontario, has earned offers from Michigan State, Virginia and Illinois, plus interest from NCSU, Michigan, Georgetown, Louisville, Syracuse and others.
Murray attended games at NC State, Michigan, Georgetown and Syracuse, but he is taking the recruiting process in stride.
"I just put it in the hands of my coach and parents, and I'm taking the time and opportunity to let myself grow and develop as an individual, and work on my academics," Murray said. "I don't really pay attention to that [recruiting].
"I know Illinois has called and they want me and have offered. That's about all I know."
Murray and Athlete Institute Academy played in various events in the U.S., including in Charlotte, which gave him the chance to watch NC State host Eastern Kentucky on Nov. 30. NC State's 2011-2012 team featured point guard Alex Johnson of Toronto.
"That was a good game, and I got to see the facility and locker room and stuff," Murray said. "It seems like a great program and they take things very seriously. All the schools that I've seen are great."
CIA Bounce features six players who attended Athlete Institute this past year, plus three others who attended other schools in Ontario.
"They've done an incredible job of building a program, and not only have talented people, but really high-class and high-character people," Blunt said. "Tony came in and sat down and said his goal was to allow kids the opportunity to still play AAU in the summers, but at the same time have a high-level experience against the best competition while still being at home. They can see their parents."
Having some of the past players to learn from has become an invaluable resource. McIntyre sees a true comparison between Murray's game and his son, and the two workout often.
"I've been able to see how smooth Tyler Ennis is," Murray said. "He thinks game well and makes quick decisions. He never gets too up or too down. He sees angles very well. He is just so smooth and calm.
"I've been with the [Canadian collegiate or NBA players] and seen how they've played. It's great stuff and gives me more of an open mind with where I can go with basketball."
Murray is averaging 11.4 points, 4.7 rebounds and 3.4 assists per game, while shooting 44.9 percent from the field, 39.5 on three-pointers and 77.1 at the free-throw line in Nike Elite Youth Basketball League action (10-6 record). McIntyre believes Murray is college-ready now, even at a young age.
"He is a coach on the floor, understands the game very well, athletic and he can score whenever he wants, but is a willing passer," McIntyre said. "He understands the game too well at point guard to not control the tempo and pace. He puts guys in position to score."
Murray will be on the big stage again in front of college coaches at the Nike Peach Jam on July 16-20 in North Augusta, S.C.
"There has been a lot of competition and I'm getting a lot of minutes doing my role," Murray said. "I'm trying to help the team get better and win games. After Peach Jam, there won't be a lot going on."