Hill getting closer to reaching NFL dream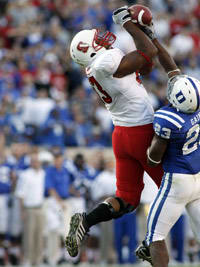 Anthony Hill
insists that he won't put himself through watching the NFL Draft.
The NC State tight end is projected to go in the middle rounds, but doesn't want the agony of watching each pick, thinking it could be him. Instead, the Houston native plans to safely fish in Galveston, Texas.
"I'm not going to hear my name get called because I'm going to go fishing," Hill joked. "I promise you, I'm going fishing [and not watching it on TV]. I already got the boat rented out, and I might go offshore. I just want to have a good time and enjoy the day. I don't want to be nervous out there. I'm hoping to catch a lot of red fish."
Hill took part in NC State's Pro Day on March 18, and the NFL Draft Combine in Indianapolis, Ind., on Feb. 18-24. Between the two events, Hill did all that was asked of him and was happy with the results.
Hill checked in at 6-foot-5 and 262 pounds, ran 4.84-seconds in the 40-yard dash, benched pressed 225 pounds 21 times and had a 30.5-inch vertical jump at the NFL Combine.
"I showed people that my pectoral [injury from this past season] was healthy, and I benched pressed 225 21 times, and then I turned around and caught everything that was thrown my way," Hill said. "I felt I did a great job there and I helped my stock there."
Hill was hoping to run something in the sub-4.8 range, but was content with his 40-yard dash. He elected not to run the 40 at NC State's Pro Day.
"I didn't run my fastest time because I was thinking I could run a high 4.7 or a low 4.8," Hill said. "It wasn't that big of a difference for me to come out [at Pro Day] and try to run it again for three-hundreth's of a second."
Hill shed two pounds for his Pro Day workout and did the standing broad jump in 9-8, and the 60-yard shuttle in 12.02. He also did some receiving drills with a member of the Baltimore Ravens organization.
Hill believes he has proven his surgically repaired knee, which cost him his 2007 season, is healthy to the NFL teams. He conducted his workouts without a knee brace.
"I'll be working out with the Denver Broncos, Kansas City Chiefs, New York Jets and a couple more teams," Hill said. "It's a huge dream come true and I'm just excited to get it over with. I just want to find out how this thing will end up."
Hill caught 19 passes for 234 yards and four touchdowns in nine games last fall, but proved he could be productive game-in, game-out in 2006 when he had 45 catches for 478 yards.
Hill first worked out with XPE with teammate
Andre Brown
in Atlanta, and then switched to API in Pensacola, Fla., following the Senior Bowl in Mobile, Ala., on Jan. 24. Brown and Hill share the same agent, Hadley Engelhard.
Between the Senior Bowl and the combine, Hill believes he's met just about every NFL team. He knows all it takes is one to believe in him.
"This has been a great experience, and I'm just blessed," Hill said. "I'm thankful that all this is going on."