Former Pack baseball star Andy Barkett chasing World Series with Red Sox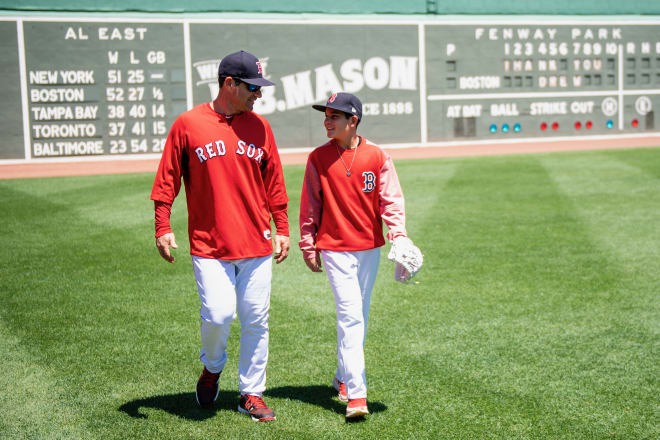 The first pitch Andy Barkett ever saw in his brief stint as a major league outfielder for the Pittsburgh Pirates was a fat fastball that he lined into left field for a double.
First pitch.
First Major League hit.
Dream come true.
The date was May 28, 2001, at PNC Park in Pittsburgh. The memory remains as fresh as the day it happened, just as the memory lives on of the only career home run he ever hit, a solo shot at the Metrodome in Minneapolis.
They were the biggest highlights of a 17-game, 28-day Major League career in which he batted .304 for the Pirates.
His story is a triumph of will and perseverance for an All-ACC player who went undrafted after his four-year NC State career. They were dreams fulfilled, if not sustained.
Now, the former Wolfpack first baseman, who spent more than a decade as a player in the minor leagues and almost as long as an organizational coach for various franchises, has the chance to add Major League postseason success to his collection of baseball souvenirs.
Last fall, after a successful stint as the manager of the AAA Indianapolis Indians, Barkett received a 4:30 a.m. private Twitter message from a guy he knew back in his hometown of Miami: former major league infielder Alex Cora, who had helped the Houston Astros win the 2017 World Series as a bench coach.
Cora had just been named the new manager of the Boston Red Sox, and his message to his long-time buddy was: "Be Ready."
About a month later, Barkett was hired by Cora's hitting coach, Tim Hyers, as the assistant hitting coach for the Red Sox. Ever since, nothing has been safe, from the Green Monsters to pedestrians on Yawkey Way and certainly not opposing pitchers' earned run averages.
The Red Sox not only won a MLB-best 108 games this season, but it wiped out nearly every offensive record originally set by the likes of Ted Williams, Jimmie Foxx, Carl Yastrzemski, Jim Rice, Dwight Evans, Mike Greenwell, Manny Ramirez and David Ortiz.
In a remarkable turnaround for a team that finished 27th in home runs and 26th in slugging percentage last season, this year's Sox had crazy, unprecedented offensive numbers, leading the majors with 876 runs, 829 RBIs, a .268 batting average, 2,550 total bases and a .453 slugging percent.
Boston was led by batting champion Mookie Betts and slugger J.D. Martinez, and a deep offense that pounded the rest of the American League into submission.
Barkett, a longtime minor league manager, played a part in it, from the first day of spring training through his game-day routine of spending three-and-a-half hours to prepare every hitter on the team for that night's opponent.
While Hyers, a hitting analytics guy while with the Dodgers, is a numbers guy, the always affable Barkett is the clubhouse tension breaker who helps keep everyone loose throughout the season's long grind.
"I think that was one of the reasons Alex called me," Barkett said. "He wanted a people person who can relate to players. That's one of the things I've always done during my coaching career."
Barkett's career path to the pinnacle of baseball success was anything but easy. The native of Miami came to NC State after he was rejected by his hometown school.
Barkett had grown up just five blocks from the University of Miami, getting to know its baseball and football players during the national championship years. (One of the Miami baseball stars in the years that followed was Cora.)
When Barkett came to Raleigh for an official visit for Ray Tanner's baseball program, he was hosted on by basketball superstar Chris Corchiani, a long-time family friend that Barkett idolized his whole life. (Their dads, Gabe Corchiani Sr. and George Barkett, were best friends in Miami.)
Barkett was off to a great start as a freshman, starting at first base, hitting No. 3 in the lineup, enjoying college life — and not going to class. That forced Tanner to make the difficult decision to kick Barkett off the team, just before the Wolfpack headed to the 1992 NCAA East Regional in his hometown of Coral Gables.
"I remember that day like it was yesterday," said Tanner, now the athletics director at South Carolina. "He had made a big impact on the team as a freshman, and he was a tremendous player and teammate. But he had an academic lapse, and we couldn't have apathy when it comes to academics.
"It was a hard thing to do, but something that I thought was the right thing to do. Andy was pretty upset with me, but in the end, I think he respected what I did."
Barkett played in a Virginia summer league for coach Dayton Moore, who is now the general manager of the Kansas City Royals. Moore not only inspired Barkett to excel on the field, he convinced Tanner to that the young player had matured and deserved another chance. He returned to State to help Tanner's team qualify for two more NCAA regionals, earn a bachelor's degree and even qualify for the dean's list.
After being undrafted, Barkett went looking for some place to play. He found it in Butte, Montana, with an independent league team, understanding that the chances of making it to the big leagues from the lowest rung of the minors were infinitesimal.

Yet, after six seasons, he received his call from the Pirates, a big league cup of coffee that was brief but tasty. After he was sent down in June 2001, he spent four more years chasing his second dream of returning to the majors.
That call never came. He retired as a player after 11 seasons.
Not long afterwards, he began a career in coaching with the Oneota Tigers in 2007 in the Class A short-season New York-Penn League. He spent three seasons as manager of the Class A-Advanced Lakeland Tigers of the Florida State League, followed by four seasons as manager of the Jacksonville Suns.
He had separate stints as a minor league assistant hitting instructor for the Miami Marlins and the Pittsburgh Pirates, and was named the manager of the Class AAA Indianapolis Indians.
"Minor league baseball can be a drain and a grind," Barkett said. "Even at the highest levels. But it is something I loved doing."
Last season, he led the Indians to the best record in the International League's West Division, but when he got the call from Cora, the 44-year old ended his minor league managerial career with a record of 610-569 and returned to the majors.
Both Tanner and Corchiani are proud of Barkett's accomplishments, especially considering the hardships — some self-caused, some institutional — he has overcome.
"I personally know what it is like to get so close to a dream and then have to change that dream because of the circumstances," Corchiani explained.
"Andy has been resilient. He's gone from the lowest level of baseball and is now at the highest level.
"I couldn't be happier for him."
Tanner added: "The thing about Andy is, he didn't just wake up one day and find himself in this position with the Boston Red Sox. He's worked hard, through a lot of difficulties, to get there. I'm ecstatic and happy for him to be in this position."
Tim Peeler is a regular contributor to The Wolfpacker and can be reached at tmpeeler@ncsu.edu.