Dave Doeren, Wolfpack trying to battle through adversity
Speaking with pride, NC State football coach Dave Doeren remembers a saying from his grandfather that is especially relevant in a season like this one for the Wolfpack: "Tough times never last, but tough people do."
Doeren and NC State is 4-5 overall start and 1-4 in the ACC. It will need to win two of its last three games to keep its streak of five straight bowl appearances alive. The first contest in the closing stretch will be against Louisville (5-4, 3-3 ACC) at 7:30 p.m. Saturday in Raleigh.
Doeren understands that the team's situation is troubling, especially for the Wolfpack fans who have endured some lopsided losses throughout conference play while the injuries have piled up at an exorbitant rate.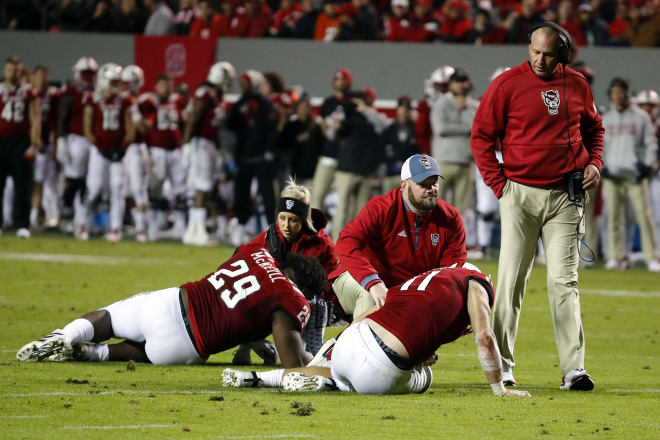 NC State was without 14 players Saturday when it hosted Clemson. A dozen of those had at least one career start to their credit.
"Being young and facing the injuries have created a reality of adversity that we're in, and I really believe that adversity shows you your true self," Doeren said.
Doeren noted that there is no rhyme or reason to explain the injuries. It started early when fifth-year senior offensive tackle Tyrone Riley, who started two games a year ago and was expected to contend to be the starter at left tackle this fall, suffered an injury early in preseason camp when someone stepped on his foot during a drill.
"We've had two or three practice injuries," Doeren said. "But about 90 percent of them have been on game day. A lot of time, because they're playing so fast, you don't have that.
"Most of the injuries that I've dealt with over the last six years have come in training camp, where you're having back-to-back-to-back-to-back type work, and they just don't have the recovery aspect like you normally do during the season."
Against Clemson, the injuries reached a climax when on one play three different defenders were hurt for the Wolfpack. Doeren admitted at that point he glanced towards the sky and said, "Come on, now."
The good news, Doeren quickly learned, was that two of the players gave him a quick thumbs up to let him know it was not a big deal. Only redshirt freshman linebacker Payton Wilson (shoulder) proved to be worrisome.
The loss of so many players have created a behind-the-scenes dilemma for Doeren and the Wolfpack's preparations.
"When you're taking guys from the scout team to play on the upper fields, your scout team doesn't give you the best look all the time," Doeren noted.
That could be an issue getting ready for Louisville, which plays with a lot of explosive speed on offense.
"We're going to have to do some good-on-good throughout the week to make sure that we can simulate the speed that we're going to have to play against versus Louisville," Doeren said.
Despite the mounting challenges, Doeren insisted his coaches and players are still competing.
"We're trying everything we can do to win the next game with who we're playing with," Doeren said. "I told them week three or week four, if you're a freshman and played all games, you're not a freshman anymore.
"It's just a one-day-at-a-time mentality. What are they struggling with? How can we make them better, regardless of their age, right now? And they're all football players that need to play better. And that's how we're approaching it."
Other Tidbits
• On the injury front, Doeren thought that the linebacker position should be in better shape this week. Redshirt sophomore starter Isaiah Moore is expected back after missing the Clemson contest. Junior starter Louis Acceus, who also missed that game, remains questionable.

Two of the replacement starters, freshman Drake Thomas and redshirt freshman Calvin Hart Jr., are "fine," Doeren said. He also thought that Wilson is "going to be good."
• Redshirt sophomore defensive end Xavier Lyas announced on social media Sunday night that he was entering the transfer portal. Lyas missed Saturday with an injury, but in the prior eight games he had 10 tackles, including 4.5 for loss and four sacks. He also forced two fumbles, broke up a pass and registered a quarterback hurry.
Doeren said that Lyas informed him of the move Sunday evening, but the coach was confident that there was enough depth at defensive end to withstand the loss.
• This will be a challenging 10-day stretch for NC State. The Pack was given a 7:30 p.m. time slot for Saturday against Louisville, which was another stroke of bad luck for Doeren. NCSU has to travel to Georgia Tech on Wednesday to get ready for a Thursday night game in Atlanta.
Doeren stated his displeasure over the game time.
"We will get home Saturday night around one [o'clock]," Doeren explained. "And then we have to leave on Wednesday to play a game. I think it's something that the league should look into: for both teams that play a Thursday short-week game to never have to play a night game on the Saturday prior from a player safety standpoint. I think that would be a wise discussion.
"We'll have to adjust. It will be very difficult to practice with pads on that week. Maybe one day. Our guys have a lot of academic obligations too, on Monday and Tuesday. You wake up on Sunday, and it's already game week. It's a crazy, short turnaround."