Dave Doeren, NC State football wrap up first practice of 2018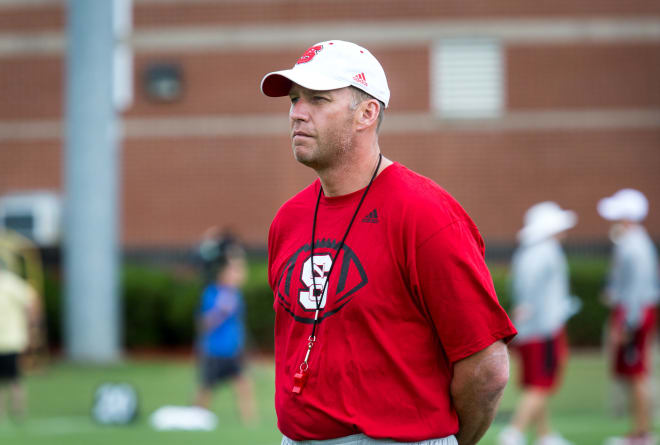 There weren't any pads and not even the chance to practice outside thanks to steady rain in Raleigh throughout the week. That best described NC State's first practice to start fall camp in 2018.
"Other than that, it was great to be back on the field with the guys," NCSU sixth-year head coach Dave Doeren noted. "It was pretty clean. It was good to see some guys that haven't been out there. Obviously, it's your first glimpse for us as coaches of the kids we've signed. … It's fun watching that, but no pads so you can't really get too excited about anything."
There were a few notable absences and limitations in the opening practice. Redshirt sophomore defensive tackle Shug Frazier is working his way back from a toe injury that limited him in the spring. Doeren said that Frazier will "slowly progress back into full play."
Redshirt junior nickel Stephen Griffin, a projected starter, also missed practice with a lingering foot injury that Doeren said was not serious, and the coach expected Griffin back in practice perhaps as early as next week.
Among the players that were in camp, a lot of attention was focused on running back and defensive line. In the offensive backfield, Nyheim Hines' decision to leave college early for the NFL has opened the door for senior Reggie Gallaspy II, redshirt freshman Nakia Robinson Jr. and true freshmen Ricky Person Jr. and Trent Pennix.
"I thought Reggie looked good," Doeren said. "He's healthy, knock on wood. The other guys are going to get a lot of reps. Ricky and Nakia and Trent Pennix are going to get soaked. They are going to get a lot of work in fall camp. We'll have to see what they can do. I thought they understood what to do pretty well for day one, but they're not getting hit, so the ball security and all that comes into play here pretty soon."
As for defensive line, all four seniors from last year's starting line are in NFL training camps. Senior defensive tackle Eurndraus Bryant is back after missing the spring with an injury, and senior defensive end Darian Roseboro, redhsirt junior end James Smith-Williams and Bryant were challenged by Doeren to build the chemistry on the defensive line.
"They trained more together, they hung out more together, they went out to eat more together," Doeren said. "You have to invest in each other as friends off the field as much as you do in the practice and in the game. It's going to take time.
"I think the older guys know each other really well. I think the younger guys for now, it's just molding them all together, and then you throw a couple of transfers in there. [Defensive line] Coach [Kevin] Patrick will do a great job, but it's not an overnight thing."
On the offensive line, sophomore Joshua Fedd-Jackson and redshirt sophomore Justin Witt are the leading contenders to take over at right guard and right tackle respectively, replacing Tony Adams and Will Richardson, who are both in the Jacksonville Jaguars' camp.
"They're new starters for a season, but they've started in games and have played a lot of football here," Doeren noted. "We don't really feel like we're breaking two guys in. … The cohesiveness is really the biggest thing, it's playing next to other now and getting all those reps where Witt and Fedd are next to each other."
NC State also got its first look in practice of redshirt sophomore tight end and Southern Cal transfer Cary Angeline. Doeren confirmed that the waiver by the school was denied by the NCAA, and Angeline will have to miss the first three games before he is eligible per transfer rules.
"He's probably more like David Grinnage for us in the height standpoint," Doeren said, referring to the tight end his first two years at NC State. "He was a pretty big receiver for us in our offense back then. I think Cary is probably the most versatile guy we've had. He's really a blend between probably Grinnage and Cole Cook."
Overall though, the first practice is simply a step before the real evaluations begin, especially on the defense which is replacing eight starters.
"I think there's so many fundamental skills that don't show up on a day like today," Doeren noted. "It's good competition [on defense]. I think the guys know what their weaknesses were coming out of spring. You saw a lot, at least we saw a lot of physical growth and gain out of several players. [Redshirt junior defensive tackle] Larrell Murchison was 280-something last year, he's now close to 300 pounds. You're seeing those kind of gains.
"It's good to have Eurndraus Bryant back. He didn't practice this spring. Once you get the pads on I'll have a better feel, but there's going to be competition. It's going to take most of training camp and a couple of scrimmages before I can answer that question."