Bradley Chubb listed as future first-rounder in too-early 2018 mock drafts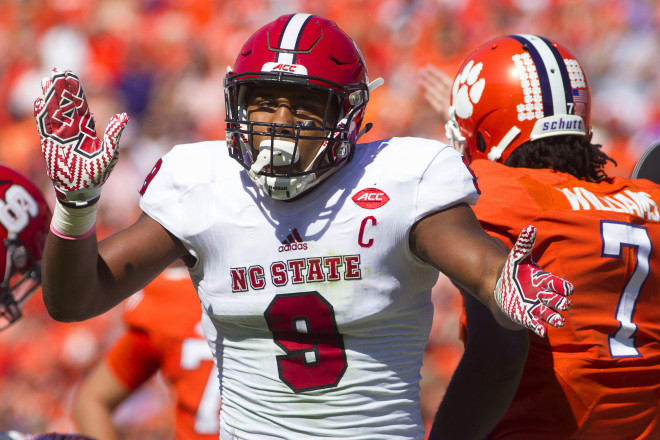 NC State hasn't had a first-round draft pick since putting a trio of college defensive linemen among the opening 32 picks of the 2006 NFL Draft. That didn't change this year — safety Josh Jones was the first former Wolfpacker off the board in round two — but the drought may not continue much longer.
Senior defensive end Bradley Chubb was recently dubbed the next DeMarcus Walker by ESPN. They called Chubb "perhaps the most underrated player in the ACC in 2016," and he could go even higher than the second-round selection out of Florida State at this time next year.
Although it's obviously early with the 2017 draft just concluded, Sporting News projected Chubb could go as high as No. 5, which would make him the fourth-highest drafted Wolfpacker ever, behind fellow defensive end Mario Williams (No. 1 in 2006) — whose number Chubb wears with a commemorative patch — quarterback Roman Gabriel (No. 2 in 1962) and quarterback Philip Rivers (No. 4 in 2004).
"Chubb is a name to know," they wrote while mocking him to the Bears. "He has plenty of NFL fans and may have been a late first-rounder this year. He'll emerge as a Mario Williams-level talent this year if he's healthy."
USA Today's Draft Wire also had Chubb going fifth overall to the Bears.
"In 2016, the Bears got their explosive edge rusher in Leonard Floyd," they wrote. "With this pick, they get a more stout, powerful front-line defender who can defend the run and collapse the pocket with power."
Several other mocks around the internet included Chubb among their top 32 picks. CBS listed him as next year's No. 11 overall pick, coming off the board to the Buffalo Bills. The web site currently lists Chubb as the No. 3 draft-eligible defensive end in 2018, behind only Ohio State's Tyquan Lewis, a North Carolina native, and Alabama's Da'Shawn Hand.
"This is a projection, but Chubb has superstar written all over him," they wrote in the mock draft. "He's playing in a defense that should be improved and he can really get after the passer."
FOX Sports has Chubb hearing his name called at No. 17 overall to the Los Angeles Chargers.
"Could play as a defensive end that slides inside on third down or as a 5-technique," they wrote. "Has the burst off the line and strength to be a terror in the backfield — he'll fit Gus Bradley's defense perfectly and be an excellent replacement for Melvin Ingram opposite Joey Bosa."
SBNation's early prediction mocks Chubb to the Buccaneers at No. 18 overall while comparing him to this year's No. 14 overall selection, Derek Barnett, the Eagles' pick out of Tennessee.
"At this time next year, we'll be talking about Chubb the same way we did about Derek Barnett," they wrote.
Bleacher Report's too-early mock projects Chubb to go 24th overall to the Giants, while the two projections — done by different writers — on WalterFootball.com predict Chubb to go No. 13 to the Dolphins and No. 22 to the Buccaneers.
ESPN's famous draft duo of Mel Kiper and Todd McShay joined the consensus. Kiper had Chubb No. 18 on his initial big board, and McShay mock drafted Chubb 19th in the first round to the Detroit Lions. (Insider links for Kiper and http://www.espn.com/nfl/draft2017/insider/story/_/id/19294111/todd-mcshay-way-too-early-2018-mock-draft-nfl-draftMcShay)

If even the lowest projection above comes true, Chubb will have proven he made the right choice by returning to NC State for his final year of eligibility after applying for feedback from the NFL Draft advisory board, which he told ESPN.com projected him to be a second- or third-round pick this year.