Blake Harris transfers to NC State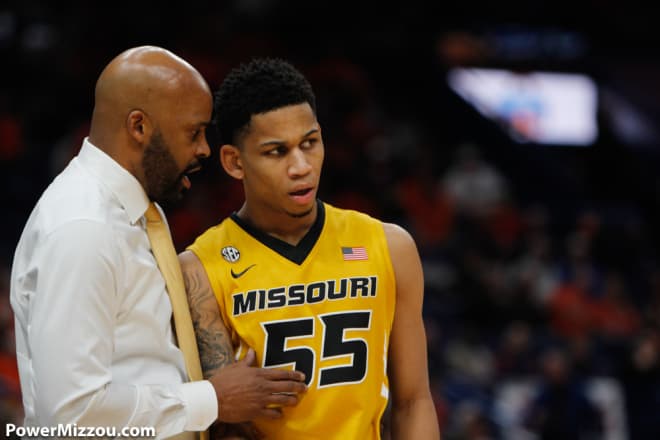 Don't miss out on any of our exclusive football, basketball and recruiting coverage. Click here to get your 30-day free trial!
Missouri freshman point guard Blake Harris is returning to his home area once again.
Harris unofficially visited NC State on Monday and elected to join with the Wolfpack on Wednesday. Harris was originally expected to walk on for the second semester beacuse Wolfpack had 13 scholarship players, but later Wednesday NCSU announced that junior forward Shaun Kirk was transferring to UNC Pembroke.
Harris started nine out of 14 games for the Tigers — who were 11-3 while he was on the team — averaging 3.8 points, 2.4 rebounds and 3.1 assists per game. He had his best game in a 95-58 win over Long Beach State on Nov. 23, scoring 11 points and dishing out nine assists in 21 minutes of action. He also had 10 points, four rebounds and three steals in a 70-64 loss against Illinois in St. Louis on Dec. 23.
Rivals.com ranked the 6-foot-3, 195-pounder No. 136 overall in the class of 2017. The Chapel Hill, N.C., native, who is the son of former North Carolina and NFL linebacker Bernardo Harris, played for five different high schools and transferred seven times in five years.
Harris was originally in the class of 2016 when he attended Chapel Hill High. He then left and reclassed at Raleigh Word of God, repeating his freshman year. Harris emerged as a Division I point guard prospect his sophomore year with Durham (N.C.) Cresset Christian Academy. He departed Cresset Christian for Martinsville (Va.) Carlisle School, right after Thon and Matur Maker had left.
NC State's previous coaching staff started evaluating Harris, and over time he became a regular at Wolfpack home games at PNC Arena.
Harris left Carlisle School to play at powerhouse Montverde (Fla.) Academy, but the move was short-lived, and he returned back to Carlisle School.
Harris left to return to Word of God for his last two years of high school, and eventually signed with Washington and head coach Lorenzo Romar, sight unseen. Romar was let go last spring ,and it appeared that the new coaching staff at NC State was going to land him. The Wolfpack offered him after signee Thomas Allen of Garner, N.C., was released from his letter of intent and adding ballhandlers became a huge priority.
NC State elected to sign current freshman point guard Lavar Batts Jr. of Concord (N.C.) Robinson High, who played with Harris for a few months on the Chris Paul All-Stars traveling team in the Nike EYBL. NCSU eventually added point guard Braxton Beverly, who had left Ohio State after finishing summer school.
Harris then signed with Missouri, due in part to former Washington assistant coach Michael Porter Sr., who landed with the new Tigers staff under head coach Cuonzo Martin. Porter's two sons, Michael Jr. and Jontay, were originally headed to Washington, and then switched to Missouri, and Harris joined the duo.
The Wolfpack will be sitting with 14 scholarship players after this season, meaning one more from the current team will have to depart either by transferring or turning professional.
——
• Talk about it inside The State of Basketball
• Subscribe to our podcast on iTunes
• Learn more about our print and digital publication, The Wolfpacker
• Follow us on Twitter: @TheWolfpacker
• Like us on Facebook