Benson Browne has memorable catches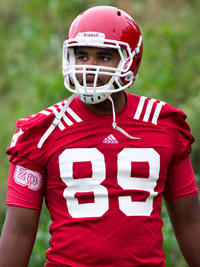 Browne doesn't just have 10 different handshakes with his teammates, or even 20. The Cincinnati native goes 50 deep with handshakes. After catching his first career pass and then following with a one-yard touchdown reception last Saturday in the win over Troy. He might have to create a 51st handshake to celebrate such future moments.
The Browne and Grinnage handshake lasts at least four seconds long.
"We started doing it when the new coaching staff got here," Browne said.
"That was a double whammy there," Browne said. "It wasn't a spring game catch. It was exhilarating and a great feeling. To have it at home and having that, I will definitely save those gloves."
Browne isn't thinking about whether he'll catch the ball anymore, he's just doing it and executing. Some of Browne's teammates half-joked that the previous plays at the goal line didn't succeed, since it led to Browne scoring a touchdown with 12:36 left in the game.
"I thought we were going to punch it in, and whatever happens, happens, and I'm not complaining," Browne said. "I saw [quarterback] Jacoby [Brissett] scrambling out and I knew I was going to the flats. Jacoby made eye contact and then he threw it. I thought, 'I have to secure it and get into the end zone.' I caught the ball and saw that I was in there, and then my teammates were yelling at me."
Browne is also almost unrecognizable this season physically. The 6-foot-6 former prep basketball star has lost roughly 35 pounds to get down to 245, in his quest to have more moments like last Saturday.
"I lost some weight and some body fat percentage over the spring, winter, and summer," Browne said. "When I came back from the winter, I was pushing around 280. I was more of a blocking tight end last year. This year, I want to be more dynamic.
"I feel better than I have ever felt before. I haven't been this low since high school, and my knees feel better. I am finally able to jump again."
Browne was happy to share his success knowing his mother and brother were in the stands.
"They are really happy and my mom comes to all the games, and I finally got into the end zone for her," Browne said. "I was excited and she was excited."