Benson Browne feels ready to contribute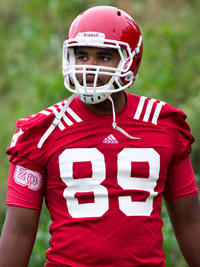 He was fairly well-recruited coming out of Walnut Hills High in Cincinnati, Ohio in 2011, especially considering he had played only two years of high school football. He took official visits to Illinois, Louisville and NCSU and also considered offers from Kansas, Minnesota and West Virginia among others.
But Browne at that point, he admitted, was still partially Benson Browne the basketball player. He was a developmental prospect that redshirted his first year and then worked with the scout teams to hone his game. The problem is learning while working scout team duties is a challenge.
"It's real hard to build confidence on the scout team," Browne stated. "When I was younger and getting beat up, I was trying to learn, but I was getting beat up a lot more."
Confidence was the key for Browne. He did not have an extensive background in football, and after his redshirt freshman season he needed to get used to a new coaching staff and new offense. Browne though did find that belief in himself in the weight room.
"I got bigger, got my flexibility better, got stronger in the weight room, and that helped me boost my confidence," he said. "I feel like with the new training staff and the strength and conditioning, my body is ready for this type of offense. I think now I am ready to excel in that."
"It really started clicking with me during last season watching everyone else play, seeing everything and I just wanted to be out there," Browne said. "At that point, I just made up my mind and said, 'I'm going to go out and do this now.'"
"This camp I feel like I am more ready," Browne said. "I came into it with a better mindset coming out of the spring. I just want to be ready to play.
"I think I've been able to improve a lot. I just got to get better each day, but yeah, I think I'm ready now."
Indeed, the transformation of Benson Browne from high school basketball star to college football player has firmly been completed.