Arnold Palmer left his mark at NC State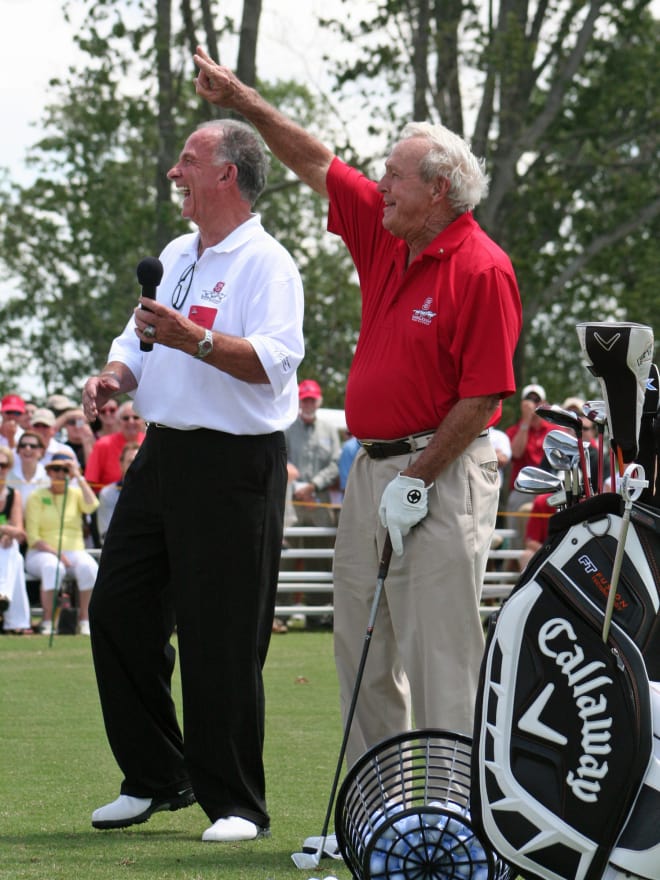 Arnold Palmer arrived at Wake Forest one year after legendary basketball coach Everett Case came to NC State, and nothing thrilled the young golfer from Latrobe, Pa., more than getting caught up in the passion of Big Four basketball.
At the time, Wake Forest was located just 12 miles north of NC State and the Demon Deacons, the Wolfpack, Duke and North Carolina were tightly tied rivals competing in the Southern Conference.
Palmer was at Thompson Gym for the final regular-season game of the 1948 season, when NC State beat Wake Forest 65-54, and he was at the inaugural Dixie Classic at Reynolds Coliseum in December 1949.
"The Big Four has probably been dismantled a little bit these days, but it was intense back then," Palmer said on the night he was inducted into the Carolinas Golf Hall of Fame in 2007. "I've always been very proud to be part of the Big Four, which are four outstanding schools in an age when it's tough to be outstanding."
Palmer, golf's greatest ambassador and the designer of more than 300 championship golf courses, died on Sunday at the age of 87. Certainly, he passed as a Demon Deacon through and through, but there was always a little red hidden in his background and in his business.
That's why he was the perfect choice to design NC State's Lonnie Poole Golf Course, which opened in 2009 on Centennial Campus.
As a student, Palmer became fast friends with Wake Forest All-American Art Hoch. By the time Palmer returned from serving three years in the U.S. Coast Guard — just in time to win the inaugural ACC golf championship — Hoch had become a physical education instructor and director of intramural sports at NC State. They maintained a long and enduring friendship until Hoch, the father of multiple PGA Tour winner Scott Hoch, died in 2013.
When NC State approved building a golf course on Centennial Campus in the early 2000s, Palmer was eager to get his design company involved on the hilly piece of land off Centennial Boulevard, both because of his ties to Wake County and because two of his chief golf course architects, Erik Larsen and Brandon Johnson, were both NC State graduates.
Palmer was on hand when the university broke ground in 2007, made multiple trips to oversee the design and toured the course on its dedication day on July 31, 2009.
He was thrilled with the outcome of the first university-affiliated course he ever built, and delighted that so many friends he had made through his six decades of being in North Carolina enjoyed his course.
"I think it is wonderful," Palmer said at a press conference following his four-hour tour of the course and driving range clinic. "I'm very pleased. There are still a lot of little touches to do, but it is already very, very good, and it is only going to get better from here.
"To me, one of the things that is particularly pleasing is that it is very natural. We didn't do a lot of earth-moving, which is very important in this day and age. It has a more natural look."

He also wanted to make sure it was challenging for college golfers, with back tees that would test the strength of their limber backs. Even those who play forward tees would agree his design team achieved that goal.
Since it opened, some of the suggestions that Palmer made on that day have been adopted, such as changing the mile-long third hole from a par-4 to a par-5. And some of the features, like the rough-cut bunkers, have been changed.
Palmer was always proud of the course that he left for NC State and the Triangle golfing community to enjoy. And with the opening of the state-of-the-art Carol Johnson Poole Clubhouse, with a golf shop, locker rooms, snack bar and restaurant, the course has all the amenities it needs to host local events and national tournaments.
From his earliest days at Wake Forest, Palmer always thought he might settle back in North Carolina. That changed when he bought both Latrobe Country Club in his native Pennsylvania, where his father had been greenkeeper for 55 years, and Bay Hill Country Club in Orlando. There was no time for him to have a halfway home in between.
Still, he designed more than a dozen golf courses in the state, both the Lonnie Poole Golf Club and Brier Creek Country Club near the Raleigh-Durham International Airport.
"I liked it here so much and had so much good fortune here," Palmer said. "North Carolina is one of the greatest states anyone could ever live in, with its climate and the four seasons. I certainly enjoy building golf courses here."
And NC State certainly enjoyed the invasions of Arnie's Army and the labors of his design company on its campus.
Tim Peeler is a regular contributor to The Wolfpacker and can be reached at tmpeeler@ncsu.edu.