Situational scrimmage helps clarify roles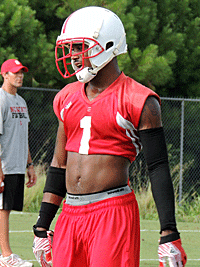 O'Brien and the coaches had the players go through several scenarios Tuesday during the third of four scrimmages to try and mimic what could occur in the last four minutes of a football game. O'Brien wants to see which players can come up with "winning plays."
"They have to figure out whether they are ahead, behind or tied, and play to the clock and play to the timeouts," O'Brien said. "The kicking game becomes involved. It's much more of a mentally challenged scrimmage than it has been.
"This is where it separates the men from the boys. They get another opportunity come Sunday."
NCSU rushed for 121 yards on 46 carries, and the quarterbacks combined to go 14-of-38 passing for 244 yards, one touchdown and one interception. NC State's defense came through with nine sacks.
"There is a lot to be learned from this," said O'Brien, who is in his sixth year coaching NC State. "I think we'll get a lot out of it.
"It was total chaos [back in 2007]. They are into the flow of things now."
"I don't think we released stats that night, but I think we were 6 of 35 throwing the ball in this situation," O'Brien said.
The Wolfpack's stats are admittedly a little skewed because of the various scenarios.
"We took some bad sacks tonight in certain situations," O"Brien said. "That can't happen. Those are all things the young kids do.
"You are in situations where you have to run the ball, and the defense knows it. You are in situations on offense where you have to throw the ball, and the defense knows you have to throw the ball. The advantage most of the time is to the defense."
If the season opener against Tennessee were in a few days, O'Brien would be concerned, but he feels confident they'll make the necessary improvements by Aug. 31.
"Did we throw the ball good enough to win the opening game? No," O'Brien said. "If this was the opening game, and this is the way we played, then we aren't going to win. We have time to do it, and we'll go at it and do it again."
O'Brien also wants to see improvement in the team's ability to run the football in a close game, pick up first downs and keep the Wolfpack's defense on the sideline as a result.
"We have a pretty good [redshirt] freshman in Benson Browne too, so there are four guys right now, if they stay healthy, they'll be able to play in a football game for us," O'Brien said.
NC State displayed its punting unit, with an average of 36.3 yards on nine punts. O'Brien doesn't expect any kickoff situations during fall camp. The kickers went 2 of 3 with field goals from 32 yards and 35, and a miss from 53.
"He challenges him all the time," O'Brien said. "It's the only way for Dave to get better too. He can get a lot better. He's not a finished product by any stretch of the imagination. He had a really good year last year, but this is only his third year playing college football. He still has a lot of ways to go."