Safety duo honored by Shrine Game selection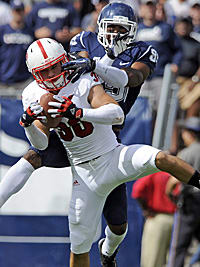 NC State senior safeties
Earl Wolff
and
Brandan Bishop
have played a ton of football together during their careers in Raleigh. Wolff, a fifth-year senior, leads the team with 50 games played, including 42 starts, while his counterpart Bishop, a fourth-year free safety, has opened a team-best 45 games with 49 total appearances.
The two will suit up one last time in the Red and White in the Music City Bowl on Dec. 31 in Nashville, Tenn., but it might not be the last time they populate the same secondary. Before the duo moves on to the NFL, they have both been selected to participate in the 2013 East-West Shrine Game, an all-star game that will be held on Jan. 19 in St. Petersburg, Fla. However, they don't know if they will be teammates or opponents yet.
"We haven't heard that much back yet," Wolff said. "Hopefully, we'll be on the same team, but if we're on different teams, I know he'll do well and I know he believes in me. We'll represent our school.
"It's a great honor to be able to represent my team, my school and my family; and to be able to show the talent that God has given me and put it to the test."
The Pack's starting safety duo has combined for an astounding 702 tackles, 19 interceptions, 16 tackles for loss and 12 forced fumbles in their 49 appearances together, so it might give one team an unfair advantage if the Wolfpack products were wearing the same color jersey.
"I think it might be [an unfair advantage]," Wolff noted. "He and I have played together for a long time, so we know each other and we know everything about it each other. It might be a little advantage, but we're just trying to go out there, have some fun and represent our school and our families."
However, there is one important task that must be handled before the all-star festivities, and that is recording a victory in the pair's final game where they are guaranteed to line up as teammates.
"It's an exciting opportunity, I'm pretty happy about it, but right now, I'm just focused on Vanderbilt," Bishop, a Sunshine State native who noted the game is held about four hours from where he grew up, explained. "We'll worry about the other stuff afterwards.
"I think it would be a big victory for us and a big victory for this program. We won nine games two years ago, eight games last year and I think that 8-5 sounds a whole lot better than 7-6. It's a big game and we're going to approach it, treat it and prepare for it that way."
It has not been the campaign that either had hoped for when the year started, but each has been able to accomplish some pretty extraordinary things during their time in Raleigh.
Wolff led the team with 136 tackles, his second-straight season with triple digit stops and third with at least 91. The "heart and soul of the defense," as former coach Tom O'Brien used to call him, recorded 17 or more tackles in four different contests, and he is nine tackles shy of becoming just the fifth defender in school history, and the first defensive back, to reach 400 career stops. He was named first-team All-ACC by both the media and coaches this campaign, and he was able to cross that off of his list of goals that he writes down before every season.
"For the past couple of years, I had written that down on my wall in my room, I wanted to become a first-team All-ACC player," he said. "Coming out of high school, I wasn't ranked high, NC State was really my only offer and they gave me the opportunity.
"That's a big accomplishment. Ever since I've been here, I've been working to get there. I feel like all the work I put in has paid off. Just staying after and doing extra stuff, that's my thing — I just want to outwork my opponent and everybody else. It put me where I am now, and hopefully it will pay off on the next level, as well."
Meanwhile, Bishop was named All-ACC honorable mention by the media for the second time in his career, although the league coaches placed him on their All-ACC second-team. He notched 107 tackles this season, to go along with four tackles for loss, three interceptions, two forced fumbles and a fumble recovery. He is now tied for fourth in program history with 12 interceptions during his career, and he wants to end his accomplished career in the Red and White with a postseason win, which would be the team's third in the last four years.
"We want to send everyone off with a win, but there's different motivations," he explained. "Young guys are trying to impress the new coach, it's kind of a try out for the future; we've got older guys who are going out for their last one and we've got coaches that brought us here, we want to send them out on a good note. There's definitely different approaches and different motivations; guys are in different positions individually, but I think the common theme and goal is to go out with a victory."
"I feel like it's big," Wolff agreed. "Just being able to go out and say, 'we won our last game,' would be great. I've won every bowl game since I've started playing here, so it would be a big accomplishment for this University and for us individually.
"I feel like this bowl game can really help put me where I want to be. I've been talking to people and I've heard a couple of things; I feel like me coming out and playing my game, making plays, can boost me in the draft and help me climb that ladder that I feel like I need to climb. I just want to show why I can be the best safety taken this year, and why I should be."
The NC State secondary is guaranteed to have a much different look next year. In addition to the graduation of the longtime safeties, the team will also lose fifth-year senior cornerback
C.J. Wilson
and possibly junior cornerback
David Amerson
, who is almost guaranteed to be one of the first secondary players drafted if he comes out early.
However, Bishop is sure that the defense's back line is in good hands. The players left have not played much in games, but they have proven themselves on the practice field to their older teammates.
"There's definitely still talent left," he said. "The faces will be a little bit different. We played a lot of ball games and we've been around for a while, but there are some young guys who have been developed and are very, very talented — even those guys you haven't really seen play yet, like Hakim [Jones] and Tim [Buckley]. Those guys are really talented. I'm excited for what the future holds for those guys, and I know they're going to be a pretty good group."