Ryan Finley is returning for his senior season for NC State football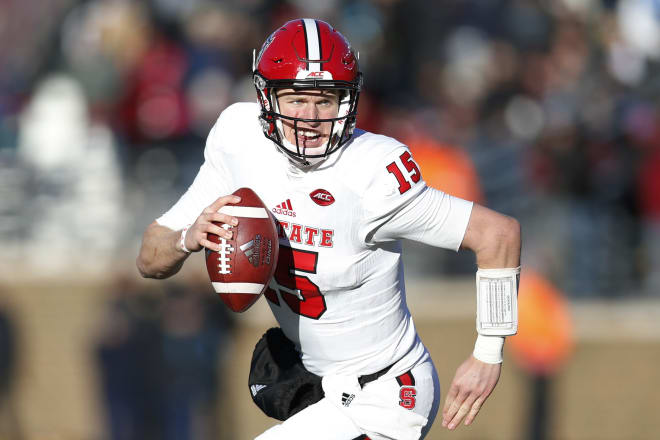 One of the biggest offseason questions facing NC State has been answered: redshirt junior quarterback Ryan Finley will return for his final year of eligibility with the Wolfpack.
NCSU announced the news Saturday afternoon.
"I'm looking forward to building on the success we had this season," Finley said in a prepared statement. "My goal when I came to NC State was to win an ACC championship and with so many starters returning on offense next season, I feel that we could achieve that.
"I love Raleigh and the special brotherhood that we have on this team. I will be proud to finish what we've started, earn a master's degree from NC State and play another season in front of the greatest fans in the nation."
Finley threw for 3,518 yards and completed 65.1 percent of his passes last season, both ranked No. 10 among Power Five conference quarterbacks, according to NC State. His 63.0 career completion percentage is second in NCSU history only to all-time great Philip Rivers, and his 6,577 passing yards is fifth.

Finley, a native of Phoenix, arrived at NC State as a graduate transfer from Boise State and won the starting job during the season-opening win over William & Mary in 2016. He was named third-team All-ACC this year and is a strong bet to be preseason All-ACC with his decision to return.
He had garnered NFL consideration during his breakout redshirt junior season, which included an interception-free streak of 339 passes — second longest in ACC history. Finley was the only ACC quarterback to be a finalist for the Johnny Unitas Golden Arm Award.
"I'm proud of Ryan for how he's handled this process," Wolfpack head coach Dave Doeren said. "I'm excited to watch him finish his career as one of the top quarterbacks in the country and take his place in the long line of great quarterbacks who played for NC State."
——
• Talk about it inside The Wolves' Den
• Subscribe to our podcast on iTunes
• Learn more about our print and digital publication, The Wolfpacker
• Follow us on Twitter: @TheWolfpacker
• Like us on Facebook