NC State wrestling rookie quickly rises from unranked to third nationally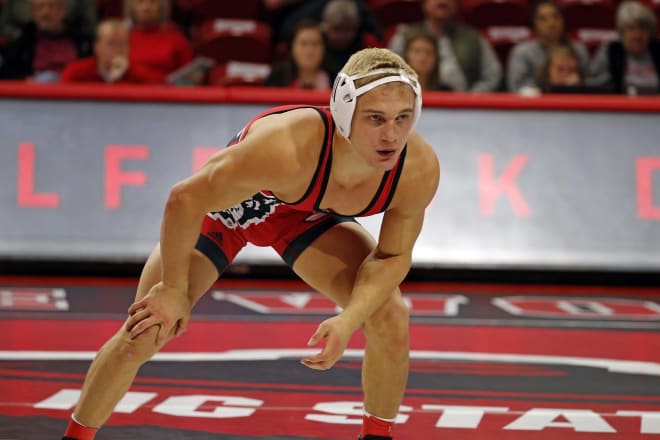 Don't miss out on any of our exclusive football, basketball and recruiting coverage. Click here to get your 30-day free trial!
The consensus in the preseason was that NC State wrestling had a pair of national title contenders in senior 141-pounder Kevin Jack and fifth-year senior Pete Renda at 184 pounds. Both had previously taken third at the NCAA Championships and were listed among the country's top three going into the winter.
Two others — redshirt junior 125-pounder Sean Fausz and fifth-year senior Michael Macchiavello at 197 pounds — were ranked in the top 10 of all six preseason national rankings. Five others were listed in the top 20 of at least one poll, leaving just one of the 10 weight classes with no top-20 national ranking: 157 pounds, where redshirt freshman Hayden Hidlay would step in.
Exactly one month after the Pack's season began, Hidlay was 7-0 with all bonus-point victories (beating an opponent by eight or more points) and debuted in FloWrestling's listing at No. 11.
A week later, after posting one of the best regular-season weekends in NCSU history, Hidlay rocketed up to No. 3 in the land.
On Dec. 15, he jump-started the Pack's 29-3 drubbing over No. 12 Nebraska on the road with a 6-3 victory over All-American Tyler Berger, who placed fifth at last season's NCAA Championships. Two days later, he won the Reno Tournament of Champions with an overtime victory over No. 2 Joey LaVellee of Missouri, who reached the NCAA finals last year.
The Lewistown, Pa., native proved he not only belonged in the national rankings, but also the national title conversation, and picked up national Wrestler of the Week honors from FloWrestling and The Open Mat, in addition to his second straight ACC Wrestler of the Week nod.
His first official college gold medal gave him a 13-0 mark in the season's first six weeks. His ledger included 10 bonus-point wins. The dominance resulted in two pins and five technical falls (winning by 15 or more).
"For a kid that's only 12-15 matches into his career, I think that says a lot, and it sets the tone for his career — not just this year," head coach Pat Popolizio noted.
Popoilizio and former associate head coach Frank Beasley, who left in September to take the head job at George Mason, have told Hidlay he was good enough to beat anybody in the country dating back to when he was a consensus top-13 recruit at Mifflin County High School.
After redshirting last season and learning what he called some hard lessons while competing at both 157 and 165 pounds in open tournaments — and taking plenty of additional lumps in practice — Hidlay started to believe his coaches this past summer.
In his first official college action, he has shown they were right.
"It's been a pretty fast climb, but I realize that there's going to be a lot of people gunning for me," Hidlay said. "I'm the kind of person that really welcomes that challenge. I think I have just as much fun being in the front as I do when I'm chasing people.
"I know there are going to be a lot of schools trying to take me out, and I'll see how they respond when I come out in the first period and try to score as many points as I can. I'm looking forward to the challenge, and I'm ready to step up to the plate for my team."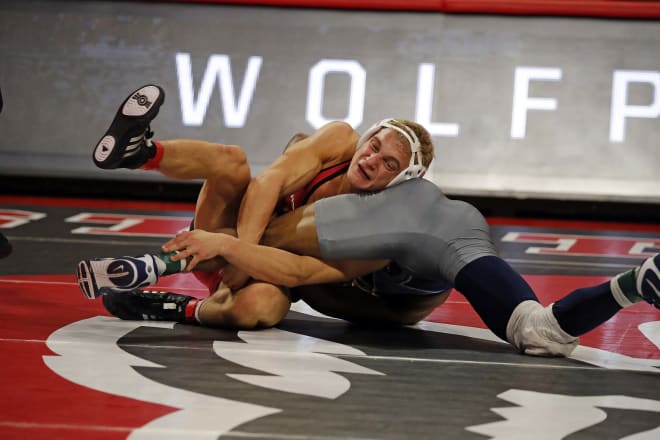 Popolizio likes to say the first step to winning a national title is getting his grappler to believe that he can do it.
"The sooner he realizes he's at that level, the quicker it's going to happen," the coach explained. "I think he is one of the best guys in the country right now, no question about it. He needs to know that himself. I think for him it all comes down to belief, and if he believes he's going to achieve whatever it is he wants this year."
Hidlay knows the ascension to his current ranking comes with a target on his back, but he enjoys that feeling.
It's similar to how his coach — even if he didn't agree with it — liked the fact that Hidlay wasn't included in the preseason rankings for motivational purposes, and is now glad his young star will get pushed to the limit with every opponents' crosshairs focused squarely on him.
"He's grown up his whole life with that," Popolizio noted. "He's one of those next-level guys that was in that [No. 1-ranked nationally] recruiting class we got, and that's what we brought these guys in for — to win right away and win at a high level. They grew up with those expectations and put them on themselves.
"[After what has been accomplished] he'll get everybody's best match; our team will see everybody's best lineup. That's only going to make us better come March for the NCAA Tournament.
"I want that, I want to see how our guys respond to that — it will make it a little easier on us at the end of the year because that target's been there. You dealt with this all year, now you're going to deal with it again so you're good."
Now that Hidlay believes and has proven he can beat anybody in the country, the next step is continuing to do so when he does get each opponents' best shot. Popolizio is quick to note Hidlay has joined Jack and Renda as legitimate national title contenders and stars that can be counted on to win and score lots of team points in every match — and he puts Fausz and Macchiavello in that category as well.
"We say it all the time, you come here to try to win four national titles; that's the goal," the coach said. "I don't think Hayden is far off from that right now. There's obviously a couple of guys that have separated themselves at his weight class, it's no secret he's got a guy that's dominated his way through the weight class the last couple of years [Penn State redshirt junior Jason Nolf, who went undefeated last season and won the national championship at 157 pounds] and he's got other guys in there that aren't far off that.
"But if he sets his goal to win it, I don't see why that's not realistic. The way that we train and he lives his lifestyle, he deserves it. For a freshman to go out there and win it is always a challenge, but he's going to win national titles in his career — why not now?"
Despite the many talents the redshirt freshman has displayed on the mat while scoring early and often en route to often dominating foes, patience is not one he has had to show yet.
With the way his rookie year has started, Hidlay may never need to develop that trait.
——
• Talk about it inside The Wolves' Den
• Subscribe to our podcast on iTunes

• Learn more about our print and digital publication, The Wolfpacker
• Follow us on Twitter: @TheWolfpacker
• Like us on Facebook