NC State gets another chance for win over ranked foe — Clemson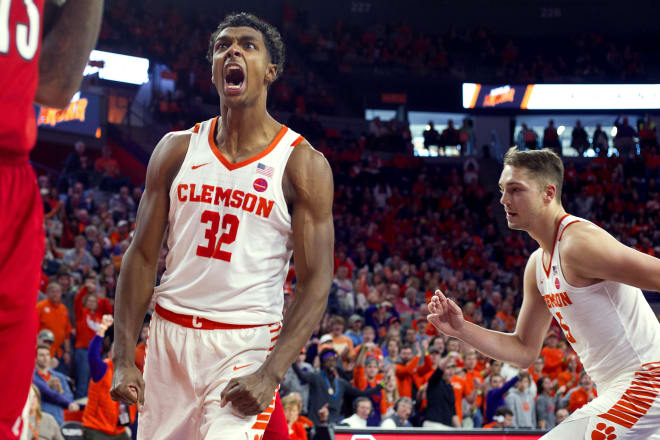 Don't miss out on any of our exclusive football, basketball and recruiting coverage. Click here to get your 30-day free trial!
Game facts
No. 19 Clemson (14-1, 3-0 ACC) at NC State (11-5, 1-2 ACC)
Game time: Thursday, Jan. 11, 9 p.m. — PNC Arena in Raleigh
Television: ESPN
Probable starters
NC State
PG — 10 Braxton Beverly (6-0, 180, Fr., 10.4 ppg., 2.1 rpg., 4.4 apg.)
SG — 12 Allerik Freeman (6-3, 210, 5th-Sr., 15.3 ppg., 4.8 rpg., 2.9 apg., 1.4 spg.)
SF — 2 Torin Dorn (6-5, 210, R-Jr., 13.4 ppg., 7.3 rpg., 1.6 apg.)
PF — 0 Abdul-Malik Abu (6-8, 240, Sr., 7.3 ppg., 5.1 rpg., 0.5 apg.)
C — 14 Omer Yurtseven (7-0, 245, So., 11.7 ppg., 6.9 rpg., 0.4 apg., 1.8 bpg.)
Clemson
PG — 4 Shelton Mitchell (6-3, 194, R-Jr., 12.4 ppg., 2.1 rpg, 4.2 apg., 1.0 spg.)
SG — 2 Marcquise Reed (6-3, 189, R-Jr., 15.9 ppg., 4.6 rpg, 3.1 apg., 1.7 spg.)
G — 10 Gabe DeVoe (6-3, 207, Sr., 11.6 ppg., 4.5 rpg., 1.9 apg., 1.5 spg.)
PF — 32 Donte Grantham (6-8, 215, Sr., 14.6 ppg., 7.3 rpg., 2.3 apg.)
C — 14 Elijah Thomas (6-9, 237, Jr., 11.6 ppg., 8.3 rpg., 1.0 apg., 2.7 bpg.)
Clemson
Location: Clemson, S.C.
Nickname: Tigers
2016-17 record: 17-16 overall, 6-12 ACC
2017 postseason: Lost 74-69 vs. Oakland in the first round of the NIT
Coach: Brad Brownell 16th season overall (305-189) and eighth season at Clemson (138-104)

Notes
Clemson season overview: The Tigers have already played NC State, defeating the Wolfpack 78-62 in their ACC season opener Dec. 30.
Clemson went on a 13-2 run to close out the first half to lead 33-24 at the break. The Tigers shot an impressive 53.1 percent in the second half to pull away for the win. CU had 17 assists on 29 made field goals, while NC State had nine assists and 14 turnovers.
Five Clemson players scored in double figures and the Tigers had 10 blocked shots. Redshirt junior shooting guard Marcquise Reed led the way with 18 points, six rebounds and five assists.
Clemson tendencies: The Tigers rank fourth in the ACC in three key categories — points allowed per game (63.5), field goal percentage (48.2) and rebounding margin (plus-3.7).
Clemson is on the road for five of the next eight ACC games.
The Tigers played 10 players against NC State, with six at least 6-7 or taller.
Perimeter: The trio of redshirt junior point guard Shelton Mitchell, senior shooting guard Gabe Devoe and the aforementioned Reed give Clemson an experienced and accomplished trio.
Mitchell and Reed are both quality passers with enough quickness to take players off the dribble, or drive and dish.
Mitchell is a lefty with an unorthodox deep jumper, but he has made 30.6 percent from beyond the arc this season. He has gone 4 of 23 from the field in the last two games — both wins over Louisville and at Boston College — with his field goal percentage fallen off from 45.9 percent from the field last year to 37.9 percent this season. The Vanderbilt transfer had 14 points and four assists against NC State, and has scored in double figures in 12 games.
Reed, who started his college career at Robert Morris, has flourished in his second year at Clemson. He is shooting 39.7 percent from three-point land and is fresh off of scoring 24 points and getting five steals in the 74-69 overtime win over Louisville. He has scored at least 20 points in four games this season, with a season-high 25 in Clemson's 64-48 win versus South Carolina Dec. 19.
DeVoe, who is a cousin of NC State legend David Thompson and a Shelby (N.C.) High product, is having his best season in his final year with the Tigers. The three-point sniper (36.4 percent) has reached double figures in 10 contests, including a season-high 21 points on the strength of 5-of-5 three-point shooting in a 84-77 win against Texas Southern Nov. 24. He had 15 points, seven rebounds and went 3 of 6 on three-pointers against the Wolfpack.
Freshman Clyde Trapp has become the fourth guard, but has played limited minutes. The 6-4, 192-pounder is averaging 2.3 points in 7.5 minutes per game off the bench.
Frontcourt: Junior post player Elijah Thomas was the highest ranked player on the Clemson roster.
Thomas was ranked No. 29 nationally in the class of 2015, and signed with Texas A&M, but left the Aggies after one semester. He has taken advantage of having more responsibility this season.
Thomas had 10 points, 10 rebounds and six blocks against NC State, and has five double-doubles this season. He has also blocked at least three shots in eight contests. He exploded for 26 points, 16 rebounds and four blocks against Texas Southern.
Senior power forward Donte Grantham has had an impressive remodeling job of his game over the last 12 months. He averaged 7.3 points and 4.3 rebounds, and shot just 38.3 percent from the field his junior year. He has improved to 14.6 points and 7.3 rebounds per contest, and is shooting an impressive 57.6 percent from the field and 38.3 percent on three-pointers.
Grantham had a steady 13 points, nine rebounds and three assists against the Wolfpack. He followed up by exploding for 23 points (3 of 5 on three-pointers), 14 rebounds, five assists in the 74-70 win at Boston College Jan. 3. The BC game was the fourth time he has reached the 20-point mark this season, and he has four double-doubles.
Michigan graduate transfer Mark Donnal, Valparaiso transfer David Skara, a redshirt junior, and freshmen Malik William and Aamir Simms give the Tigers a deep group of reserves.
The 6-9, 232-pound Donnal, a former starter for the Wolverines, is averaging 3.1 points and 1.5 rebounds in 11.5 minutes per game. He had eight points and four rebounds in 15 minutes against NC State.
The 6-8, 208-pound Skara, who is from Zadar, Croatia, became eligible for the Florida game Dec. 16 He had 11 points and three boards in the 89-60 win over Louisiana-Lafayette.
The 6-7, 237-pound Simms was ranked No. 93 overall in the country in the class of 2017 by Rivals.com. He is chipping in 2.4 points and 2.4 rebounds in 10.6 minutes per game.
The lengthy 6-8, 226-pound William has 15 points and 11 rebounds in 27 minutes played this season.
——
——
• Talk about it inside The State of Basketball
• Subscribe to our podcast on iTunes
• Learn more about our print and digital publication, The Wolfpacker
• Follow us on Twitter: @TheWolfpacker
• Like us on Facebook