NC State baseball preview: Hitting and fielding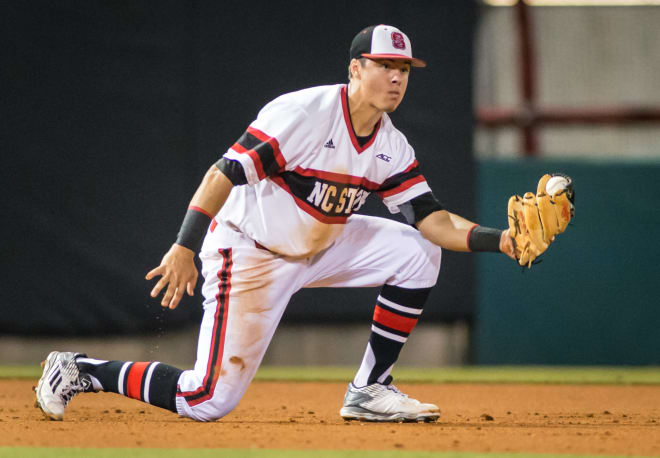 While NC State's pitching staff will seemingly take some time to sort itself out, the lineup could be in a more solidified position thanks to the litany of returning players.

All three primary outfielders from last season return: sophomore Brett Kinneman in left, junior Josh McLain in center and junior Brock Deatherage in right.
Kinneman was a freshman All-American after hitting .296 with six homers in 135 at-bats. McLain hits at the top of the order and sported a .359 on-base percentage and .300 batting average with 25 extra base hits and was successful on 13 of 16 stolen-base attempts.
Deatherage hit .317 while being one of just two players to start all 60 games. He added a .395 on-base percentage and hit six homers in 224 at-bats. He was 14 for 18 on stolen-base attempts and used his strong outfield arm to have eight assists.
The infield returns three out of four starters. Junior third baseman Evan Mendoza was the revelation of last season, leading the Pack with a .362 average and .417 on-base percentage. Junior Joe Dunand returns at shortstop after batting .297 with four homers and 18 doubles in 236 at-bats, and he is expected to be one of State's top pro prospects.
Junior Stephen Pitarra, a smooth second baseman who tied with departed first baseman Preston Palmeiro for the top fielding percentage (.991) among regulars in the infield last season, hit .291 a year ago while getting on base at a .376 clip.
Palmeiro was drafted by the Orioles, opening up first base. The leading contender is junior Shane Shephard, a powerful batter who hopes to replace some of the homers his older brother Chance (15) provided last season. Shane Shephard hit .258 in 89 at-bats last season with a couple of home runs and eight doubles.
Behind the plate, Andrew Knizner started all 60 games last season and was drafted by the Cardinals. Sophomore Jack Conley went 5 for 6 at the plate in limited appearances. The former Red Sox draftee will compete with highly regarded freshman Brad Debo, who originally signed with South Carolina before ending at up NCSU. Debo was considered a likely high draft choice had he not been a strong college commitment.
Another freshman is competing for at-bats potentially as a designated hitter is Will Wilson. The infielder from Kings Mountain, N.C., has earned rave reviews for his hitting during the preseason.