Mike Archer: Linebackers are key vs. the Citadel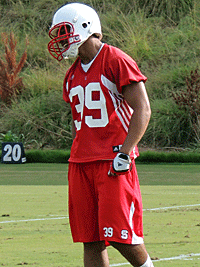 NC State defensive coordinator
Mike Archer
met with the media following practice on Tuesday and talked about the challenge that the Citadel presents and he also analyzed some of his defensive players after three games.
A full transcript of what the coach had to say is below:
Talk about the challenge of preparing for the Citadel and their option attack?
It is [a challenge], it's different. We always spend time in spring ball preparing for it, we've always taken some time in training camp to prepare for it because it's difficult and we basically have two full days to get ready for it. To me, the hardest thing is the speed of it.
Their quarterback, [Ben] Dupree, is exceptionally quick and he's made a lot of big plays for them. That's our biggest concern and it is very much assignment football, if you've got the fullback, you've got to tackle the fullback; if you have the quarterback, you've got to take him because if you don't, as has happened with the people that have played them this year, they will kill you with big plays. That's the scary part of it. It's hard to emulate it, our guys try, but it's the speed of it.
It seems like [middle linebacker] Sterling Lucas is better against the run, so is Saturday against the Citadel a good situation for him?
Yeah. Two years ago against Georgia Tech, I think Nate [Irving] had 20 tackles. Our tackles did a great job in that game. It's very important that the front guys eat up blocks, they have to let your linebackers run. That's the whole key - the linebackers have to make plays against the wishbone. If your secondary is making tackles, which happened to us against Georgia Tech last year, you're not going to win.
How pleased were you with the front seven on Saturday night?
They didn't really challenge us running the football. We felt like, going into the game, they would not be able to run the football and they would throw the ball quick. They did, but we were able to shut the running game down and get them in predictable situations.
We took another step, but we still have a ways to go - we had too many mental errors. What we are finding is that people are going to throw it quick, just like Tennessee did, just like Connecticut did. We have to do a better job disguising things and getting to the quarterback. Now, we got there seven times, which was a plus, but we just have to keep getting better.
Brandon Pittman had a big game last week, it seems like the linebackers are all taking turns stepping up, talk about that group.
He's got ability, there's no question. He has the ability to maybe do the wrong thing then run and go make the play. Some of his big plays in the game, he wasn't right, but he has the ability to run down somebody and make a play. That's youth and, as he continues to get better, he's going to execute his assignment then have the big play.
We worked Rickey [Dowdy] in the middle a little, we're still working combinations and trying to find the best guys against the things that people are doing against us.
How have the defensive tackles done?
We'll just continue to do the same thing. Getting A.J. [Ferguson] back last week was important because that brings another body in there. That gives us T.Y. [McGill], Thomas [Teal] and we worked McKay [Frandsen] in there because McKay can play both end and tackle; we'll continue to work five tackles and five ends as the season goes on.
On third downs, you were able to slide guys inside like Forrest [West] and have rushers inside, what type of versatility does that give you?
With football like it is now - everything is spread, throw the football - you've got to get your best one-on-one pass rushers in there. What we've tried to do in some of our sub-packages is get
Brian Slay
and Forrest inside with Art [Norman] and
Darryl Cato-Bishop
outside.
Now, they have to make a decision - who they're going to slide to, who they're going to double. We're forcing one-on-ones, we're forcing the back to block somebody. By having Forrest and Bryan in there, we feel like they're pretty good pass rushers - nothing against Thomas or T.Y., but they're more push guys, they're going to push the pocket - so we're just trying different combinations to get our best guys on the field.
What is the key to stopping a team like the Citadel?
The down guys are very important because your linebackers are the ones that should make a lot of tackles against the wishbone. Two years ago, at Georgia Tech, Nate had 20 tackles; our tackles, J.R. Sweezy, Natanu Mageo and Markus Kuhn, did a great job of protecting Nate and Nate flew around. Last year, against Georgia Tech, our safeties and corners were our leading tackles, which is an indication that we didn't do a great job.
Saturday night, the key is going to be, if our linebackers are making tackles then we have a chance for success, if not, we could be in for a long night.
How has Thomas Teal done in these first couple of games?
He missed a lot of time in training camp and is still trying to get into game shape, I think. He's a force in there, he's a 320-pound man, he's hard to move. He's starting to get the rust off, I would say. He's starting to make plays - he made a bunch of big plays against Connecticut and he was very solid Saturday night against South Alabama, even though we didn't really get tested on the run, they didn't try to run it much on the inside. He's getting better and we need a big game from our down guys this week, it's about penetration.